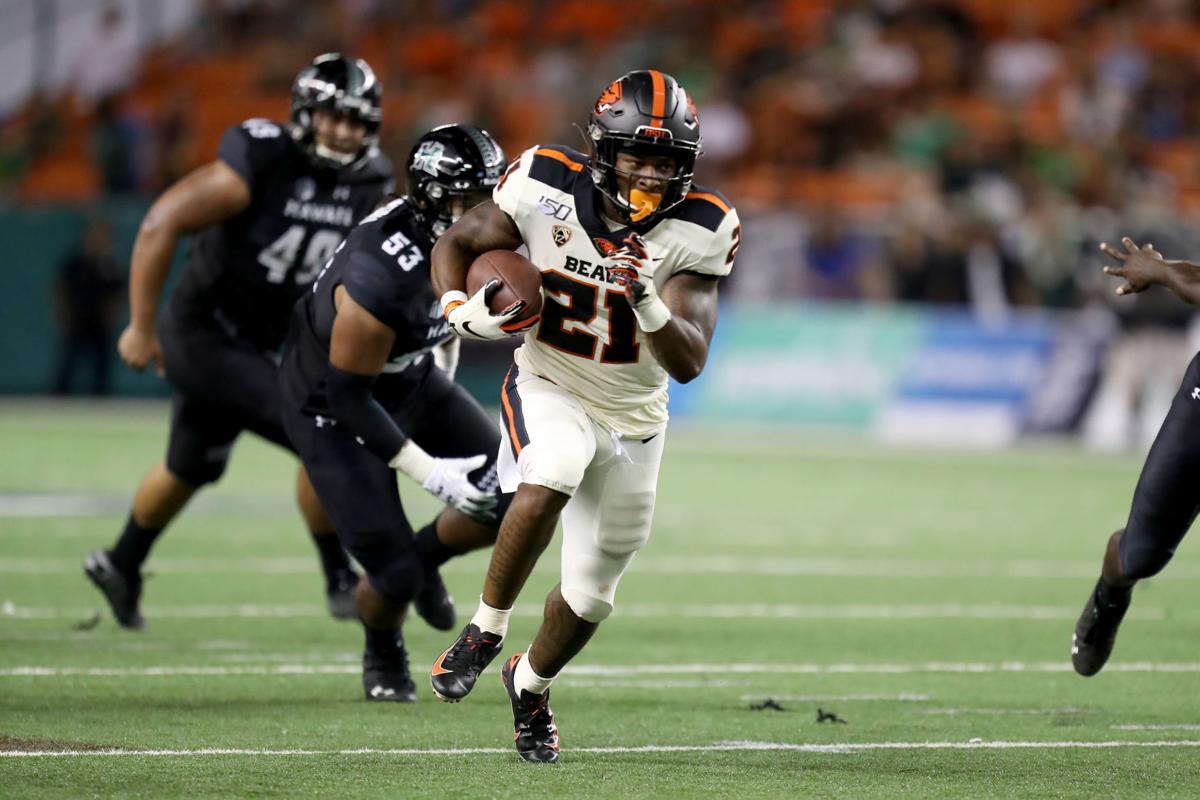 Oregon State's defense will face what defensive coordinator Tim Tibesar described as the "polar opposite" of what it had to contend with just one week ago.
After going up against the pass-happy run and shoot offense at Hawaii last week, the Beavers (0-2) will face the run-heavy triple option of Cal Poly (1-1) when the teams meet for the first time at 1:15 p.m. inside Reser Stadium on Saturday afternoon.
"It's kind of one of the things that's fun about college football and unique about coaching on the defensive side how much things can change from week to week and how much you have to prepare for," Tibesar said on Wednesday. "It's certainly a challenge. It's a unique offense and there won't be a lot of carryover from what we've done earlier in the year to now."
Facing a team that likes to run the football has not been a good thing the past two years. The Beavers' struggles the last season-plus against the run have been well-documented — they were 128th out of 129 Football Bowl Subdivision teams a year ago, allowing 281.8.
This season didn't start out well as Oklahoma State rushed for 352 yards in the season opener.
However, the Beavers did a solid job stopping the run against Hawaii — even if the Rainbow Warriors' main focus was on the pass — allowing just 67 yards on 25 attempts for a little under 2.7 yards per attempt.
Cal Poly, out of the Football Championship Subdivision Big Sky Conference, is 1-1 with a 52-34 win over San Diego and a 41-24 loss at then No. 7-Weber State.
The Mustangs have rushed for 275 yards a game with their old-school, triple-option attack.
"It's definitely tough," said junior outside linebacker Hamilcar Rashed Jr., who will get the start after both Addison Gumbs (ACL) and Matthew Tago (knee) were injured last week.
"It's all assignment based. Everybody has to do their job. This week we've been focusing on everybody doing their job and not practicing with a football. Just tackling everybody. If you've got the quarterback get the quarterback, grab him. If you've got the running back, if you've got pitch, do that. It's the little things we've got to focus on this week."
Isaac Garcia, who is expected to see plenty of playing time at outside linebacker on Saturday, said he is familiar with a version of the offense, having played the Wing-T in high school.
"So I used to see that thing for four years straight so I know that it is going to be tough," he said.
Duy Tran-Sampson leads the rushing attack with 180 yards on 20 attempts (9.0 yards per carry) with a long of 87 and two touchdowns. Quarterback Jalen Hammer is next with 149 yards on 36 attempts and three scores.
But while the Mustangs are focused on running the ball, the Beavers can't sell out in that area. Cal Poly is averaging 201.5 yards a game through the air and has completed 20 of 27 attempts.
Hammer is 19 for 25 for 403 yards and three touchdowns.
"One of the big reasons that happens is they create a lot of one on ones because you have to have more guys closer to the box to be able to handle all the running," Tibesar said. "… They've been very effective throwing the football in the first two games."
Added Garcia: "Obviously we have our game plan but they are a huge run team but they do pass and they will catch you if you are sleeping. I think that's one of the big things with them is that they catch so many people sleeping on the run and they throw that big shot. … If we stay disciplined I think we have a great plan."
Defensively, the Mustangs are allowing 496 yards and 37.5 points per game. Teams have been able to move it on the ground (197 yards) and through the air (299 yards) equally effectively.
"They're going to try to not let you take a lot of shots and get the quick 1-2-3 play drives, they're going to make you execute, make you dink and dunk down the field and beat them underneath," Oregon State offensive coordinator Brian Lindgren said. "I think that's a solid game plan for them and we're going to have to execute every down."
The Beavers have been pretty balanced, averaging 215 yards on the ground and 225 through the air. However, they have at times struggled to keep drives alive at key moments of the game.
Jermar Jefferson has rushed 270 yards and is coming off a 183-yard game at Hawaii. Artavis Pierce has 132 yards and ran for two scores against the Rainbow Warriors last week.
Quarterback Jake Luton struggled in the second half last week but had been mostly efficient until that point. He has completed 38 of 74 passes for 420 yards and four touchdowns.
While the Beavers may be expected to have an easy time with the Mustangs, they are still looking of their first win and won't take Cal Poly lightly.
"We can't," Luton said. "We're 0-2, we just lost a tough game and there's no room to take anything lightly. We're not undefeated, we're not Alabama. We need to go out there and treat every game serious and we'll be ready for them."
Be the first to know
Get local news delivered to your inbox!