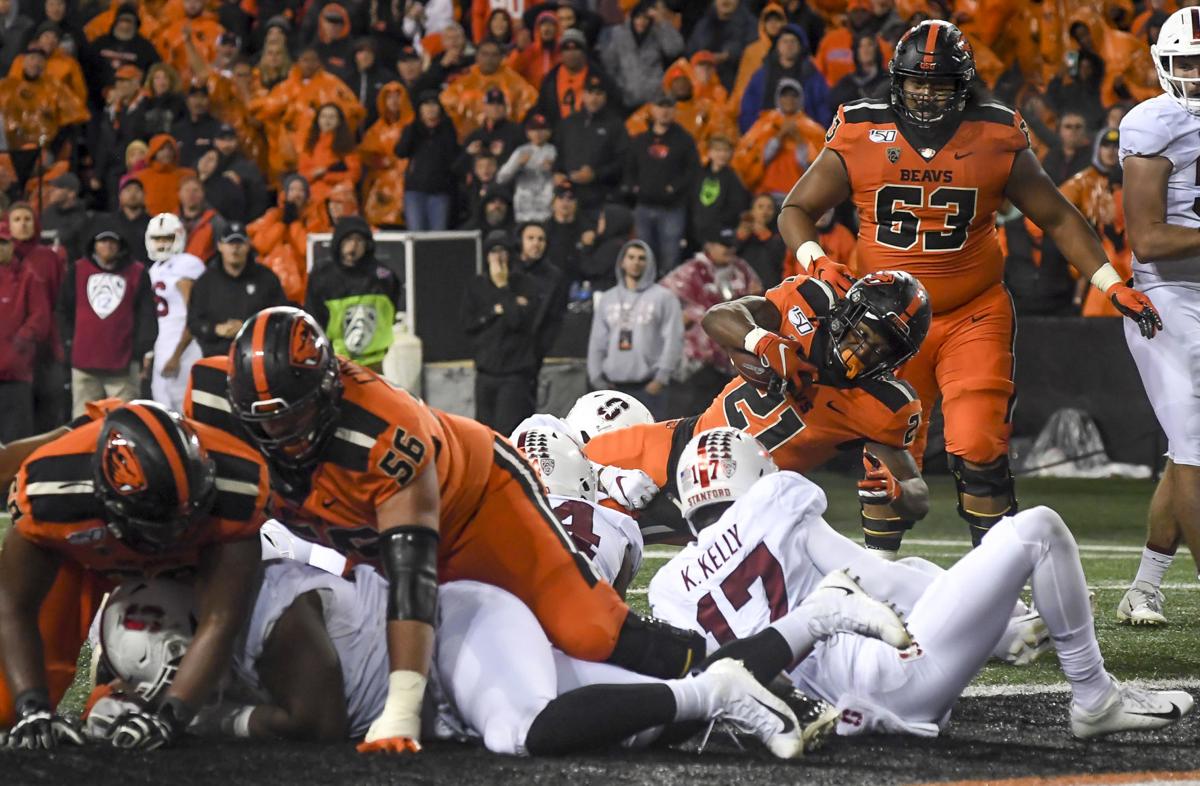 Oregon State's last two losses have come by three points each and both came down to a field goal late that ultimately did the Beavers in.
Coming so close can be taxing on the coaching staff and players as they work to turn around a program that has won just three games since the start of the 2017 campaign.
But the Beavers feel as if progress is being made and can see the improvement in many areas compared to last season.
That realization has allowed everyone to remain upbeat and focused on getting another win, possibly as early as this Saturday in the Rose Bowl against UCLA. The Pac-12 battle kicks off around 6 p.m.
"I feel like we've got a way better team than last year, everybody is mentally focused and believes," senior running back Artavis Pierce said this week. "I know it's about wins and losses and losses like keep people down. We just come back the next day and improve, get better and believe we can win the next game."
The Beavers (1-3, 0-1) feel they aren't far away.
"It sucks to lose, and especially in these close games, but it just comes down to the details," senior left tackle Blake Brandel said. "We've talked about it for however long. That's the next step for this team. We can't do these small things wrong. I think we're all confident and we know we're a good football team, it's just fixing the small details. It's playing winning football and we're learning how to do that still. We're getting there."
One bright spot is the potential the offense has to put points on the board. However, in both of those close losses, the Beavers were shut out in a half.
Against Hawaii, the Beavers put up 28 first-half points then stalled in the second half as the Rainbow Warriors scored the final 10 points of the game for a 31-28 win.
Last week against Stanford, the Beavers were blanked until late in the third quarter when they finally got in a rhythm and scored on four straight possessions to overcome a 21-0 deficit to tie the game with 1:55 left. They eventually lost 31-28.
You have free articles remaining.
"I felt like in the second half we were really clicking and we were able to get the run game going and that was able to open up some things in the play-action pass," offensive coordinator Brian Lindgren said. "I felt like (quarterback) Jake (Luton) was in rhythm, making good decisions, we were creating some explosive plays. It was fun to call in the second half.
So the question then becomes how do the Beavers make sure that happens for four quarters instead of just a half this weekend at UCLA, a game many feel the Beavers can win?
The simple answer is execution, Lindgren said, and avoiding penalties and break downs in protection.
"We've been preaching we've got to be executing at a high level for four quarters," Lindgren said. "That's really what it comes down to. We felt like it would be one or two guys making a key mistake here or there that just prevented us from keeping those drives moving in the first half and putting points in the board."
Lindgren expects another tough challenge from the Bruins (1-4, 1-1) and the Beavers will need to avoid any of those offensive lulls that have plagues them at times.
"They're pretty physical up front, I really look at their linebacker, particularly Chris Barnes No. 14, really good player," Lindgren said. "He's around the ball a lot and makes a lot of plays in the run game and the pass game so it's going to be a big challenge up front for our offensive line again. (There should be) some opportunities for receivers to make plays and will have to win some one on ones."
For the second straight week, the Beavers have prepared unsure of who the opponent's starting quarterback will be.
Last week, Stanford backup Davis Mills made the start in place of injured starter K.J. Costello, who is still out this week.
UCLA starter Dorian Thompson-Robinson left last week's 20-17 loss at Arizona with an injury and did not participate in practice at all on Monday and Tuesday.
That could mean that Austin Burton, who was 5 for 9 for 48 yards in a relief appearance last week, could get the start.
"We prepare for their offense and not just one player," defensive coordinator Tim Tibesar said. "So we've got to get ready for what they do on offense. It didn't seem like the game plan changed a lot when Burton came in so whoever's going to be at the quarterback spot coach Kelly is going to run his offense and we've got to be ready for it."
Gallery: OSU vs Stanford football