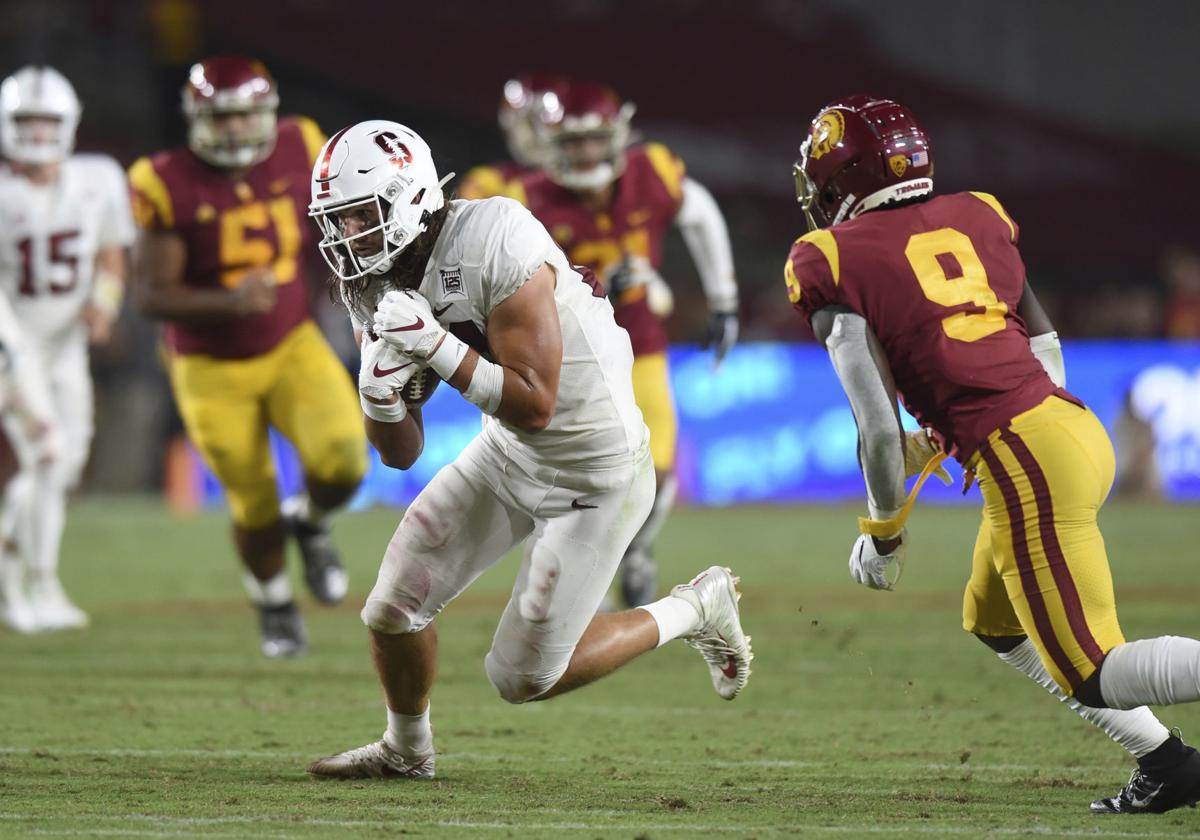 With star receiver JJ Arcega-Whiteside sitting last year's game against Oregon State, Stanford's Colby Parkinson figured he'd player a bigger role against the Beavers.
The 6-foot-8 tight end finished with six receptions for 166 yards and four — yes, four — touchdowns, all coming in the first half as the Cardinal rolled to a 48-17 win to end a two-game skid.
"Going into the game nobody really knew much about him, kind of an afterthought," Oregon State defensive coordinator Tim Tibesar recalled Wednesday. "Against us he kind of had his coming out party and we're certainly aware of him.
"You watch the film from the game from last year, the numbers that he put up and the damage he was able to do was tough for us to overcome."
Parkinson had touchdown receptions of 28, 9, 75 and 5 yards during a 28-0 run by the Cardinal.
The Beavers (1-2, 0-0 Pac-12) hope that isn't the case this Saturday when the Cardinal (1-3, 0-2) come to town for a 4 p.m. kickoff inside Reser Stadium.
Senior safety Jalen Moore offered a little laugh when asked about Parkinson's performance last season against the Beavers.
"Honestly we've got to learn from that," he said. "I feel like he's a good tight end, we watched a lot of him on film. He's a 6-7 guy and they like to do a lot of things with him. Really just play physical with him and make sure he doesn't get those passes. That's all we can do."
Parkinson enters Saturday with 17 catches for 178 yards but has not found the end zone through the first four games. Still, the Beavers know they have to account for him.
You have free articles remaining.
"He's really become the main target for them this season and the go-to guy the quarterback trusts and wants to get the ball to so we know we have to deal with him and do a better job than we did last year," Tibesar said.
Added Stanford coach David Shaw: "Teams are going to try to take away Colby Parkinson. He's been outstanding through three games and (the Oregon) game we had two big chances to make a big play."
Parkinson was held without a catch last week in a 21-6 loss to Oregon as he was out of bounds on one potential reception and a holding penalty nullified a play down the middle of the field that could have given the Cardinal a spark.
"They did a nice job of trying to get guys on both sides of him and trying to overdrop to his side and make a commitment for them to throw the ball to someone else," Tibesar said of Oregon's plan. "I think he had one or two catches that were called back on penalties that negated the catches he did have. But yeah the Ducks did a nice job."
The Beavers are allowing 245.3 yards per game through the air but with Moore back after missing the first two games they hope to improve those numbers.
"The first two drives (against Cal Poly) showed a little rust but after that I think he kind of settled in and got back to being comfortable out there and going from there," Tibesar said. "Obviously if he's healthy and out on the field he makes us better as well."
Williams a Beaver
Former USC receiver Devon Williams, who was the nation's No. 1 rated athlete by Rivals in the class of 2018, has enrolled at Oregon State and will join the football team.
Williams had been an Oregon Ducks commit before flipping on signing day in February 2018 and heading to USC.
He had four receptions for 87 yards last season and one catch for 11 yards this season in a win over Stanford before entering the transfer portal. He had three catches for 77 yards and a touchdown against Oregon State last season. 
Williams will need to sit out this season and would be a redshirt sophomore next season.