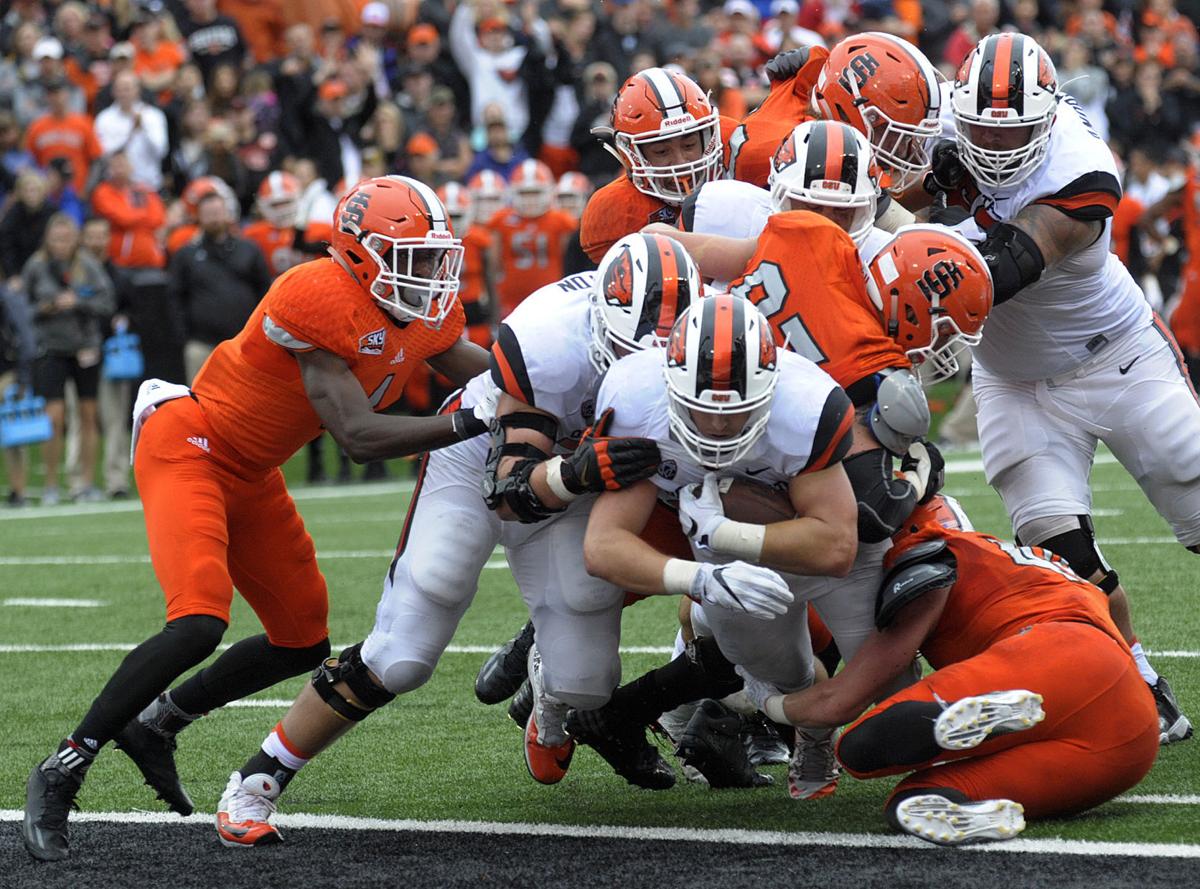 Celebration time has come and gone for the Oregon State football team.
Nearly a year had passed since the Beavers last won a game, so they spent Saturday evening savoring the feeling of a 37-7 victory against Idaho State.
Sunday they were back to work.
Next up is Boise State and the Beavers know they'll have to put together a much more complete game to take a win against the Broncos.
"That's a huge game. Basically it's a statement game," safety Devin Chappell said. "We come out and we've just got to play our game and we'll be fine. We've got to execute, do what our coaches are telling us to do and we'll be fine. But yeah, Boise State is a definitely huge game for us."
Yes, the Beavers got their win.
Yes, it was by a decisive score.
Nevertheless, it was clear that the Beavers have to play much better in order to have a shot at Boise State and the upcoming Pac-12 opponents.
The defense forced five turnovers with four interceptions. The Beavers were able to get to the quarterback a few times and had seven tackles for loss.
"Nothing against Idaho State, but the plays that we had, the sacks that we had, those are expected," defensive end Baker Pritchard said. "So being able to transition that into next week, going against Boise State and getting into Pac-12 play, we've got to emphasize more on our one on ones, get a good get-off, get those pass rushers help out our DBs and help them get more picks and take it to the house."
Idaho State did move the ball through the air and had a 75-yard touchdown run by Jakori Ford, but the Beavers were able to slow the ground game.
"You give up a 75-yard run and they run the ball 20 some-odd times then your yards per carry are going to look pretty bad," coach Gary Andersen said. "That was not a good play. For the rest of the runs I thought they did a pretty nice job.
"They flew to the football, gave up seven points."
The offense in particular did not have a dominant showing against the Bengals.
Andersen said the Beavers have got to find an identity on that side of the ball.
"I don't see enough of a consistent nature there for us to be able to win games at this point," he said. "There's players that are in certain spots to be able to do it and we have to work as players and coaches to get them to that spot and we'll continue to do that."
The Beavers did have a few big plays, including a 92-yard touchdown by Victor Bolden on a fly sweep. But the run game was an unspectacular 154 yards on 40 carries without Bolden's big run factored in.
Solid, but not what was expected against the Bengals.
The passing game seemed out of sorts. Quarterback Darell Garretson too often was either unwilling or unable to stay in the pocket.
When he did, it came with mixed success. Garretson was 15 of 30 for 172 yards and one interception.
He did spread the ball to eight receivers but Jordan Villamin led the group with three catches.
"We need to throw it better, we need to catch it better, we need to not self-destruct with penalties," Andersen said.
The Beavers have less than a week to get better.
"We have to know where we're at," Andersen said. "You have to be able to look at what was good, bad and indifferent and jump right back in this thing and keep fighting because we all know we have a lot of work to do."