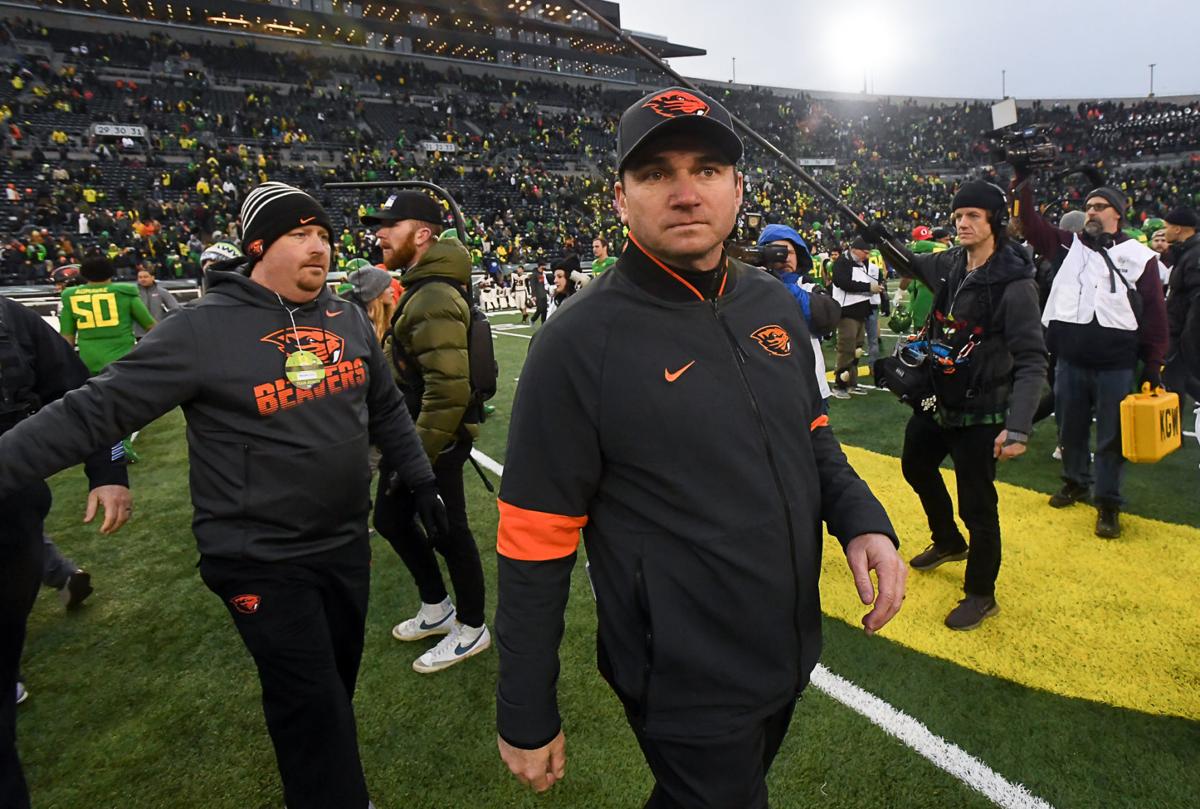 Not many outside of the Oregon State football program expected the Beavers to qualify for a bowl game in Jonathan Smith's second season.
They were coming off a 2-10 season in which the defense was one of the worst out of the 129 Football Bowl Subdivision teams.
And while Oregon State will be home for the postseason for the sixth straight season, the term "next year" never felt more promising.
With a 24-10 loss to Oregon on Saturday in the 123rd Civil War, the Beavers saw their season come to a disappointing end one victory shy of a bowl berth.
"Every offseason is huge," Smith said Saturday afternoon. "I think the guys have some confidence knowing we can get some things done. Now we have to wait a year to get over that hump."
The Beavers finished the season 5-7 (4-5 in the Pac-12 with three wins coming on the road) and had two cracks at getting what turned out to be that elusive sixth win.
OSU lost three games this season by a combined seven points. Twice they lost 31-28 — to Hawaii on the road in the second game of the season and then to Stanford to games later — before the most frustrating of all at Washington State, 54-53, on a last-second touchdown in the 11th game of the season.
The Beavers were down just 17-10 late in Saturday's Civil War, but a fumble — just their second of the season — allowed the Ducks to score and pull away for the win.
"I appreciate the resilience, the battle, the will to compete of our guys, in this game and throughout the season," Smith said. "We've responded a bunch. We had chances to respond this game and couldn't quite get over the hump."
The Beavers hung tough against an Oregon team that, until losing to Arizona State the previous week, was in the conversation for a possible College Football Playoff berth.
And they did it without starting quarterback Jake Luton, who tried to give it a go but couldn't after he suffered a forearm injury against the Cougars.
You have free articles remaining.
In stepped Tristan Gebbia, the frontrunner to take over the starting job next season. He completed 26 of 40 passes for 243 yards without an interception.
"Tristan has been getting a ton of reps with the first (group)," Smith said. "We feel awesome about the guy, and he played valiantly out there. It's a tough environment to make your first start. I thought he played well."
While the ending to the season was disappointing, Smith knows that progress is being made.
"I think we're getting better and I do think we have some real momentum," he said. "We have a lot of players coming back that I'm excited about coaching over the next couple years. Our approach from Year 1 to Year 2 we made some steps, we need to now make more steps."
Even though he started just one game, Gebbia is one of those returning players as the transfer from Nebraska didn't sulk after Luton won the starting job in fall camp.
"I have the utmost confidence in the guys coming back, I really do," Gebbia said. "We have playmakers all over the place along with guys who have been under the radar a little bit. We're going to be bigger, stronger, faster next year. We're going to work really hard in the offseason, I can promise Beaver Nation that."
The biggest improvement this season came on the defensive side of the ball as the Beavers improved in nearly all areas.
Oregon State allowed 45.7 points per game last season but dropped that number to 32.5 this season; it gave up an average of 536.8 total yards last year but 445.7 this season; and teams rushed for 281.1 yards per contest last year but just 169.5 this year,.
"They're building some confidence," Smith said. "In the Washington game defensively we took a step playing a physical group on that side. We played the Cougs, and got some turnovers. They have a real belief in what we do."
"Just guys doing their jobs," sophomore inside linebacker Avery Roberts said. "This thing has been going in the right direction for a while now and we've been able to see that. We just want to keep going and carry into next season."
The Beavers will lose some important seniors who have poured their heart and soul into the program despite seldom being rewarded in the win column. But replacing those players is what always happens in programs.
"We'll be building the roster through recruiting," Smith said. "We have some good, young offensive players we're excited about, too. We're going to build our roster like we've been doing it — through all avenues."