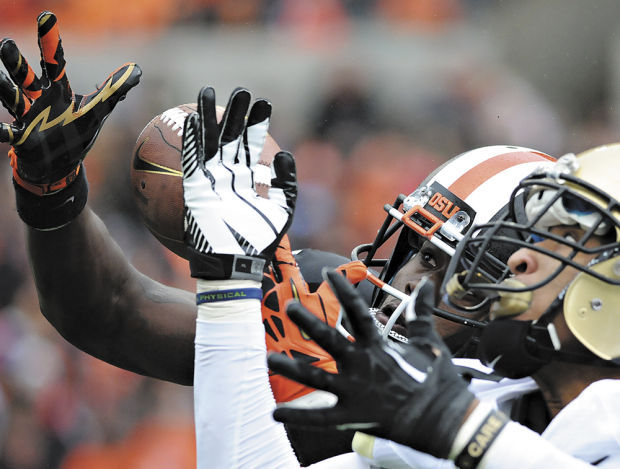 Brandin Cooks doesn't remember much after his name was called as the winner of the Biletnikoff Award, presented annually to the nation's top receiver.
Cooks, a junior receiver for Oregon State, made his way to the stage in the Atlantic Dance Hall at Disney's Boardwalk in Walt Disney World on Thursday evening to accept his award and speak to ESPN's Chris Fowler during the Home Depot College Football Awards ceremony.
That's pretty much the extent of Cook's memory of the moment.
"I kind of zoned out," Cooks said during a phone interview from Lake Buena Vista, Fla.
Cooks said it was an amazing experience to hear his name announced. He is OSU's second Biletnikoff Award winner, along with Mike Hass (2005).
"I was shocked though," Cooks said. "Once I was off the stage it didn't hit me and it still hasn't hit me. It might not hit me until I get back to Corvallis."
Cooks was selected over Clemson's Sammy Watkins and Texas A&M's Mike Evans. Cooks leads the nation with 1,670 receiving yards and receiving yards per game (139.2) and is tied for second nationally with 15 receiving touchdowns, receptions (120) and receptions per game (10.0).
Cooks' 120 catches is a new Pac-12 record and he's just 51 receiving yards short of breaking the conference record in that category, set last year by USC's Marqise Lee.
Cooks also holds the numerous school records, including most receptions in a game — 14 against San Diego State.
Also on Thursday, Cooks was named to the 124th annual Walter Camp All-America first team, the first OSU player to achieve that honor since Jacquizz Rodgers made the second team in 2009.
Other Beavers on the Camp first team have included John Witte (1956), Ted Bates (1958), Terry Baker (1962), Vern Burke (1963), John Didion (1968), Steve Brown (1972), Mike Hass (2005) and Jordan Poyer (2012).
It was a whirlwind of a trip to Orlando for Cooks.
He arrived in Florida on Wednesday and spent some time exploring the Magic Kingdom park in Walt Disney World.
Cooks was able to meet 1991 Heisman Trophy winner Desmond Howard and talked to all the players on hand for the awards show.
"It was fun to see some of these other great athletes," Cooks said.
As far as the interview with Fowler, Cooks acknowledged Watkins and Evans and he was asked about his favorite type of reception.
"I like the catch and run," he said. "The YAC yards, to be able to have some fun out there on the field."
Fowler also asked Cooks about his future after the Beavers finish the season at the Hawaii Bowl.