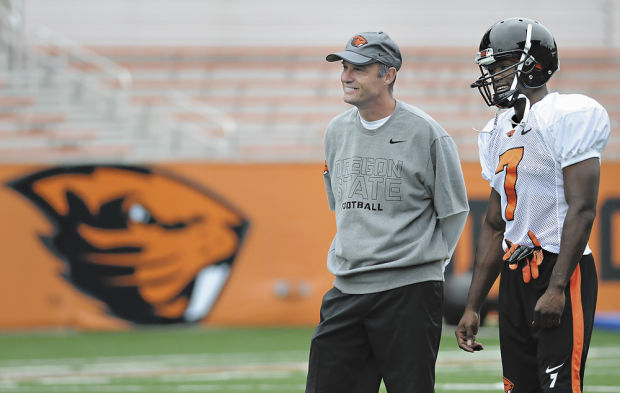 Time for the Oregon State football team to polish the game plan for Eastern Washington.
Coach Mike Riley and the Beavers already started preparing last week.
"What we hope we've had (last) week is a little bit of practice for game prep," Riley said. "You have your game prep week and it's a countdown, we call it Day 5, Day 4, Day 3, Day 2, Day 1 and Fun Day.
"So what this week was, was getting scout teams learning how to play so it was a head start at what a game week will be like."
The Beavers have a set routine for each day.
Monday they will work on first down plays. Tuesday, it's first down and third down. Then red zone and third down on Wednesday.
On Thursdays it will be a review of all the work.
"Then a walk-through on Friday," Riley said.
"Those are all the parts of the game and you've got to get them in sometime."
You have free articles remaining.
The schedule is pretty much set in stone.
Riley said they did change it up last season and added Monday as a work day.
"We took Sunday off and it worked well for us," he said. "We liked that so we're going to continue with that."
For the most part, the players will focus on Saturday's game by preparing on the field.
There will be some film study, but not as much as during the offseason.
"I've already done a lot of (film work), especially in the summer time when we're here," quarterback Cody Vaz said. "There's really not much else to do, so I was just hanging around here watching film. But it definitely does pick up once you know you're going to play in a game.
"You always want to be prepared, so watching too much film is never a bad thing."
Vaz said the atmosphere becomes a little more laid-back for most of the week.
The team is no longer grinding through two-a-days, so it becomes easier on the players physically.
Mentally, the Beavers have to stay sharp.
"I think we're done a little bit earlier in the day, so we have a lot more down time but the focus definitely picks up. Everybody has to be focused," Vaz said.
"We're not around the Valley Football Center for very long, we're only here for a couple hours during the day, so when we are here we've just got to focus and pay attention to detail."
Kevin Hampton is sports reporter for the Gazette-Times. He can be reached at 541-758-9519 or kevin.hampton@lee.net.