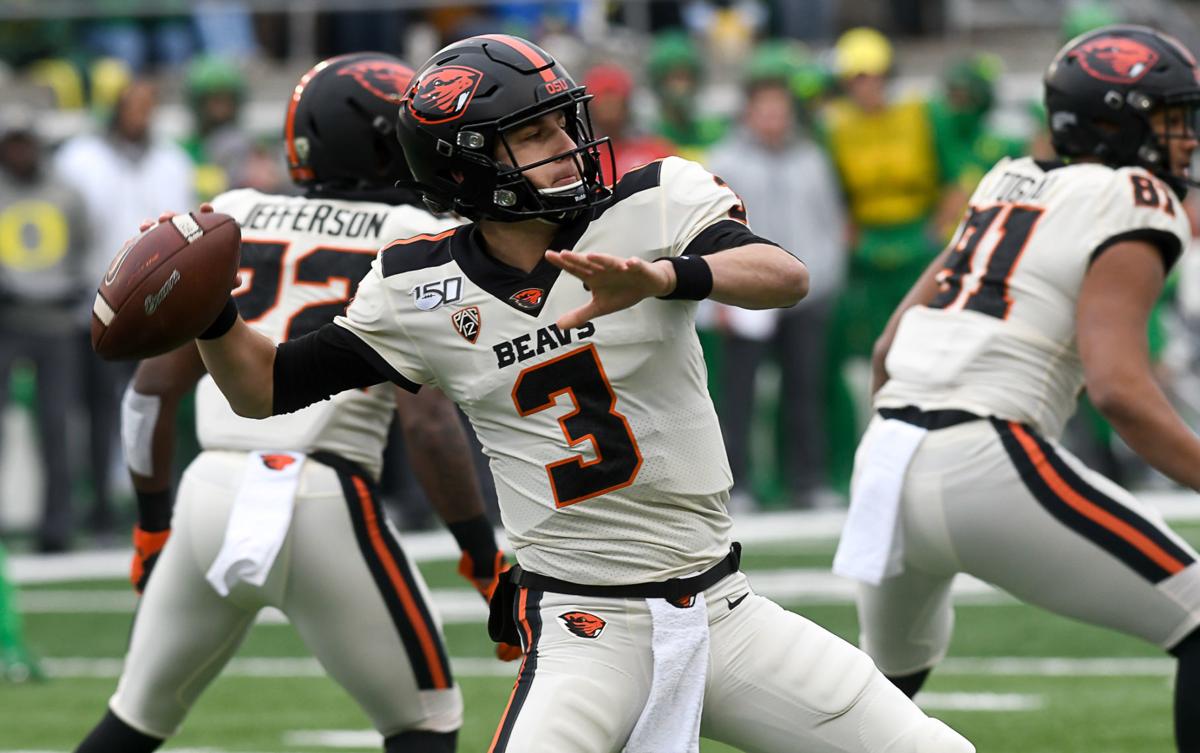 EUGENE — Tristan Gebbia felt confident when he took the field on Oregon State's first drive in Saturday's Civil War.
Oregon State's backup quarterback was thrust into action as starter Jake Luton was unable to go due to a forearm injury that limited him in practice most of the week.
It wasn't until pregame warmups when Luton decided he wasn't able to go.
"I'll give him credit," coach Jonathan Smith said. "He wasn't going to put himself out there if he couldn't help the team."
So in stepped Gebbia, the transfer from Nebraska who was the heir apparent to Luton for this season before Luton received a sixth season and earned the starting job in a battle that lasted to the end of fall camp.
Gebbia more than held his own, completing 26 of 40 passes for 243 yards without an interception. He also rushed seven times for 25 yards.
But that wasn't enough to help the Beavers to a win as they fell short in a 24-10 loss.
"To have to sit it out my heart is broken for that man," said Gebbia, who should be the frontrunner to start next season. "I told him I'm sorry I couldn't get it done for him and that he couldn't lace it up one more time. I think he's got a bright future ahead. I'm so proud to have been in the room with him."
Junior receiver Isaiah Hodgins said the players knew that Luton was limited during practice this past week but thought he would be good enough to go come game time.
You have free articles remaining.
"I know it definitely sucked for him to sit out this game," Hodgins said.
Gebbia looked good on his opening drive, completing passes of 19 (Teagan Quitoriano), 22 (Champ Flemings) and 17 (Trevon Bradford) yards to set the Beavers up for an Everett Hayes field goal that tied the game at 3-3.
"Tristan did a good job of shaking off the jitters and kind of getting going and giving us a couple good drives," Hodgins said. "We could have did a little more to help him out but I felt like he came in there and stepped up."
Gebbia said Luton gave him a small pep talk before taking the field.
"He's a great teammate," Gebbia said. "He just encouraged me and said you're ready, you're prepared for this so let's go get it done."
Gebbia said he didn't feel as if he was thrown into an uncomfortable position despite limited playing time this season.
"Because I think our coaches do a great job of preparing us, I really do," he said. "I think we've got a top-notch staff and I think that we've been preparing since Feb. 1."
The Beavers finished with 380 total yards against a defense that was second in the conference allowing 326.9.
"That defense is pretty good and he did a really good job today," said senior safety Jalen Moore. "I have a lot of respect for him. For him to come out and play like he did, awesome man."
Still, Gebbia felt for those teammates who had just played their final college game.
"To come that close it's hard and I know it's hard for these seniors," he said. "I'm excited for where we're going by my heart is broken for the seniors."