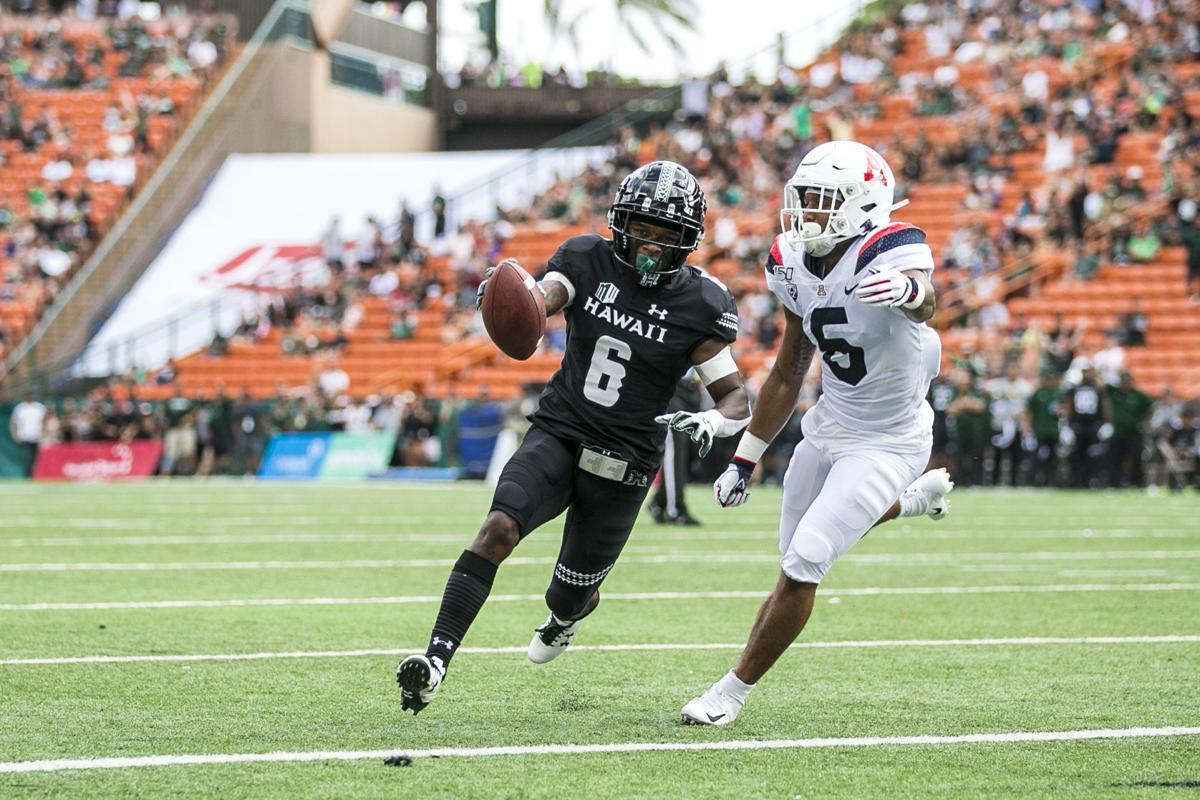 Oregon State's defense will get a much different test against Hawaii this Saturday than it did against Oklahoma State a week ago.
The Cowboys were content to run early and often against a Beavers defense that was 128th out of 129 Football Bowl Subdivision teams a season ago.
Behind Chuba Hubbard's 221 yards, the Cowboys rushed for 352 yards and three touchdowns, all from Hubbard.
This week, the Beavers (0-1) will take on the pass-happy run-and-shoot offense the Rainbow Warriors (1-0) employ and one that piled up 436 passing yards in a 45-38 upset of Arizona two weeks ago.
"They're going to have four wide receivers on the field every snap and they played 21 snaps last week with five wide receivers on the field," Oregon State defensive coordinator Tim Tibesar said. "It's a unique offensive system and it's all based on the receivers being able to read the coverage and the quarterback being able to read the coverage. They adjust the routes on every single snap. It's going to be a challenge."
A challenge to be sure, but Isaiah Dunn said the Beavers relish that opportunity.
"It's a challenge but it's a challenge that we want and we accept it and we just have to go out there and make plays," the junior said Wednesday.
You have free articles remaining.
"This week we've really got to win our one on ones down the field and make plays on the ball when it's in the air. If we win that we have a good chance to win the game."
The Beavers will certainly need to contain Cedric Byrd II, who had 14 receptions for 224 yards and four touchdowns in the win over the Wildcats to earn Mountain West Conference honors.
"He's a good receiver," said senior safety Shawn Wilson, who led the Beavers with 12 tackles last week. "He has good hands, good routes so what we have to do is we have to lock in on him more and put our hands on him just as any receiver we have to put our hands on him and slow that guy down a bit and see where that goes from there."
Cole McDonald completed 29 of 41 passes for 378 yards and four touchdowns, but also was benched late after throwing four interceptions. Backup Chevan Cordeiro was 5-for-7 passing for 58 yards and one touchdown.
The Beavers didn't force a turnover last week but feel like they might have a chance this weekend.
"They throw the ball a ton and so every time that it's in the air there's an opportunity to get a takeaway, an interception," Tibesar said. "I've never seen a game where a team has had six takeaways and lost the football game. That's got to be one of the few, an anomaly of football but that's what happened with Arizona."
Even if the Beavers are able to stop the passing attack at times, the Rainbow Warriors likely will be unfazed.
"This team is so unique in the sense that they may come out and throw two incompletions on first and second down and it really doesn't affect them because they're just going to come out and throw it on third," Tibesar said. "They're going to try to take their three chances throwing the football, and they will mix in enough runs, they had 30 runs against Arizona so it's not like they don't run it at all."