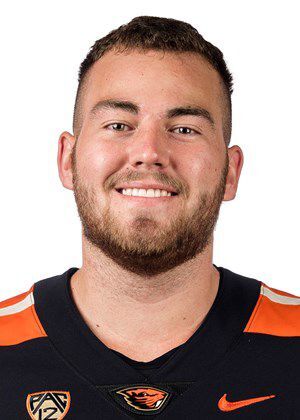 Growing up, Korbin Sorensen was always told that versatility could make or break him as an offensive linemen. 
So he molded his game in that way, taking extra snaps at center before each practice. He had never played a game at that position, but wanted to be prepared just in case he was ever needed there. 
"I want to take football as far as I can. So to do that, I need to be pretty versatile," Sorensen said. "Because that time might come, you know? The scouts are going to want to know if you can play center or not. That will really increase or decrease your draft stock."
At 6-foot-5, 305 pounds, Sorensen's physical strength was one of his biggest assets during a four-year career at Portland State. Now, it might be his versatility that serves him best as a graduate transfer at Oregon State. 
Sorensen's arrival in Corvallis is a win-win for both team and player; the Beavers get a proven talent who can help them at multiple positions, and Sorensen, with his undergrad already finished, gets a chance to prove himself on a bigger stage. 
"I'm just really thankful to be here," Sorensen said. "That's kind of what was going through my mind — I just wanted a chance to play somewhere higher. And the chance is right now."
The Beavers are losing three starters along the offensive front from last year's squad, and offensive line coach Jim Michalzic has been tinkering with all sorts of combinations during fall camp as he tries to find his best group of five linemen. 
"I think this year, more than any other going into a season, I've had to say, 'OK, we don't know what's going to happen in the future,'" Michalczik said. "So we have to have a lot of position flexibility here. Guys being able to move and play a lot of spots. So we're kind of putting more on them. But at the same time, we've got a group of guys who I think can handle it."
In Sorensen, the Beavers are getting a first-year player with the experience of a fifth-year player. He fits that idea of position flexibility as well as any player on Oregon State's roster.
"I like his buy-in — being new, he hasn't had any issues learning the scheme," Oregon State coach Jonathan Smith said. "He can play physically. We have moved him inside at both spots. So he's been a nice addition."
A redshirt senior from Kennewick, Wash., Sorensen started his last 33 games at Portland State and earned third-team All-Big-Sky honors as a sophomore. He began that stretch at right guard, but ended up as the Vikings' starting left tackle for his final two seasons. 
During OSU's fall camp, he has been taking reps at both guard spots, but Michalczik said he could bounce back to the outside spots if needed. 
"He's doing good. He's going real good. It's a little bit of a change because we moved him inside to guard. He's kind of battling in there. There's fundamental things that I think he's getting better at every day," Michalczik said. "I think Korbin has the right attitude, the right mentality, the work ethic, the toughness and competitiveness. He's physically a guy who's getting comfortable in the system and cutting it loose."
Sorensen is learning a new playbook for the first time in four years, and jokes that the veterans on the team have taken him under the wing despite the fact that he is already "an older guy." 
He admits that there is a definite talent gap between playing in the Big Sky and practicing against Pac-12 talent, but he said the support of Michalczik and graduate assistant Ryan Payne have helped make the transition a smooth one. 
"I think the biggest difference is everyone on this team has such a high talent level," Sorensen said. "I think it's overall just a higher skill set here. The guys are all smart and the playbook is a lot more intense, complex. I think it will develop me more and prepare me for the next level." 
Jarrid Denney can be reached at 541-521-3214 or via email at Jarrid.Denney@lee.net. Follow him on Twitter @jarrid_denney
Be the first to know
Get local news delivered to your inbox!