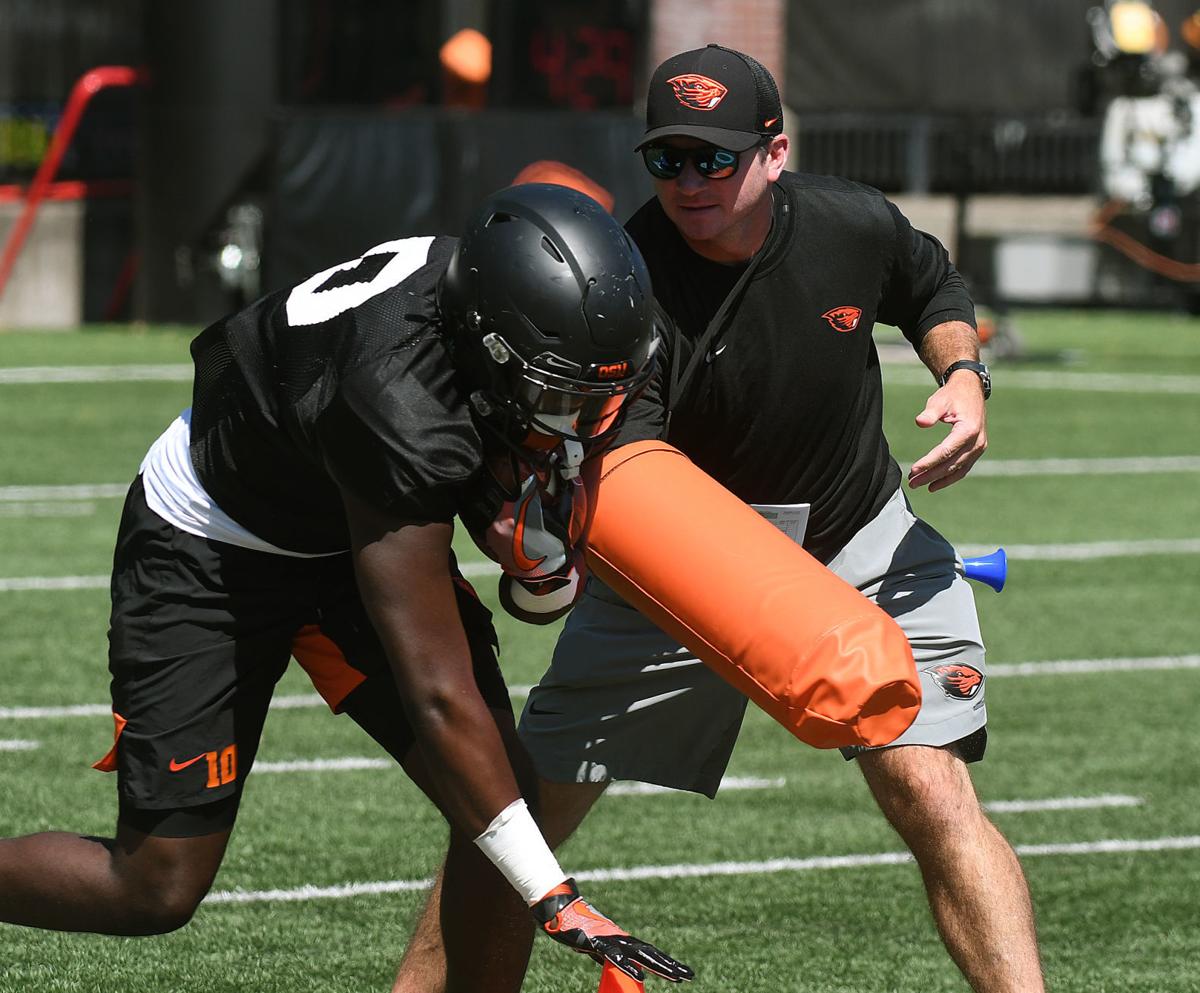 Oregon State is at the midpoint of training camp and the time to start to make decision on starting positions and a depth chart is fast approaching.
Soon enough, the focus will switch to preparing for the Aug. 30 season opener against Oklahoma State inside Reser Stadium.
"This is a big week in regards to that, separating, and some guys have been doing it from the get go," coach Jonathan Smith said earlier this week. "Some races are really close on the depth chart and we kind of tell our guys we want to be pushing, competing for that depth chart spot but we're going to need everybody."
The highest profile position that is yet to be determined is quarterback, where sixth-year senior Jake Luton is battling redshirt sophomore Tristan Gebbia. But all battles are important, Smith said.
"I do think that it's getting closer and it's not just quarterback," Smith said. "There are other positions that need to just start working all together. Whether it's the first five O-linemen and a couple tight ends working with them, so we're getting closer but no dead-set time table."
This week is also important as it is typically the time when players begin to get a little more tired and beat up.
"They've got to battle through some things and we've got to take advantage of every opportunity we have to get better, we need everybody out there," offensive coordinator Brian Lindgren said. "So I think it's really important for us to just push through that soreness, that tiredness and maximize every opportunity that we get."
Offense in 'groove'
Lindgren has been pleased with what he has seen out of the offense's first group, especially in last Saturday's closed scrimmage, and feels like they are in a groove.
"I think the thing that excites me most is some young guys that haven't really played a lot of football, I think we're starting to see flashes from them," he said. "I think they're starting to grasp what we're doing offensively and they're starting to show up in some of the live drills, so that's pretty exciting."
Lindgren, however, said the Beavers must get better with their physicality in the run game. On several occasions in the scrimmage the defense was able to make plays in obvious running situations.
"I think we've struggled with that early in camp and that's been kind of a challenge to the offensive line and the tight ends and the backs is they know that we're probably going to lean towards the run when it's a 4-minute drill, or a goal-line situation and we've got to be able to be physical up front and get that thing done," Lindgren said.
While the run game needs to improve, Lindgren has been pleased with how most of the 4-minute and 2-minute drills have run smoothly from an administrative perspective.
You have free articles remaining.
"I feel like our time management, our operation is so much cleaner than it was a year ago," he said. "That's just signs of a more veteran team."
QB battle ongoing
While both Lindgren and Smith have stated several times there is no set timetable on naming a starting quarterback, both Luton and Gebbia are making the decision difficult.
So what are they looking at to see who gets the edge?
Lindgren said they are constantly analyzing film to see if the quarterbacks are on time and placing the ball on target.
"A lot of times both of those guys are making the right read it's just is where he's going to put it allow us for some more yards after the catch," Lindgren said. "Both of them are really good players so sometimes you're having to dig pretty deep to find some differences."
As camp has progressed, they have also been able to look at how each handles different situations and their ability to make plays.
"That's one thing we stress to our quarterbacks is big-time quarterbacks make plays on third downs and keep drives going and we've been really looking at those guys in third-down situations and their ability to make plays and extend plays and keep the chains moving," Lindgren said.
Defense earns respect
Lindgren said the defense is at a much higher level than last season.
"I think they are so much more physical up front," he said. "In the secondary they're challenging more balls and shoot I thought they got after us pretty good for a lot of that scrimmage, with the exception of a couple drives by the first team.
"Yeah I think they've improved and are better than they were last year. I'm excited for them to go play against somebody else."
Smith said improvement has come in the run defense, which was 128th out of 129 Football Bowl Subdivision teams last season.
"We've talked about run defense for a long time and I thought our run defense was better on Saturday," he said.