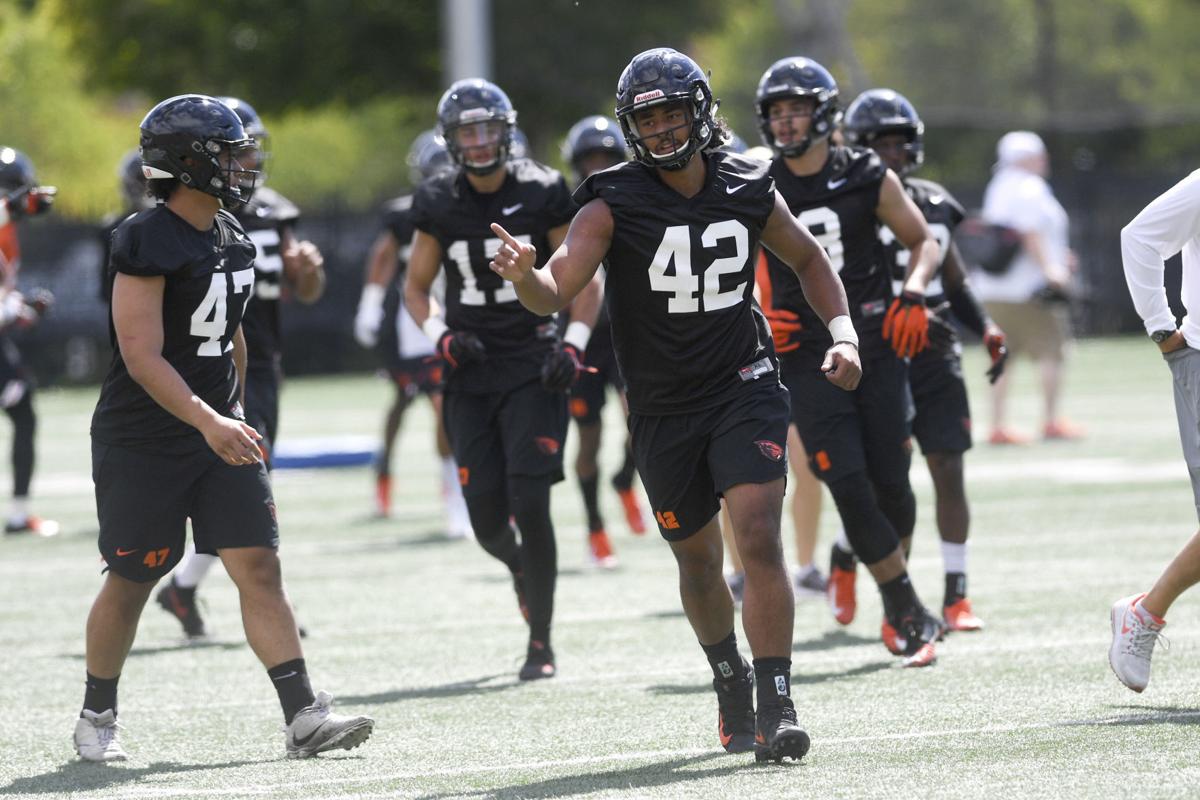 As music blared throughout a sun-baked Prothro Field, the Oregon State football team conducted its first practice of fall camp Friday afternoon.
New coach Jonathan Smith and staff displayed intensity and focus throughout the two-plus hour session. So did the players.
"I felt like we came out here with fire," junior running back Artavis Pierce said. "Everybody had great energy and we were ready to start camp off strong."
The Beavers officially reported to camp Thursday before their first practice of the fall. It was mostly position work with some 7-on-7s and 11-on-11s scattered throughout.
Highlight plays came from both sides of the ball on a pleasant mid-valley summer day.
"I thought it was good," sophomore quarterback Conor Blount said. "We'd been around each other pretty much all day yesterday, all day today. And to finally get out here and do football stuff, it was a relief."
Senior quarterback Jake Luton ran with the first-team offense and was impressed with the Beavers' focus. Luton started the first four games of last season as OSU finished 1-11 overall, including an 0-9 mark in Pac-12 play.
"I can't really speak to how much different it is, but just the feel of the guys this year, it's a good vibe around the building," Luton said. "The guys are coming in ready to go."
Blount, who is battling with Luton, Aidan Willard and Jack Colletto for the starting job, said the team made great progress in spring practice under Smith.
"We've got a lot of young guys that came in, and we've got a lot of talent with those young guys," Blount added. "It's just nice to get everybody gelling, and those five weeks were pretty critical."
The Beavers are set to practice all next week and hold an Aug. 11 scrimmage at Reser Stadium. OSU has another scrimmage scheduled for Aug. 23 in Bend before its season-opener at Ohio State on Sept. 1.
Pierce believes Friday's practice was a good first step for a program that hasn't qualified for a bowl game since 2013. 
"We just have to stay consistent," Pierce said. "We've got to come out here with a little more energy every day, and we will go in the right direction.
"It's a great start and I feel like everybody is trying to get together and have a great season."
Sidelined Beavers
Cornerback Isaiah Dunn, running back Calvin Tyler, safety Omar Hicks-Onu, wide receiver I'Shawn Taylor and tight end Ralph Taufa'asau all sat out Friday's practice.
Taufa'asau, a redshirt freshman, was on a mobility scooter. Hicks-Onu, a junior who has played in 24 career games, will be limited at the start of fall camp, Smith said Wednesday.
Be the first to know
Get local news delivered to your inbox!