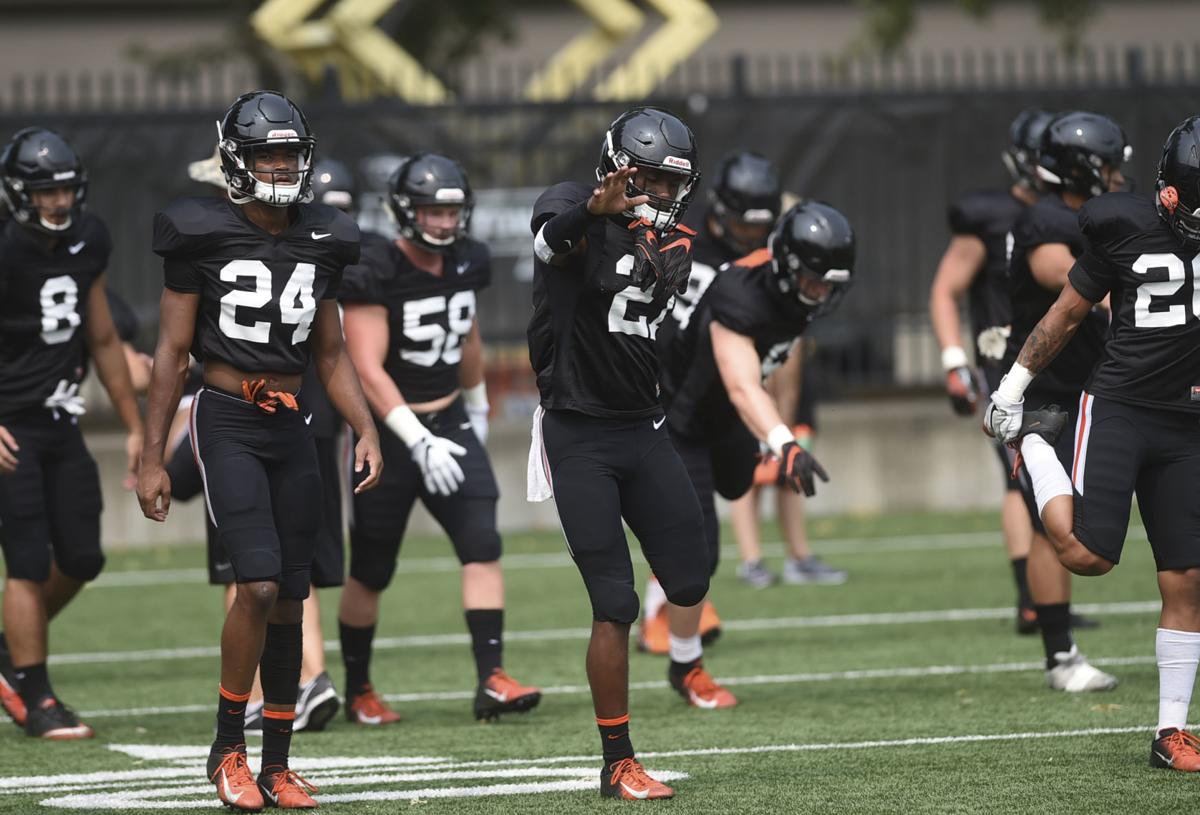 Oregon State held its second scrimmage of fall camp Friday at Reser Stadium.
Quarterback Jake Luton felt it was an improvement from the team's Aug. 11 scrimmage that was open to the public. Friday's dress rehearsal was closed to fans and media.
"On both sides of the ball, I thought we executed well and the energy was good. We got after it," said Luton, who noticed a heightened attention to detail during the scrimmage. "You just saw it in a lot of the guys. They were flying around a little bit faster and were able to stop thinking so much and play football."
Wide receiver Trevon Bradford agreed with the senior quarterback.
"We've gotten a lot better in our execution," Bradford said after Saturday's practice at Prothro Field. The Beavers are two weeks away from their Sept. 1 opener at Ohio State.
"We had a meeting today and the coaches said 'you've come a long ways,' but we are just trying to get better every single day. It was good to compete, get to hit like that."
The defense dominated the first half of OSU's Aug. 11 scrimmage as Luton, Jack Colletto and Conor Blount all had trouble moving the ball. The second half was controlled by the offense.
Wide receivers coach Kefense Hynson was happy to see the Beavers get some more live reps Friday.
"We don't have a huge veteran group," Hynson said. "We've got some older guys that have played, but everybody needs those reps. It was good to get some live action and make some full-speed mistakes that we can teach off of. And some guys did some really good things, too."
Offense installed
Following Thursday's practice, head coach Jonathan Smith said the majority of the new offense had been installed.
You have free articles remaining.
The Beavers seem to be picking it up.
"When learning new offense, the main thing you've got to be is consistent with it," Bradford said. "New plays and just making sure you know everything, because you've got to learn on the fly."
Added Luton: "We've been hammering away at it all summer. There's been some new wrinkles and some new things put in later in camp, but I feel really comfortable with it, I feel really good with it and I'm ready to play."
Depth at running back
Throughout much of fall camp, Oregon State's running backs have stolen the show.
Junior Artavis Pierce is the lone back with substantial game experience, but freshmen Jermar Jefferson, Kase Rogers and B.J. Baylor have all proven to be dangerous.
"A lot of talent," Luton said of the running backs. "To have two young guys (Jefferson and Rogers) step into a group that was already really talented, and the older guys we've got, it's huge. I think there's an abundance of talent in the backfield."
QB battle goes on
The Beavers held a short 11-on-11 session at the end of Saturday's practice.
Luton, Colletto and Blount all took reps with the first-team offense. Smith has yet to name a starting quarterback.
"All three are more than capable of winning the job," Bradford said. "I don't know who it's going to be. They don't really mention that to us."
OSU's first-string defense spent a good chunk of the time in a 2-4-5 formation with true freshman Isaac Hodgins and senior Kalani Vakameilalo on the line.
Be the first to know
Get local news delivered to your inbox!