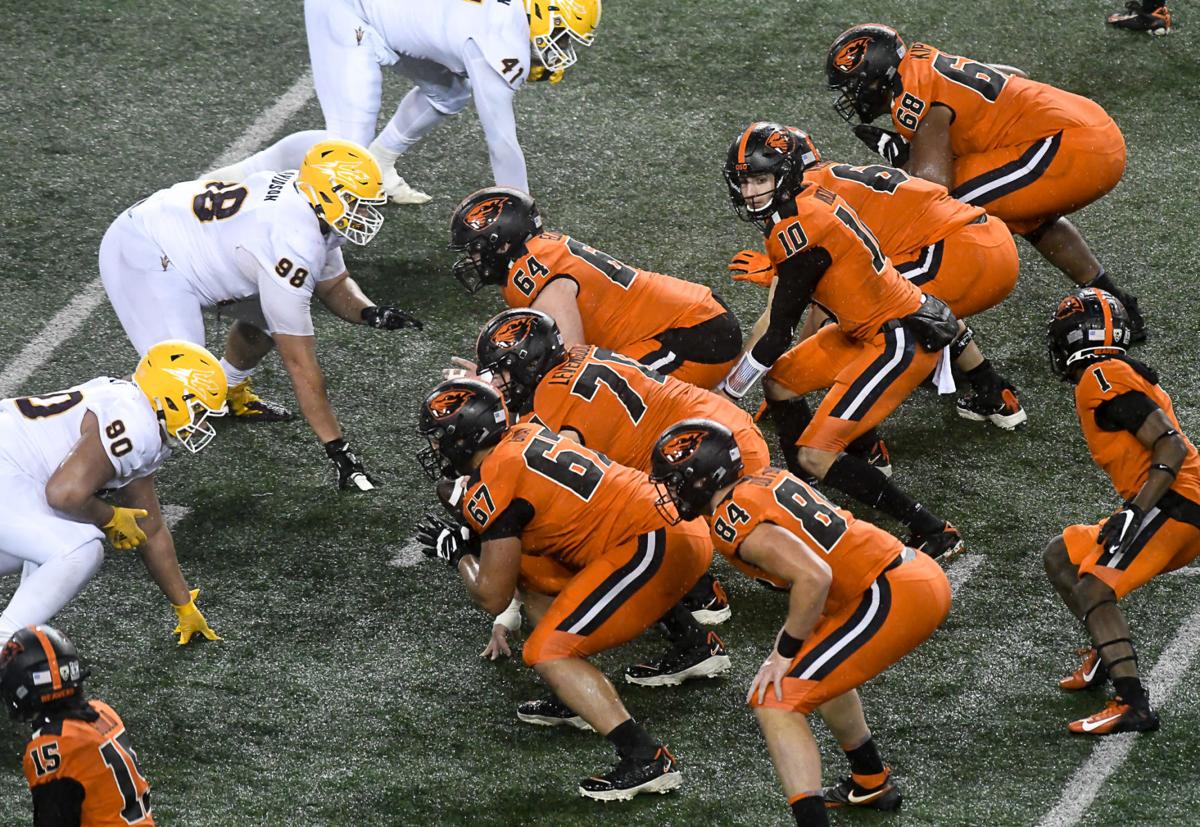 For Oregon State's football program, there's no rest for the weary. 
Exactly one month after their season ended, the Beavers will be back to work next week to begin their offseason training regimen. Jan. 19 will mark the start of a six-week program that will lead the Beavers into spring practice as they set their sights on a 2021 season. 
"We're taking this month of January to heavily dive into watching our tape, scouting ourselves on ways we can improve," coach Jonathan Smith said. "I think we've got some really positive things to look forward to, but at the same time some things that we want to get better. You always want to be taking steps and be doing things better, and so we're really diving into the tape in January as coaches."
The pandemic has caused a condensed rest period between seasons, but Smith said Oregon State is on target to begin spring practices during the first couple weeks of March. While the exact dates haven't been set in stone yet, that puts the Beavers on track to begin spring ball around the same time they would during a normal season. 
Winter term began at Oregon State last week — although most students are taking online and virtual classes, meaning some of Oregon State's players are still making their way back to Corvallis.
Smith said the majority of players were back this week, and he and his staff are ready to get back to work with a team that, so far, has seen very little turnover from last year's roster. 
Hamilcar Rashed Jr., Jermar Jefferson, Isaiah Dunn and Nahshon Wright have all declared for the NFL Draft. Reserve defensive players Kaleb Hayes, Issac Garcia and Keishon Dawkins have announced that they are leaving the program, and Mason Moran's name is listed in the transfer portal, although he has made no announcement on social media. 
That leaves the Beavers with as many as 11 redshirt seniors who will be coming back for a sixth season in 2021. 
Smith said the players who opted out of the 2020 season are all expected to return. That includes Jeromy Reichner, JoJo Forest, Jonathan Riley and Onesimus Clarke. 
Early arrivals
Smith noted that a handful of signees from Oregon State's 2021 recruiting class are already on campus and taking classes.
Quarterback Sam Vidlak, defensive lineman Omarion Fa'amoe and cornerback Arnez Madison are all enrolled, and Smith said Oregon State will announce more early enrollees as soon as they are able. 
Semisi Saluni, an outside linebacker who signed with the Beavers in 2018 out of Walnut Creek, California, is also enrolled in classes and will take part in winter workouts. Saluni, a three-star recruit out of high school, began a two-year mission for the LDS church in 2018 and completed it in 2020. 
Injury update
Oregon State's injury list was quite long by the time it played its season finale on Dec. 19. Many of those injuries were long-term knocks that will keep a handful of players sidelined through winter workouts, while some could be available for spring ball. 
Avery Roberts suffered a broken arm late in the season, but Smith said he might be back by March. Addison Gumbs and David Morris both battled nagging injuries and were sidelined for most of 2020, but both are expected to be ready for spring practice. 
Tristan Gebbia is still recovering from a torn hamstring and Smith said it is doubtful he will be anywhere near ready to play again in March.
Jarrid Denney can be reached at 541-521-3214 or via email at Jarrid.Denney@lee.net. Follow him on Twitter @jarrid_denney