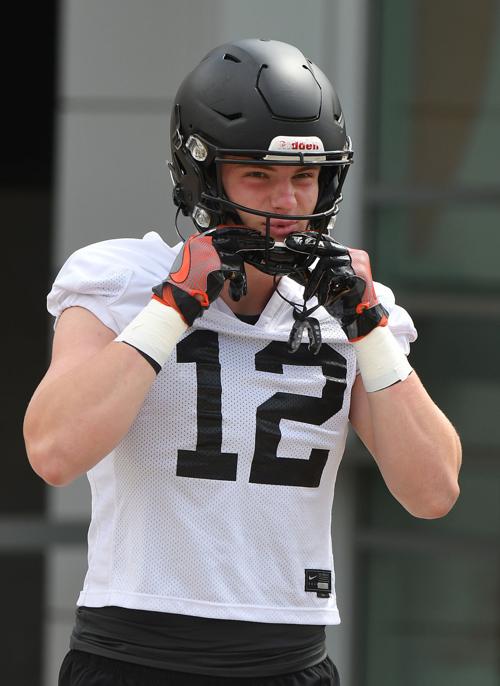 Hamilcar Rashed Jr. thinks teammate Jack Colletto might have a leg up in joining the defense after playing quarterback.
Colletto is in his third year on the Oregon State football roster and second as an inside linebacker after making the move two springs ago.
Rashed, an outside linebacker who busted out and gained national recognition in 2019, says the former QB seems to be at the right place a lot.
"Colletto, I feel like he's a little ball hawk. I don't know if he knows all the plays or something like that. But he's just everywhere when it comes down to the offense," Rashed said. "I don't know if he knows everything but he's a good player and I can't wait to see him develop even more, get bigger, get stronger and become even a better player than I know he could be."
Colletto, from Camas, Washington, played his freshman year in 2017 at Arizona Western College before transferring to Oregon State.
In 2019, Colletto played in just four games while making his transition, which allowed him to use a redshirt and maintain his junior standing this fall.
He had three tackles and one pass breakup last year. He also ran the ball six times for 10 yards and a touchdown.
His work in this year's fall camp has caught some eyes.
Beavers defensive coordinator Tim Tibesar says Colletto, listed at 6-foot-3 and 238 pounds, is the biggest player at his position on the team and adds good speed for his size plus the smarts he carries over from his offensive role.
"He's been able to pick up the defense and learn the techniques really well," the coach said. "He brings some speed, some physicality and football intelligence to the inside backer position, which has been awesome."
Stepping up
The Oregon State offense lost some important players to graduation after the 2019 season, including quarterback Jake Luton and linemen Blake Brandel and Gus Lavaka.
Rashed said Thursday that it's time the defense takes the lead to help their teammates on the other side of the ball.
"Everybody knows we're supposed to be better than the offense," he said. "That should fire up the offense to be that much greater. I feel like iron sharpens iron, so I feel like we've got to be the ones to lead the way.
"Offense should beat us. Sometimes they beat us, sometimes they don't. But we've got to take that step and actually try to beat them every day so they get better when it's game day, when it's really hard."
Return underway
Andrzej Hughes-Murray was forced to sit out the entire 2019 season with a foot injury.
The senior outside linebacker from Federal Way, Washington, and 2019 team captain was coming off a 2018 campaign in which he had 33 tackles, including a tackle for loss in each of the last five games of the season. He finished the year with three sacks.
The Beavers are glad to have him back and healthy.
"He's been able to practice and hasn't had any issues with his foot at all," Tibesar said. "So we're pleased that he's been able to get out there and do what he's been able to do so far."
Be the first to know
Get local news delivered to your inbox!