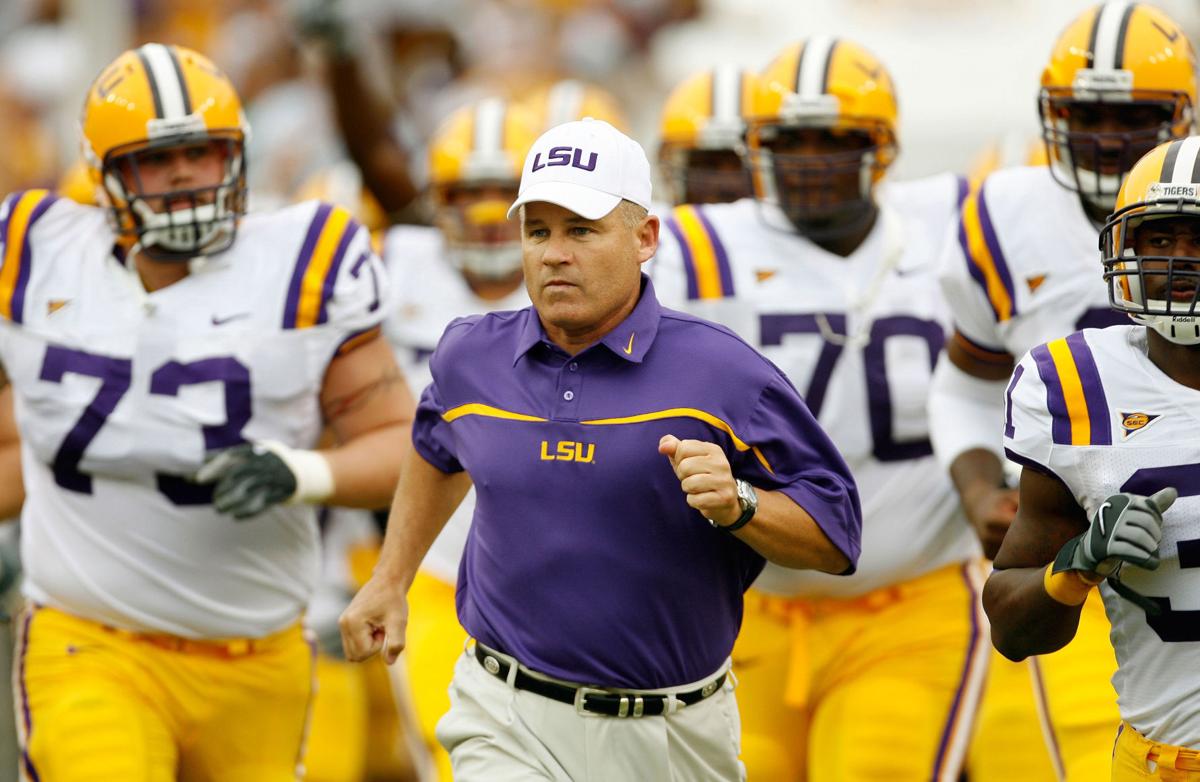 According to multiple sources, former LSU and Oklahoma State football coach Les Miles is interested in the Oregon State job.
Miles, 63, compiled a 114-34 overall record in 11-plus seasons with the Tigers, earning a pair of Southeastern Conference titles (2007, 2011) and the 2007 national championship. His .770 winning percentage at LSU exceeds legendary coaches Nick Saban (.750) and Charles McClendon (.692).
Miles, who was fired after a 2-2 start to the 2016 season, currently works as a color analyst for Fox Sports.
"I felt like this time away helped me resolve some issues with where I wanted to go and what I wanted to do," Miles said during a recent interview with Bleacher Report. "It's pretty obvious now what I want to do. I want to hire a great staff and chase a national championship at a place that wants this pursuit. I want to recruit again. I want an AD and president to say, 'I'm with you, let's go do this.' I want them with me."
A two-year letterman for Bo Schembechler at Michigan from 1974-75, Miles' coaching career began at his alma mater in 1980. He was Oklahoma State's head coach from 2001-04, going 28-21 with a pair of victories over rival Oklahoma in the annual Bedlam Series.
Miles led LSU from 2005-2016 and went 62-28 in SEC play. His teams finished in the Associated Press Top 25 nine times, including five top-10 rankings.
Prior to Miles' tenure, the Cowboys had suffered three consecutive losing seasons with a combined record of 13-26. Miles went 4-7 in Year 1 before taking Oklahoma State to three straight bowl games.
The former offensive lineman was the AP Big 12 coach of the year in 2002 and the SEC and national coach of the year in 2011.
Current NFL stars Odell Beckham Jr., Patrick Peterson, Tyrann Mathieu and Leonard Fournette are among the numerous All-Americans Miles tutored at LSU.
The Tigers' defense routinely ranked among the nation's elite under Miles while the offense tailed off toward the end of his tenure. LSU's passing attack ranked 116th nationally in 2014 and 106th in the 2015.
Oregon State and former head coach Gary Andersen mutually agreed to part ways in October following a blowout loss at USC. Andersen finished 7-23 overall in two and a half seasons with the Beavers.
Interim head coach Cory Hall is 0-3 as Oregon State (1-8) readies for its matchup with Arizona (6-3) on Saturday.
Oregon State officially posted the head coach position on Monday. The full consideration application deadline is Nov. 20.
According to the post, applicants should have a minimum of three years of coaching experience at the Division I or NFL level. The position is described as 50 percent coaching, 25 percent recruiting, 10 percent leadership and vision, 5 percent budgetary oversight, 5 percent equipment and 5 percent fundraising.
Center switch
Yanni Demogerontas came in for Sumner Houston at center during the loss at Cal.
Oregon State co-offensive coordinator T.J. Woods said the decision was not based on Houston's performance.
Woods said he wanted Demogerontas to get some game reps.
"He's been a starter before, (but) he hasn't gotten any time this year," Woods said. "It's really unfortunate that we haven't been in any games where we have the affordability to get the second team in there.
"Kammy (Delp) has been able to get in there (at right guard) and play and so I just felt like it was time for Yanni to get a chance, too, and get in there and I thought he performed well other than the first bad snap that he had, he did a good job so that was good to see."
Woods said he'd like to see Delp and Demogerontas get some playing time during the last three weeks.
"I don't think there's that much drop-off between those two kids and our starters and so I would like to get a little rotation going there and keep those guys fresh, keep them mentally fresh a little bit more," Woods said. "But we'll see. That depends on how they practice the rest of this week."
O-line play
The Beavers finished with 104 rushing yards against the Bears, not quite the result the team was looking for going into the game.
Woods said the line play has lacked consistency all season.
"There's explosive runs to be had and we're one block away several times. Some of that happens. That's football. It's hard to tackle, hard to block. Those are the two hardest things to do in football," Woods said.
"But having said that, to me, I'm looking for more consistency in that group and that's really been our Achilles' heel all year. We'd have good plays and good drives but we're just not as consistent as we've been in the past in the run game. Protection has been really good. It's been solid all year in my opinion and it was against Cal. They were bringing a lot of different stuff and I thought we handled that well, kept Darell clean the majority of the game and I think that the lack of consistency is really coming in the run game for us."
— Kevin Hampton contributed to this story 
Kevin Hampton contributed to this notebook.