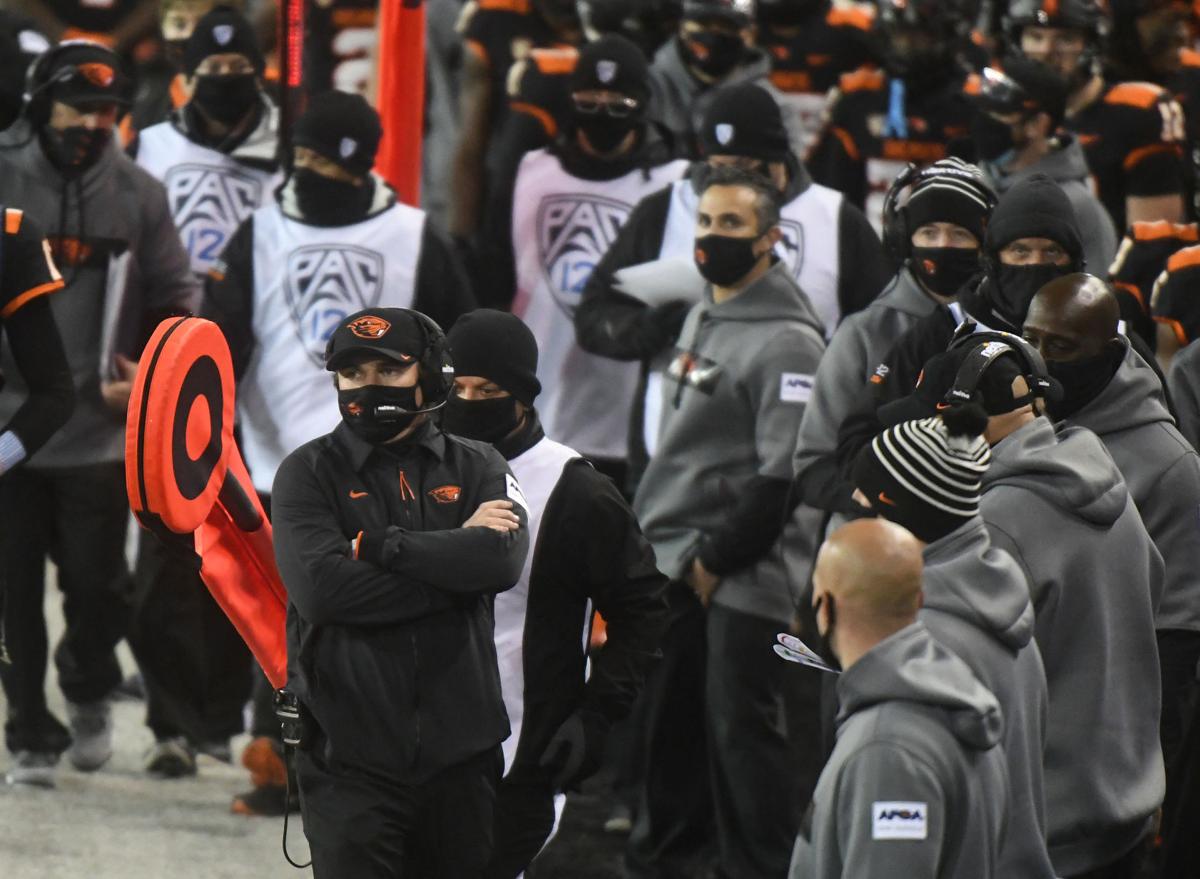 On Thursday, the Pac-12 gave its member schools clearance to schedule football games with nonconference opponents this season. 
The flexibility, subject to certain parameters, was approved by the Pac-12 CEO Group.
"The Pac-12 is committed to maintaining maximum flexibility to provide our football student-athletes with an opportunity to compete, while continuing to ensure that health and safety remains our number one priority," Pac-12 commissioner Larry Scott said in a statement.
In order for a nonconference game to be played, three criteria must be met: all Pac-12 testing protocols must be adhered to by the nonconference opponent. The nonconference game must be a home game for the Pac-12 team and broadcast by a Pac-12 television partner. 
Lastly, if a Pac-12 opponent becomes available by the end of Thursday in any given week, the conference game must be played in lieu of any nonconference game. 
"I think it's a good move," Oregon State coach Jonathan Smith said. "I mean, these guys, players, have been working so hard. So if they get an opportunity to play a game, I think that would be a good thing."
The move was made by the conference after a smattering of cancelled games during the first two weeks of the season left some teams with vacant spots on their schedules. 
As of now, the Beavers do not have an open space on their 2020 schedule. 
Departures from the program
Two players have left Oregon State's football team. 
Running back Connor Morton and wide receiver Job Dockery were no longer listed on the Beavers' roster Wednesday evening, and Smith confirmed Thursday that both have left the program. 
Morton, a former prep standout at Thurston High in Springfield, played in eight games as a redshirt freshman in 2019 after joining the team mid-season a year prior. He played primarily on special teams and returned four kickoffs for 81 yards. 
Dockery also joined the team midseason in 2018 and took a redshirt season but did not play in 2019. A redshirt junior, Dockery spent his prep career at Curtis High in Washington and played five games at College of the Siskyous in 2017, totaling 10 receptions for 198 yards. 
Injury update
Smith said the Beavers will enter Saturday's 12:30 p.m. matchup with California mostly healthy. The latest depth chart is identical to the one that was released prior to the Nov. 14 game at Washington. 
But the Beavers will still be without starting linebacker Addison Gumbs, who has not played this season due to a hamstring injury. Defensive tackle Alexander Skelton is "doubtful," according to Smith. 
Oregon State will still be without the four players who missed the Washington game due to COVID-19 testing protocols: Sebastian Briski, Kyrei Fisher, David Morris and Junior Walling.
One of those players tested positive for the coronavirus, and the other three are quarantining due to contact tracing. Oregon State has not revealed who tested positive.
The Beavers will also be without safety Kitan Oladapo for the first half Saturday because he was ejected from the Washington game for a targeting penalty. 
Jarrid Denney can be reached at 541-521-3214 or via email at Jarrid.Denney@lee.net. Follow him on Twitter @jarrid_denney
Be the first to know
Get local news delivered to your inbox!