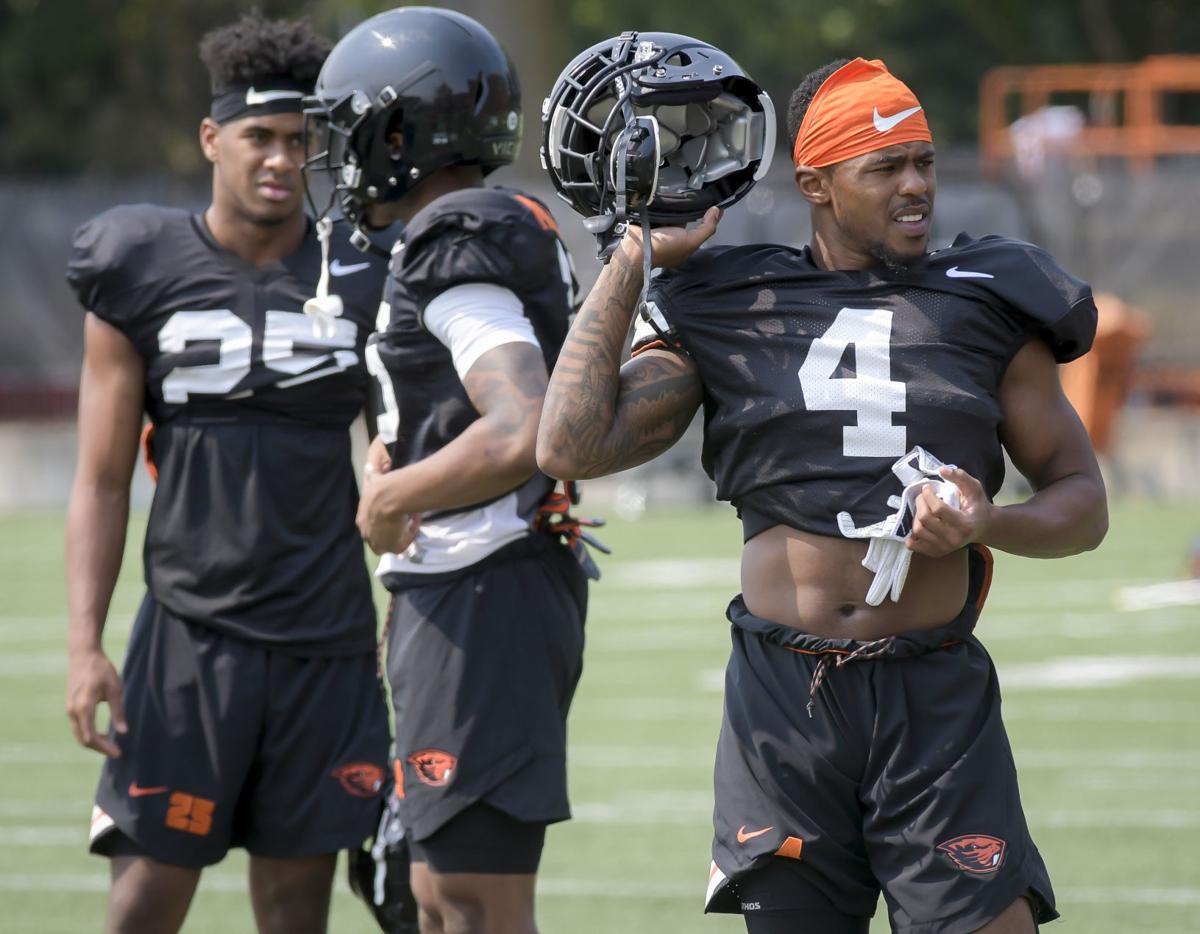 Dwayne Williams will never forget Sept. 9, 2017.
Oregon State's senior defensive back called it "life changing."
That's the day Williams suffered a right knee injury that cost him the rest of the season.
It was tough to deal with.
"When the injury happened, you work so hard all offseason just to go out the third game it takes a lot out of you mentally, and physically, too," Williams said Saturday. "I lost probably 20 pounds in the process. To be back out here to be back where I was, well almost back where I was, I'm happy."
Williams missed the last nine games of the season as well as all of spring camp.
He used the time to rehab the knee and get his range of motion and strength back. He also spent plenty of time in the film room.
"I felt a little rusty, of course, but it feels good to be back," Williams said.
His return, as well as having Jay Irvine back, has helped an already strong secondary.
"Those guys we're champing at the bit to get out here," coach Jonathan Smith said Monday night. "Dwayne Williams and Jay Irvine and all those guys, it's been nice to see what they're truly like for four days."
QB play so far
Smith reiterated on Monday that there is no rush to name a starting quarterback. He did, however, say he would like to narrow the race down by the middle of camp and then eventually choose a starter.
"I think there's been some consistency in knowing where to go with the ball," Smith said. "Not always perfect by any stretch. I think they've progressed. You can tell some of the comfort level they've gotten over the summer. All those guys have progressed.
"Conor (Blount) had some good throws (Monday). (Jake) Luton's really been pretty consistent all four days. And (Jack) Colletto, you can tell the jump he's made, he's really improved in comfort level."
Offensive coordinator/quarterbacks coach Brian Lindgren agrees consistency is a big key in determining a starter and said the group has "got work to do."
"We've been putting them through some different situations," he said. "Today we went down into the red zone and there were some good things and some mistakes that we need to clean up.
"… Those guys are eager to learn and we need the work between now and the first game."
Packing a punch
At 5-foot-5, Champ Flemings is the shortest player on the Beavers' roster. He's also the lightest at 143 pounds.
But the redshirt freshman receiver from Pasadena, California, could make some big plays this season.
"The guy's dynamic so he can do some things on special teams, offensively, moving him around, finding ways to get the ball in his hands," Smith said. "I know he's undersized but I think he's tough. He's not scared to stick his face in there and block somebody. He's a weapon."
Depth chart delay
Like naming a starting quarterback, Smith is in no hurry to release the first depth chart of his head coaching career. He wants to allow the players a chance to compete for spots for a while.
"I don't think when the depth chart finally comes out it will be any shock to anybody around here," Smith said. "But we're in no rush."
Freshmen backs
Freshman running backs Jermar Jefferson (5-10, 211) and Kase Rogers (6-0, 199) have showed some positive signs the first week of camp.
"I think those two guys have shown why we recruited them," Smith said. "They're still learning and have a long way to go but I like their work ethic and they've got some athleticism. They've got some similarities in their body type and change of direction and all that. Those guys have a bright future."
Be the first to know
Get local news delivered to your inbox!