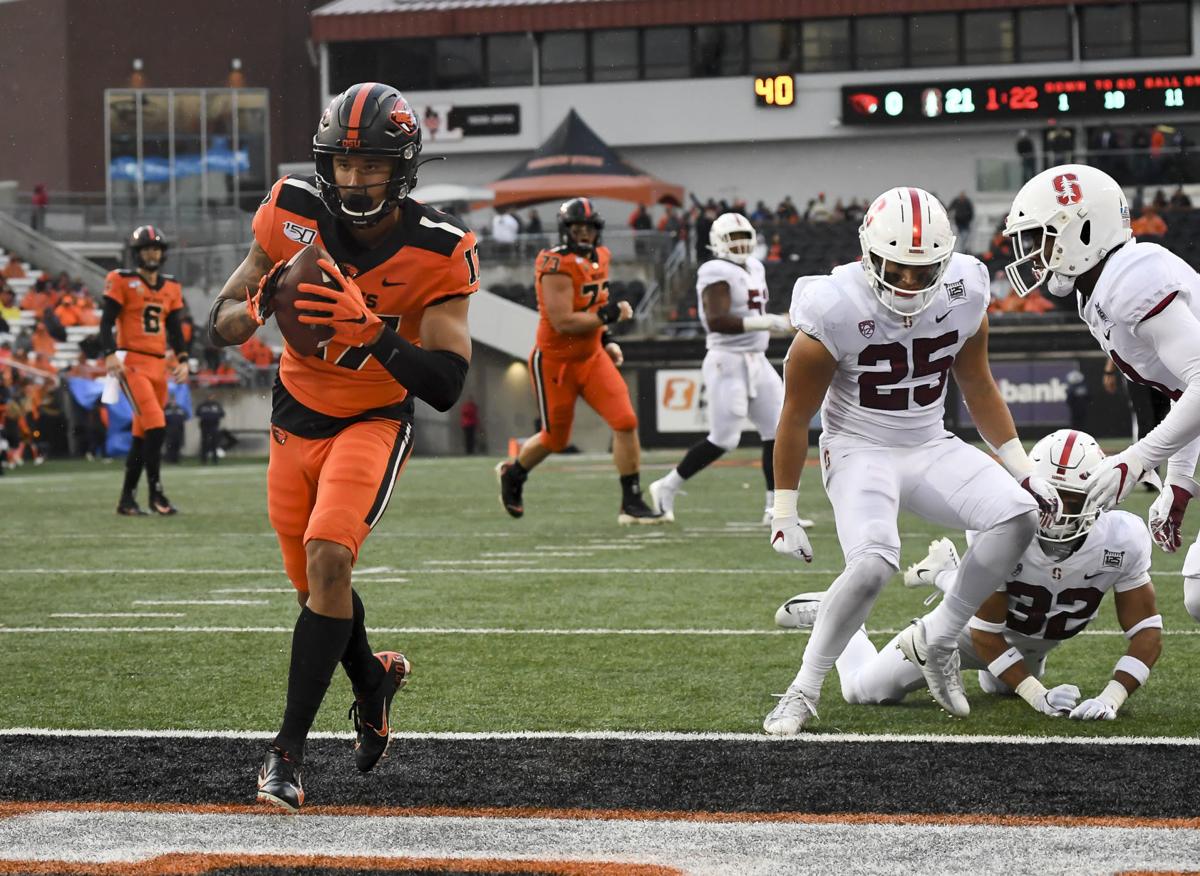 Oregon State found its offense just in time Saturday night to give the Beavers a chance.
After a stretch of two-plus quarters spent moving the ball but nothing to show for it, four straight second-half drives produced touchdowns, resurrecting an effort that time and again ran into roadblocks in the first two quarters.
The Beavers gained traction on offense after halftime but it proved to be not enough in a 31-28 Pac-12 loss to Stanford at Reser Stadium.
"We went into half knowing we have the time to move the ball on these guys, and we have the playmakers and we have the skill and we weren't doing it," said OSU receiver Isaiah Hodgins, who had a big second half with six catches for 89 yards and a touchdown.
The entire second half on offense was filled with plays that had the Stanford defense on its heels. The Beavers' final drive was no different, with much of the early yardage coming through the arm of quarterback Jake Luton and his receivers.
Under the pressure of being seven points down in the closing minutes, Luton connected with Noah Togiai for 18 yards, Kolby Taylor for 9 and Tyjon Lindsey for 7 more to get the ball to midfield. Luton rushed ahead for 4 for a first down.
After an incomplete pass, Artavis Pierce and the run game took over. Pierce carried for 9 yards, another 36 on a 3rd-and-1 and a 1-yard plunge for the game-tying score with Jordan Choukair's PAT.
Luton finished 27-of-39 passing for 337 yards and a touchdown. Hodgins had 10 catches in all for 162 yards and a score. Champ Flemings added 64 yards on five receptions and Pierce 46 on four grabs.
"I think we're confident throwing it, and it wasn't just Hodgins," Beavers coach Jonathan Smith said of his star pass catcher. "It was good to see some other guys make some catches and do some things. We feel like we can throw it and run it. We've just got to do it consistent for 60 minutes."
Pierce had a game-high 141 yards and two touchdowns on 16 carries.
Jermar Jefferson, OSU's star back, rushed four times for 17 yards after missing the Cal Poly game two weeks ago before the bye due to a foot injury.
Smith said Jefferson's limited touches were because "it was not feeling right for him."
With the defense keeping the team in the game, OSU trailed only 14-0 at halftime.
The Beavers got as far as the Stanford 49 before punting on their initial drive after the break. But the next possession, OSU's sixth of the contest, produced something more.
Down three scores, the Beavers went to the air to move the ball.
You have free articles remaining.
Hodgins hauled in a 13-yarder from Luton and Flemings two more for a combined 25 yards as OSU passed on five of its first seven plays.
BJ Baylor covered 9 yards on two runs and Jack Colletto for another 8 before Hodgins reached out his right hand for a Luton pass, tipping the ball to himself in traffic for an 11-yard touchdown reception.
A quick defensive stop put the OSU offense back in business in a hurry, though the Beavers were starting at their own 5 after a punt.
Hodgins had catches of 16 and 19 yards as Oregon State converted two third downs before Pierce broke through the line for 43 yards and a touchdown with 12:23 remaining to make it a one-score game.
Oregon State found more big plays after Stanford extended its lead back to two scores.
Catches by Hodgins for 15, Pierce for 11, a Pierce run for 17 and a Flemings grab for 27 — all in succession — put the ball at the Stanford 5. Baylor scored two plays later on a 1-yard touchdown run with 7:05 remaining.
The Beavers went to halftime with 153 yards and no points on the scoreboard.
On OSU's first drive, a 5-yard Jefferson run got the ball to the Stanford 30. But Pierce went backwards 2 yards on a run, a Luton pass to Hodgins fell incomplete and Choukair was short on a 50-yard field goal attempt.
A holding penalty and a sack kept the Beavers from going anywhere on their second possession.
The third drive, starting at the OSU 3, showed promise with consecutive catches by Hodgins of 25, 24 and 11 yards on the first three plays moving the ball to the Cardinal 37.
Jefferson had an 8-yard carry and Pierce one for 9, and the ball eventually reached the 9 before the drive went sideways.
Colletto lined up behind center and Luton out wide on a third-down play when Luton was called for a false start. Back at quarterback, Luton scrambled right and missed a wide-open Taylor in the end zone.
Stanford's Obi Eboh then blocked Choukair's 38-yard field goal try.
The Beavers' final drive of the half also looked like it could produce points.
A 13-yard catch by Hodgins and another for 20 by Pierce helped push OSU to the Stanford 25 in the final minute. But consecutive sacks by Thomas Booker and Gabe Reid ended the half.
Oregon State's offense allowed just two total sacks in three games but gave up four — two by defensive end Booker — in Saturday's first half. Luton wasn't sacked in the second half.
"Just shooting ourselves in the foot and not executing," Hodgins said of his team's slow start. "Dumb penalties and holding, false starts, whatever it was. If we would have started like that it would have been a different outcome."