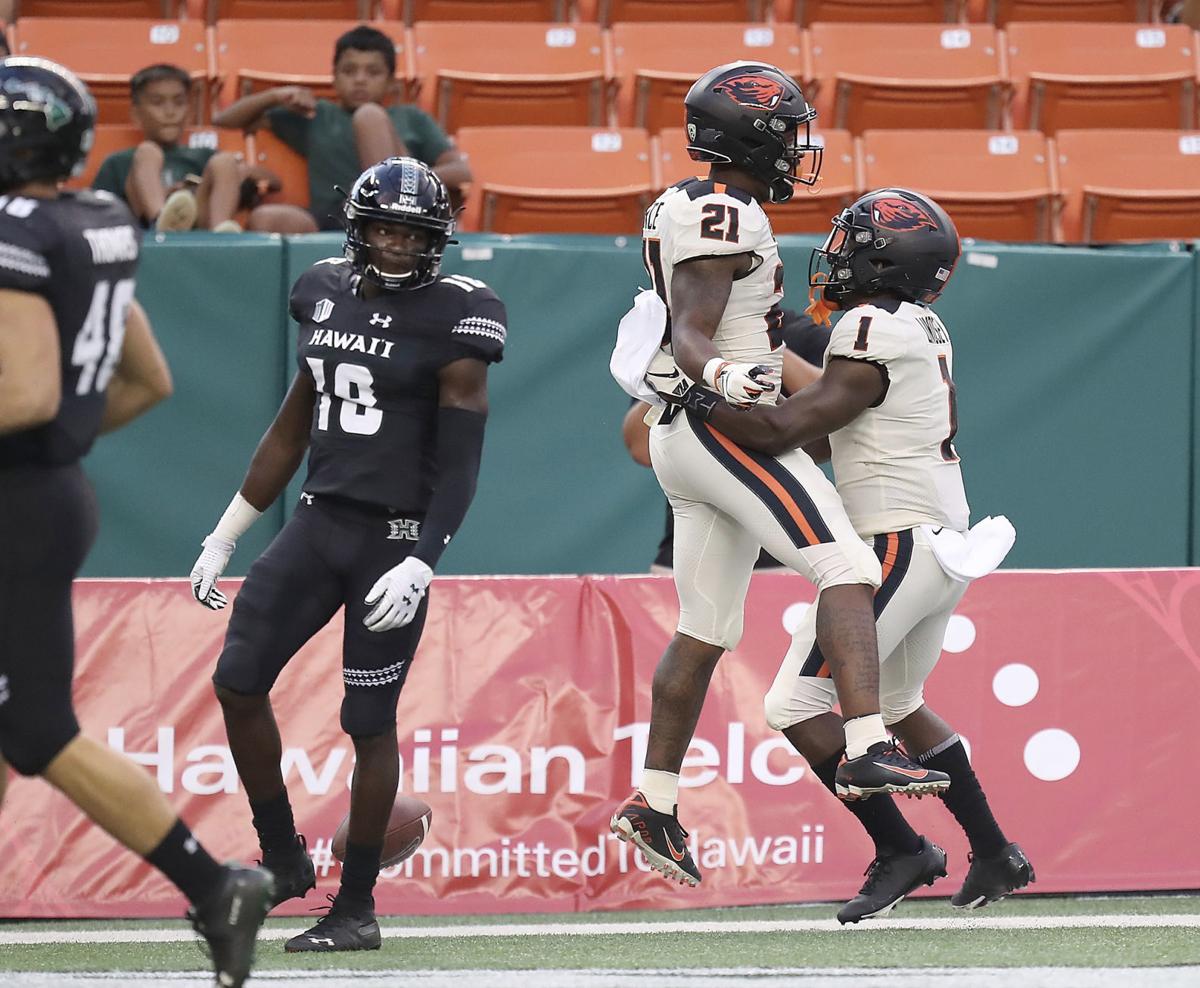 Coming off a dominating 45-7 victory over Cal Poly, having a bye week may seem like it has come at a bad time for the Oregon State football team.
Could the extra time off minimize some of the momentum?
It's possible, but the consensus of players and coaches who shared their thoughts this week is that they aren't concerned.
"I don't mind it," senior offensive lineman Blake Brandel said on Tuesday. "You kind of get three weeks under your belts and then you're heading into conference play. It's a little different having two of them but I think we're going to try to take advantage of it and see how it goes."
The Beavers, who will also have a bye week following the Oct. 19 road game against California, practiced Tuesday and Wednesday and will be off until they going through an "extra" practice on Sunday in preparation for the Pac-12 opener at home against Stanford on Sept. 28. Kickoff is set for 4 p.m.
While there is some extra time off, Brandel said the players will still put in time on and off the field.
"In terms of players we kind of take it on ourselves," he said. "We've got a lot of extra time in bye week so we'll be watching film. It's a good head start and the more film we watch it can never hurt."
The extra week will also allow a number of key players to try to get healthy enough to return for the Pac-12 opener.
Coach Jonathan Smith said Wednesday that he anticipates having defensive lineman Jordan Whittley (knee), running back Jermar Jefferson (foot), and receiver Tyjon Lindsey (leg) for the Stanford game — all three were scratches last week. However, that could change next week.
As of Wednesday, center Nathan Eldridge is more of a game-time decision, Smith said.
Outside linebacker Matthew Tago (knee), who left the Hawaii game, is out for the Stanford game and possibly longer.
Senior receiver Trevon Bradford, who has yet to practice since camp started back in August, is still not cleared to play with a foot injury. While there hasn't been talk of a possible redshirt season, that could be a topic of conversation if he isn't able to get on the field in the next couple of games.
Under the new rule that began last season, players can play in any four games during a season and still redshirt.
Making progress
Smith said he has seen a good amount of improvement from all three phases of the game over the first three weeks.
"We know a lot about our team after three games compared to before the season started," he said. "I like where we're at affecting the backfield defensively; the tackle-for-loss thing has been positive. We still need to improve really in all aspects."
Having faced three different offenses, Smith is cautious in what he has seen from the defense.
"Three different offenses that we've played doesn't give you an exact idea where we are defensively but we'll find out in a hurry once we get into the league," he said.
Smith has liked how much better the Beavers have tackled in space through the first three games.
"I think it's better and I think it can be better," he said. "I think we've showed improvement compared to last year."
Why not the Beavers
Oregon State may have been picked to finish last in the Pac-12 at the start of the season, but after three weeks the players remain confident they can make an impact in the conference.
"I think you can beat any team and you can lose to any team," Brandel said. "Of course I believe we can win every game, but we're taking it one game at a time and I try not to pay too much attention to what other people say or what other teams are doing because it's about us."
Quarterback Jake Luton had a similar feeling.
"I think every game is a winnable game," he said. "I think every game is on the table. There's no real juggernaut coming out right now that looks like they are going to dominate everybody else.
"I think there's some really good teams in the conference but I think every game is a winnable game for us and I think we've shown we can be in games and every week we're going to work to capitalize on that and finish games."