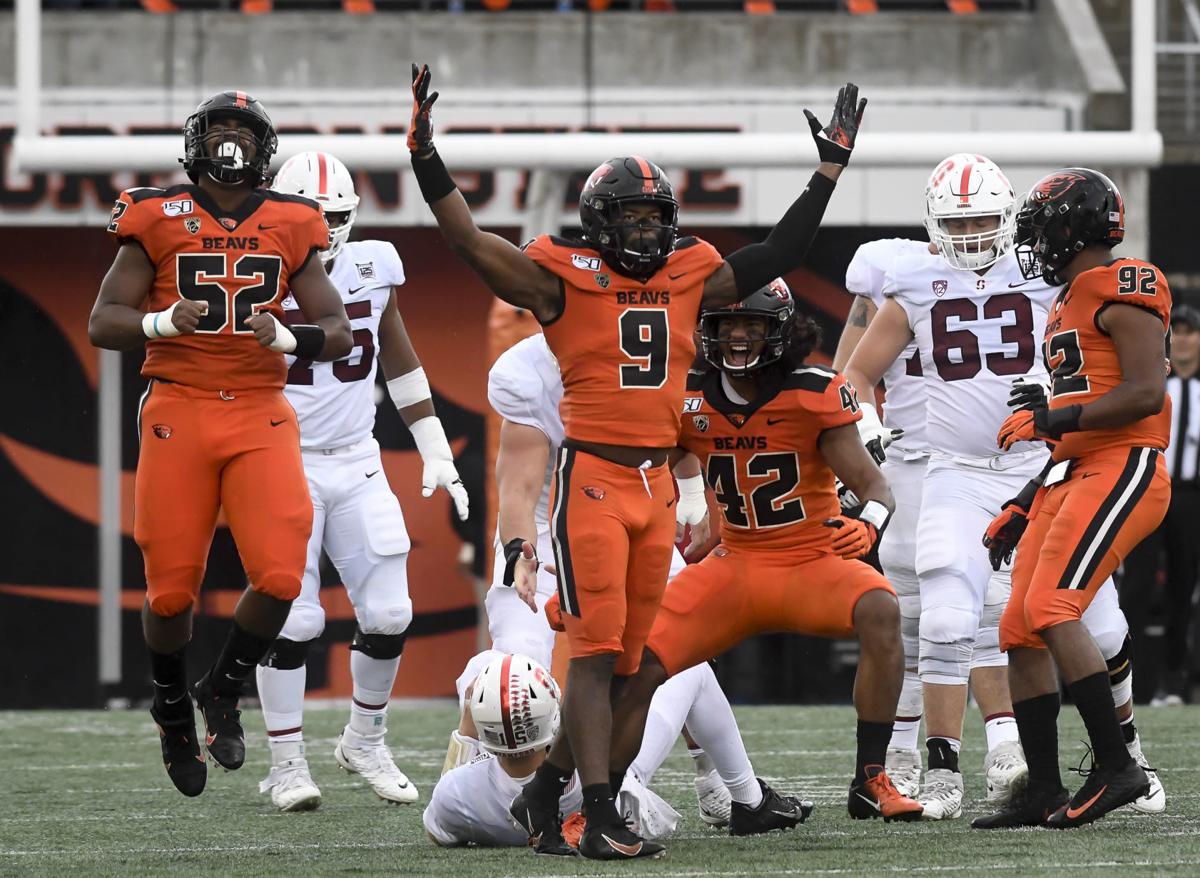 Hamilcar Rashed Jr. continues to make game-changing plays for the Oregon State defense.
That continued Saturday, as the junior outside linebacker had two first-half sacks in the 31-28 home loss to Stanford, giving him at least one tackle for loss in all four games this season.
Rashed had a game-high 6.5 tackles to give him 22.5 this fall, including six sacks. Teammate Isaiah Dunn added five tackles and two pass breakups.
Erickson's return
Former Beavers coach Dennis Erickson was recognized on the field between the first and second quarters. Erickson will be enshrined into the College Football Hall of Fame on Dec. 28 in Atlanta.
Erickson coached at Oregon State from 1999 to 2002. He led the Beavers to an 11-1 record, a Fiesta Bowl victory and a year-ending No. 4 ranking in the national polls. Erickson was also the head coach at Idaho, Wyoming, Washington State, Miami and Arizona State.
The 2019 class, announced in January, also includes former Arizona State quarterback Jake Plummer and USC defensive back Troy Polamalu, a graduate of Douglas High in Winston.
Slow starts
Conference openers haven't been kind to the Oregon State football program in recent history.
The Beavers entered Saturday's game having lost five straight Pac-12 openers, with the closest margin of defeat 18. The last time they opened Pac-12 play with a victory was a 51-48 overtime win at Utah in 2013.
Ball security
Oregon State didn't turn the ball over Saturday and finished the day as one of two FBS schools — Iowa the other — with one turnover this season.
The Beavers are also one of four teams without a lost fumble, joining Appalachian State, Old Dominion and West Virginia.
More Hodgins
Oregon State's Isaiah Hodgins had another impactful day, hauling in 10 passes for 162 yards and a touchdown. It was the sixth 100-yard game of his career.
All 10 of the junior's catches went for a first down or touchdown. The same can be said for 29 of his 33 receptions this season.
Hodgins entered the day ranked first in the Pac-12 Conference and eighth nationally at 115.7 receiving yards per game.
Delay of game
A lightning strike in the area delayed the start of the game.
The teams went back to their respective locker rooms and had a 10-minute warmup period when they returned to the field. Kickoff was at 4:25 p.m., 15 minutes past the originally scheduled time.
Parkinson in spotlight
Stanford tight end Colby Parkinson has not lacked for success against Oregon State in the teams' past two meetings.
The junior had a big day Saturday, catching one touchdown and throwing for another.
Last year, Parkinson had six catches for 166 yards and four touchdowns in a 48-17 home win versus the Beavers. The yardage was the second-most ever by a Cardinal tight end.
Parkinson, with 17 catches for 178 yards and no scores on the season coming into Saturday, was held without a catch in a Sept. 21 home loss to Oregon.
He had a 36-yard catch in the fourth quarter. Then, after Stanford took points off the board for a made field goal to accept a personal foul on OSU, Parkinson threw a 7-yard touchdown pass to quarterback Davis Mills.
All-time series
Stanford has won 10 straight games against Oregon State and leads the all-time series 58-25-3. The Beavers last beat the Cardinal in 2009 with a 38-28 win at Reser Stadium.