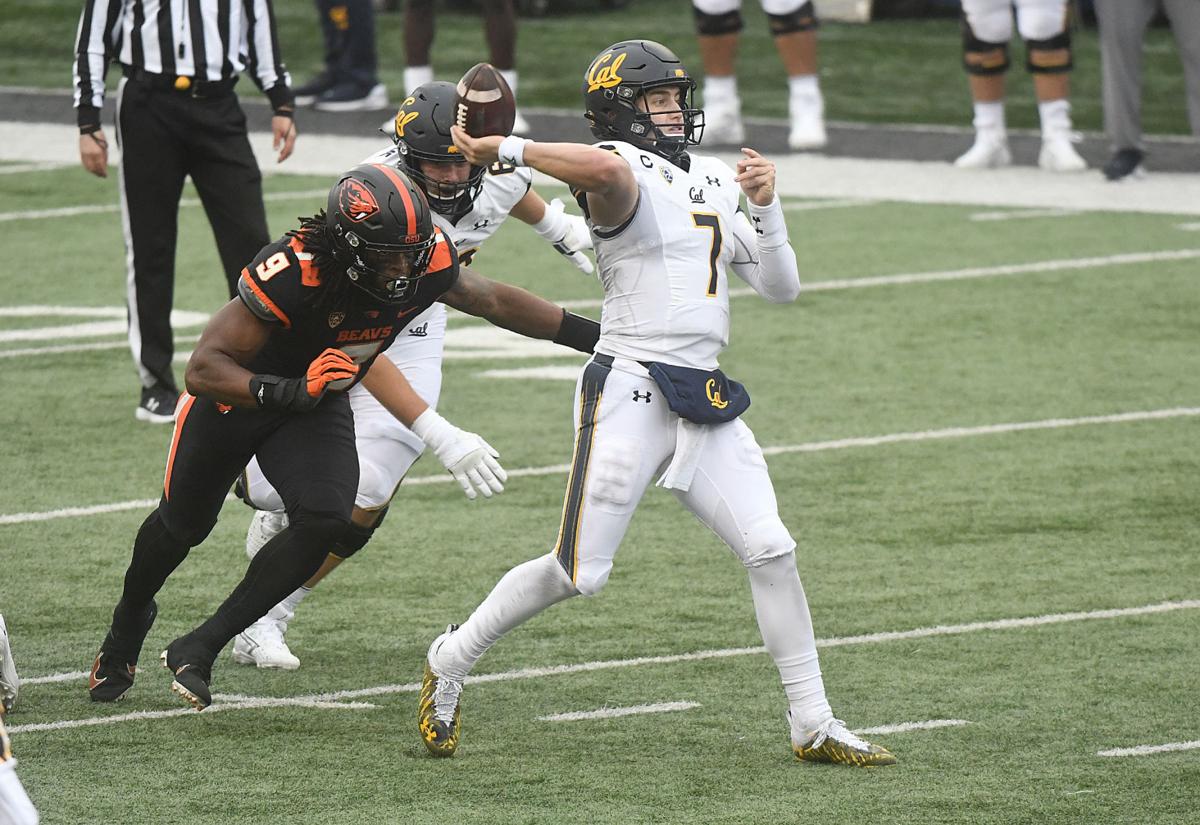 Hamilcar Rashed Jr. doesn't want to make excuses, and nobody inside the Valley Football Center is going to let him. 
But it's no secret that the star linebacker hasn't had the type of season many expected when he announced he was returning to Oregon State for his senior season, and it's starting to become apparent that injuries are a partial reason. 
A first-team All-American last season, Rashed Jr. set school records with 22.5 tackles for loss and 14 sacks. One of the most disruptive defensive players in all of college football, he figured to be a one-man wrecking crew again in 2020. 
It hasn't quite worked out that way, though.
Rashed Jr. has recorded just one TFL and no sacks in four games. It came out a few weeks back that he battled multiple injuries during training camp and he's picked up another knock within the past two weeks. 
"I've gotta be better. Obviously there's a lot of things going on behind closed doors that not a lot of people know," Rashed Jr. "But that's no excuse for not making a lot of plays."
Oregon State's coaches and players typically don't reveal much about injuries — coach Jonathan Smith likes to keep that information at a minimum. But when asked to elaborate on what he meant by "behind closed doors" Rashed Jr. was candid.
"Honestly, I'm just a little banged up and stuff like that. It's been a grind of a year. But that's not really important right now," Rashed Jr. said.
He dealt with thumb and ankle injuries early in the season and, according to defensive coordinator Tim Tibesar, didn't start to hit his stride until the week leading up to Oregon State's home matchup with Cal. 
But he re-injured his ankle in the second half of that game and spent most of the third quarter stuck on the sideline as Oregon State's training staff did what it could to get him back on the field. 
He eventually returned with a taped ankle, but was still limited and had to sit out a couple of key plays in the fourth quarter. 
A week later against Oregon, Rashed Jr. hobbled off the field during the first drive of the game after appearing to have injured the same ankle. Although he returned to finish the game, his impact was still limited against the Ducks. 
"I think everybody who's been playing through training camp and four games, you're kind of at what we call the 'mid-season healthy point' where something hurts on you" Tibesar said. "It's either your ankle, your wrist, your knee. You might have a quad contusion. I think a lot of guys are playing through some of that, and Ham is, too. He got banged up a little bit in the game on that touchdown run and wanted to get back in the game. He wants to be out there and keep playing."
Rashed Jr. said that he's played through aches and pains plenty in the past, but this is the first time it's really altered his game. 
"It's definitely frustrating. I can't stay as healthy as I want," Rashed Jr. said. "Last year, you know, I got bumps and bruises but I bounced back up and I kept playing at a high level. But honestly, I can see it taking an effect on me. But I'm still out here; I'm still working. I'm still coming to practice everyday trying to get better. Every week I'm still going to attack."
Aside from the injuries, teams are also paying more attention to Rashed Jr. after his dynamic 2019 season. He might not be getting outright double-teamed on every play, but teams have wised up enough to not leave him one-on-one with a less-skilled blocker. Rashed Jr. said he has received a lot more chip blocks than he did last year. 
Against Oregon, the attention that was sent his way benefited the Beavers. Andrzej Hughes-Murray started on the opposite side and played what Tibesar called "the game of his life" en route to 3.5 tackles for loss and a sack. 
Rashed Jr. praised the defense as a whole for its improvement from where it was at two seasons ago and said there's a real sense of belief among the group that it can win every time it takes the field. If he has to miss out on some stats in order for that to happen, he's fine with it. But he still expects more out of himself. 
"I can't do anything about it. I can't tell different coaches to stop double-teaming me or something," Rashed Jr. said. "I've just gotta do what I've gotta do and make plays from it. Simple."
Jarrid Denney can be reached at 541-521-3214 or via email at Jarrid.Denney@lee.net. Follow him on Twitter @jarrid_denney