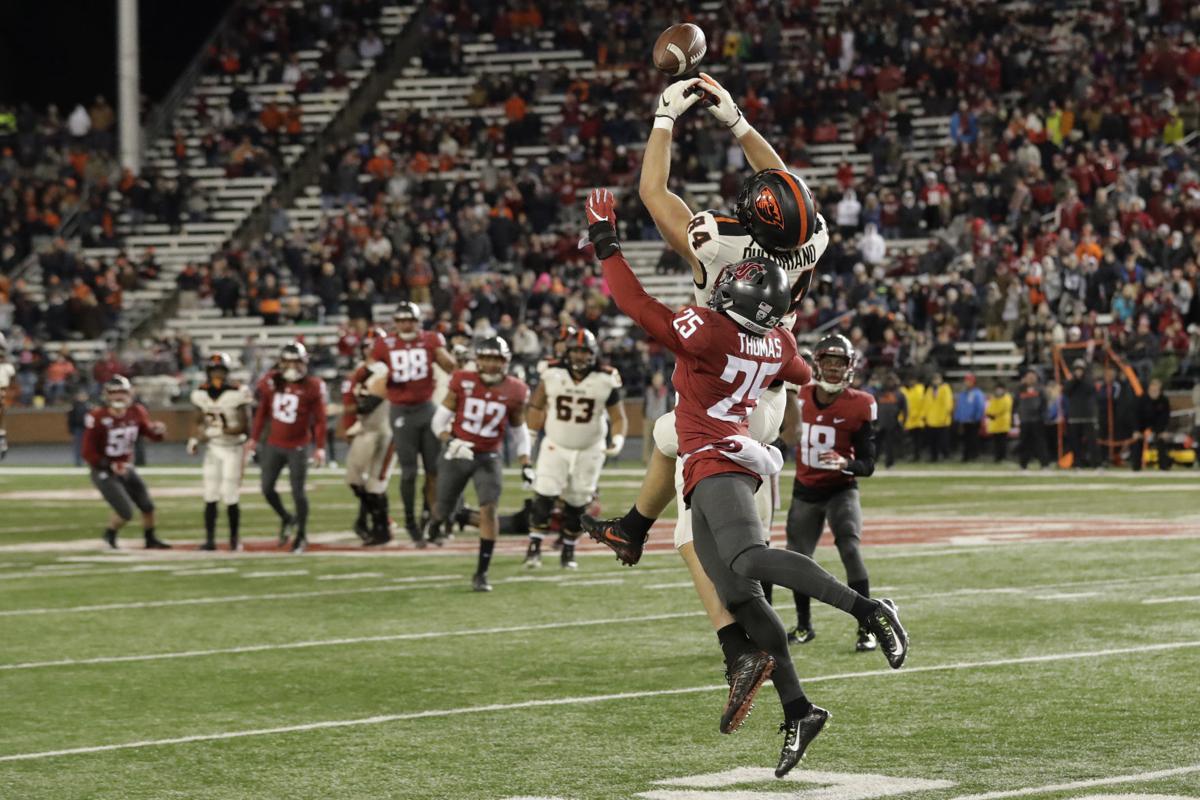 A lot has been made of Oregon State football coach Jonathan Smith's decision to go for it on fourth-and-4 from the Washington State 43 in the final 70 seconds of Saturday night's game.
Needing just a first down to seal a win that would be its sixth victory this season and would have made the Beavers bowl eligible for the first time since 2013, Smith opted to keep the offense on the field to try to end the game.
But quarterback Jake Luton's pass to Teagan Quitoriano was a little high and the sophomore tight end was unable to pull in the reception that would have finished the game.
Instead, the Cougars went the 57 yards and scored a game-winning touchdown with one second left for a 54-53 win.
While there has been much debate by fans about the decision to go for it, there has also been some talk about the way the Beavers approached that final drive.
Leading 53-48, Oregon State recovered an onside kick at the WSU 49 with 2:10 remaining and picked up 5 yards on a Jermar Jefferson run. The Cougars called their second timeout before Jefferson gained one yard on second down leading to WSU using its final timeout.
With two minutes left, the Beavers opted to run again, needing 4 yards, instead of a possible play-action pass that might have given them a better chance to pick up the first down and seal the game.
Jefferson was stopped for no gain and the Beavers let the clock run down to 1:14 left before calling a timeout.
Smith said Monday the Beavers weren't necessarily in a four-down mindset when they started the drive.
"But if we got it to a distance we felt comfortable with we were going to go for it," he said.
Smith acknowledged the 5-yard gain on first down allowed them to maybe try some other options on second and third downs but he felt "we had some confidence in that group up front," and went to the run two more times.
"They weren't the same play on second and third downs but similar in they were downhill making it physical and you have to pick up four yards," Smith said.
Rashed injury
Oregon State junior outside linebacker Hamilcar Rashed Jr. entered the weekend as the national leader in sacks (14) and tackles for loss (22.5).
But with his hand in a cast from an injury suffered in the Arizona State game a week earlier, Rashed was limited in his ability against the Cougars and did not record a sack or tackle for loss.
"I think it hindered Ham a little bit in not being able to use that hand in pass rush and having confidence to go," Smith said. "We'll see how it goes for him. … We're confident he will be ready to go Saturday and play well."
Rashed, who had been one of three players nationally to have recorded at least on TFL in each game this season, still is the leader in that category.
But with three sacks on Saturday, Ohio State's Chase Young now leads the country with 16.5 despite playing just nine games.
Hodgins not a finalist
Isaiah Hodgins is not one of the three finalists for the Biletnikoff Award. The three players who did advance are LSU's Ja'Marr Chase, Oklahoma's CeeDee Lamb and USC's Michael Pittman Jr.
Hodgins has 78 catches for 1,086 yards and 13 touchdowns and is averaging 98.7 yards per game.
Bradford sits
Trevon Bradford sat out Saturday's game at Washington State so he will be able to play in Saturday's Civil War and still take a redshirt season. Players who have not previously used a redshirt year can play in up to four games and take one.
Bradford, listed as a senior, missed the first seven games of the season with a foot injury and returned to pay against Arizona, Washington and Arizona State.
He had been pressed into service some with Kolby Taylor and Tyjon Lindsey both ailing recently, but they were available against the Cougars.
"He wanted to play in this game and we were healthy at his spot," Smith said.
Physicality issues
The Beavers struggled to get much of anything going against the physicality of Utah and Washington this season, falling 52-7 and 19-7.
Smith said there are some takeaways from those games that he hopes will come in handy when the Beavers face an Oregon team that has a similar physicality to its game.
"You look at the two lines, really good players who do a really good job," Smith said.
Targeting call
Jalen Moore was called for a targeting foul on a completed pass to the 10-yard line in the closing seconds on Saturday night. After review, the call was overturned which meant Moore was not ejected and does not have to miss the first half of the Civil War.
Smith, who said he was confident the call would be overturned, understood why the flag was thrown.
"I'm into safety of the game and anything close they're going to throw it and take a look at it," Smith said.
Be the first to know
Get local news delivered to your inbox!