DJ Uiagalelei made a strong first impression Tuesday as the Oregon State football team held its first spring practice.
The transfer from Clemson stands out for his size. He is listed on the roster at 6-foot-4, 251 pounds, which matches the measurements of the tight ends on the roster. During offense vs. defense drills, Uiagalelei showed tremendous arm strength and one of the highlights of the day was a long pass he made to freshman wide receiver Zachary Card which drew cheers from the offensive players.
Working mostly inside the Truax Indoor Center, the team spent quite a bit of time on seven-on-seven drills and then full team-on-team plays.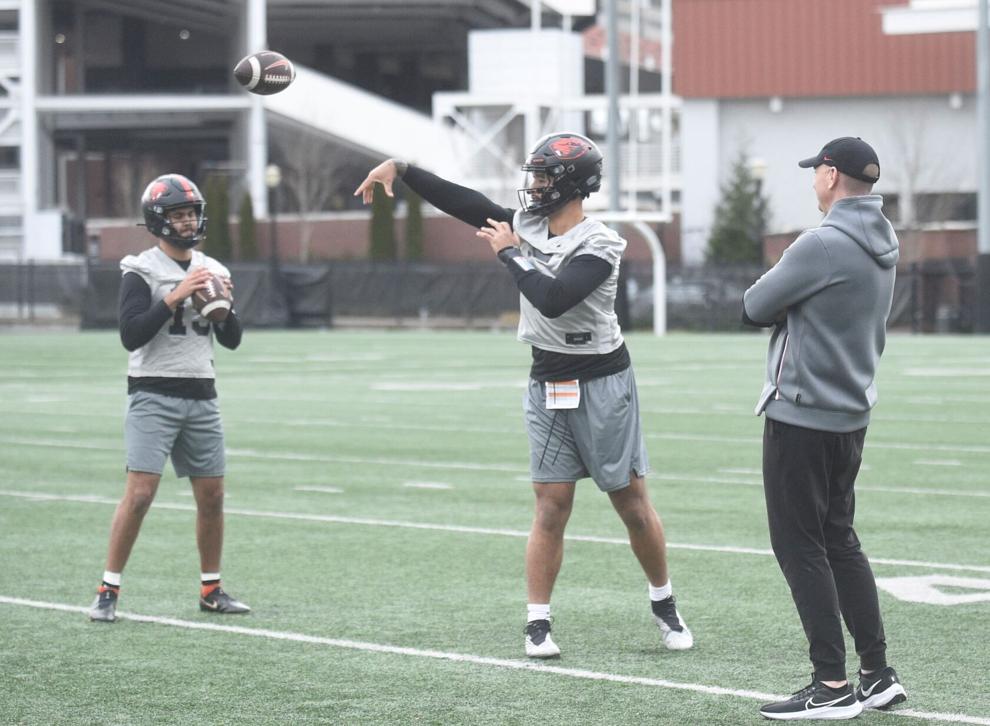 "A lot of new faces out there, particularly at quarterback, just a lot of learning opportunities," said offensive coordinator Brian Lindgren. "You could tell (they were) improving from even like their first set of team to the second set of team, just with their comfort level calling the offense and operating that way."
Tuesday was the first opportunity for Uiagalelei and other newcomers, such as freshman quarterback Aidan Chiles, to be on the field with their new teammates. Winter workouts prior to spring drills are focused on strength and conditioning as well as study sessions, which are broken into position groups.
Chiles fit right in with the quarterback group, which also includes returning starter Ben Gulbranson and redshirt freshmen Travis Throckmorton and Dom Montiel. Chiles also showed off his ability to throw downfield when he connected on a deep post.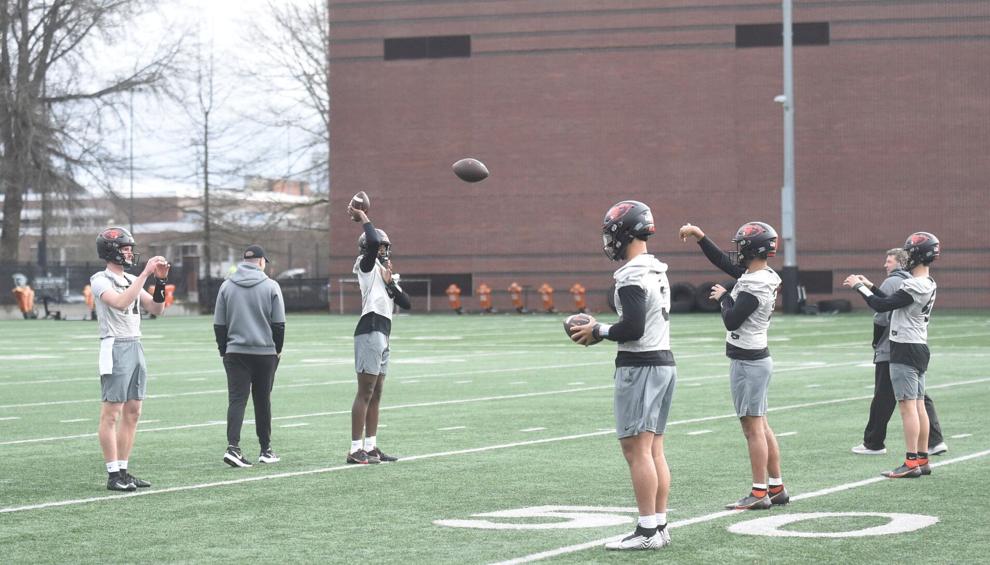 "Live arm. He's just an energetic, fun guy," Lindgren said. "You can tell when he walks into the huddle, he's just got a presence to him that those guys kind feed off of. Good confidence to him. ... I think he hit one big one down the middle on the post there. And he's got a little athleticism to extend plays when things break down."
Lindgren provided some background information on how Uiagalelei chose to transfer to Oregon State after spending the last two seasons as the starter at Clemson. Lindgren said Uiagalelei was the one who made contact. He had a few phone conversations with Lindgren and head coach Jonathan Smith and committed to Oregon State before making a visit to the campus.
"It all happened pretty quick because we were going through our bowl prep, so it was a pretty busy time," Lindgren said. "He had kind of reached out and showed some interest in us and I thought that was pretty cool and I think that really sat with coach Smith and I. Hit us like, 'Man, this guy is genuinely interested in our program' and has seen us play and watched some of our guys, liked the system that we ran and what we'd done with some QBs and I think he was excited about the pro-style aspect of our offense and thought that could potentially help him move forward."
Both Smith and Lindgren have praised Gulbranson for his leadership in the quarterback room and his willingness to share his knowledge with Uiagalelei and Chiles. Gulbranson, who was the MVP of the Las Vegas Bowl in December, was asked if it was hard to be so helpful in a situation where one player will ultimately be chosen as the starter.
"DJ is a great dude, first of all, and I always welcome competition," Gulbranson said. "It's only going to make us better, along with him and Aidan, Travis and Dom, we've got a great quarterback room. We all understand that we're all hard workers and we want what's best for the team."
The team will be back on the practice field Thursday and Saturday this week. Oregon State will host its pro day for scouts on Monday and will resume practice Tuesday.