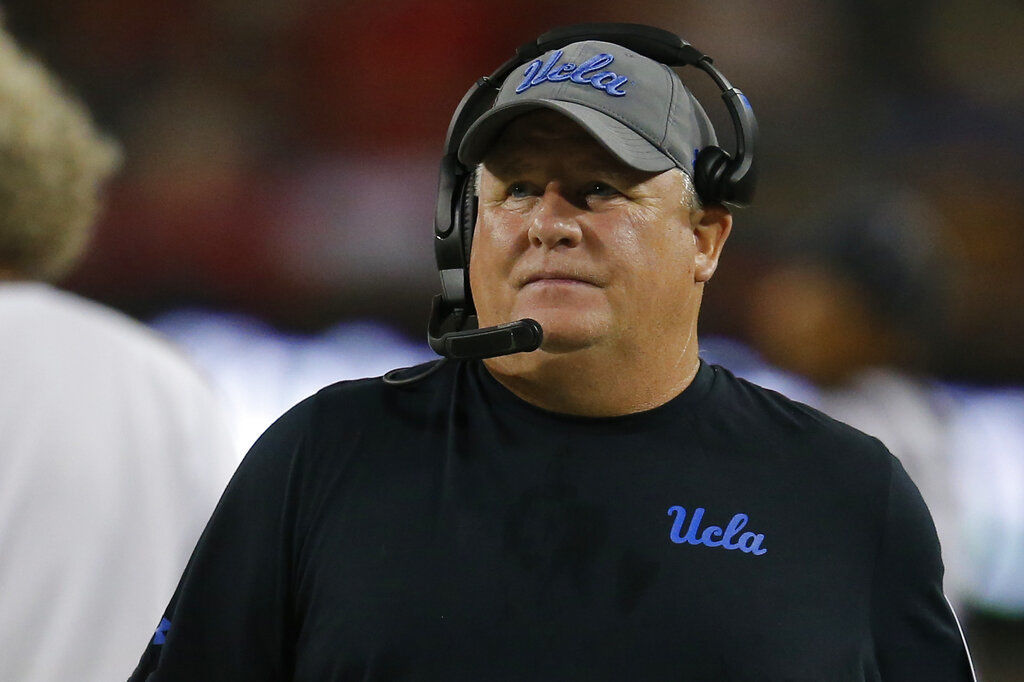 The boo birds were out early Saturday night as fans watched UCLA fall behind 21-0 to Oregon State in the first six minutes of the game.
The Bruins could never fully recover and fell 48-31 to fall to 1-5 for the second straight season under Chip Kelly.
The Beavers took the lead by opening the game with a touchdown drive, then scoring again thanks to a short field when Kelly decided to go for t on fourth-and-1 at the UCLA 34 and coming up short.
The Beavers made it 21-0 one play after recovering a drop kick on the kickoff.
"You can't spot them a lead like that in the first quarter," Kelly said. "I thought that our guys battled. We made some uncharacteristic mistakes. With the onside kick, it's something you practice but you don't see that very often. That's on us. You've got to just fair catch that. (Down 21 points) I thought that our guys battled back. They did a good job, but we put ourselves in too big of a hole to start the game."
Kelly knows the results in the field have not been good.
"We have to play better," he said. "We understand that. We have to execute and play better. And there is no one more disappointed than we are. That's part of the process, and we have to work through it. When you are a young team, you're going to make mistakes. But we don't make excuses for those. How do we teach in those situations, and how do we grow as a group?"
The road back to relevancy looks long but Kelly said the Bruins will keep plugging away at it.
"Any time that you lose, you're disappointed," he said. "They have put in a good week of training and you come up on the short end. That's part of the growing parts that you have to do. You just can't say that you are not going to go out and compete and practice. We've got to just keep banging away and get after it.
"For the younger guys who are getting some opportunities to play, because of some of the injuries, they've got to step up. It's not about, hey next year will be my opportunity. For a lot of these guys, their opportunity is now. It's about taking advantage of the opportunities that are presented to you. We have to see how we can grow and move forward."
The Bruins have a bye before taking on Stanford on Oct. 16.
Scouting the North
With their 17-7 win over California and Saturday and Washington's loss at Stanford later in the evening, the Oregon Ducks have all but punched their ticket to the Pac-12 title game just two games into the season.
OK, a lot can happen, of course, but the Ducks control their own destiny as the only undefeated team in the North. Cal, Washington and Stanford all have two losses, as does Washington State.
Oregon State, after the win in the Rose Bowl, also controls its own destiny and in theory could be 7-1 heading into the Civil War two days after Thanksgiving.
Oregon's two wins in conference play have not been all that impressive from an offensive standpoint, scoring just 38 points. But the Ducks' defense has allowed only 13.
It the first time since 1960 that the Ducks have allowed only single digits in four straight games.
You have free articles remaining.
They get Colorado at home this Friday and then head to Seattle to take on a Huskies team that has a second straight road game, this one at Arizona, this week.
There is still a long season but the North race is the Ducks to lose at this point.
Scouting the South
Arizona's 35-30 win at Colorado has the Wildcats all alone in first place in the South and riding a four-game winning streak overall since the season-opening loss at Hawaii.
They have a half-game lead on USC, which had a bye this week and plays Notre Dame out of conference this week.
Along with Colorado, Arizona State and Utah, which were both idle this week, are 1-1 while UCLA is 1-2.
This week's matchups
Colorado at Oregon: It's a short week for both and the Ducks can't look past the Buffaloes with the rivalry game at Washington the following week. Will Oregon's offense finally come to life?
Washington State at Arizona State: Will a change at defensive coordinator be a rallying cry or will the season fall apart for the Cougars? Sun Devils need a win to keep pace in the South.
USC at Notre Dame: The seat may get even hotter for Clay Helton without a road loss to the Irish, which is a string possibility.
Utah at Oregon State: Can the Beavers find the same success on offense against the stingy Utes? Probably not but it is Homecoming and they have been playing well.
Washington at Arizona: Wildcats could get either a mad Huskies team or one going through the motions after another loss at Stanford. Washington's defense could have its hands full with Khalil Tate, who threw for 400 yards against the Buffaloes on the road.
In the polls
Only thee Pac-12 teams remain in The Associated Press poll with Oregon remaining at No. 13 while an idle Utah moved up two spots to No. 15. As did Arizona State (No. 18).
Washington dropped out after a loss to Stanford. The Huskies, Cal, Arizona and USC all received votes.
Power rankings
With the topsy-turvy nature early in the conference season, it's hard to make rhyme or reason out of these power rankings. It's almost like a clean slate each week outside of Oregon being at the top.
Following the Ducks this week is Arizona at No. 2 with Utah at No. 3, Arizona State at No. 4, Stanford at No. 5 and Cal at No. 6.
Washington drops to No.7 with USC No. 8, Colorado No. 9, Washington State No. 10, Oregon State No. 11 and UCLA in the cellar.