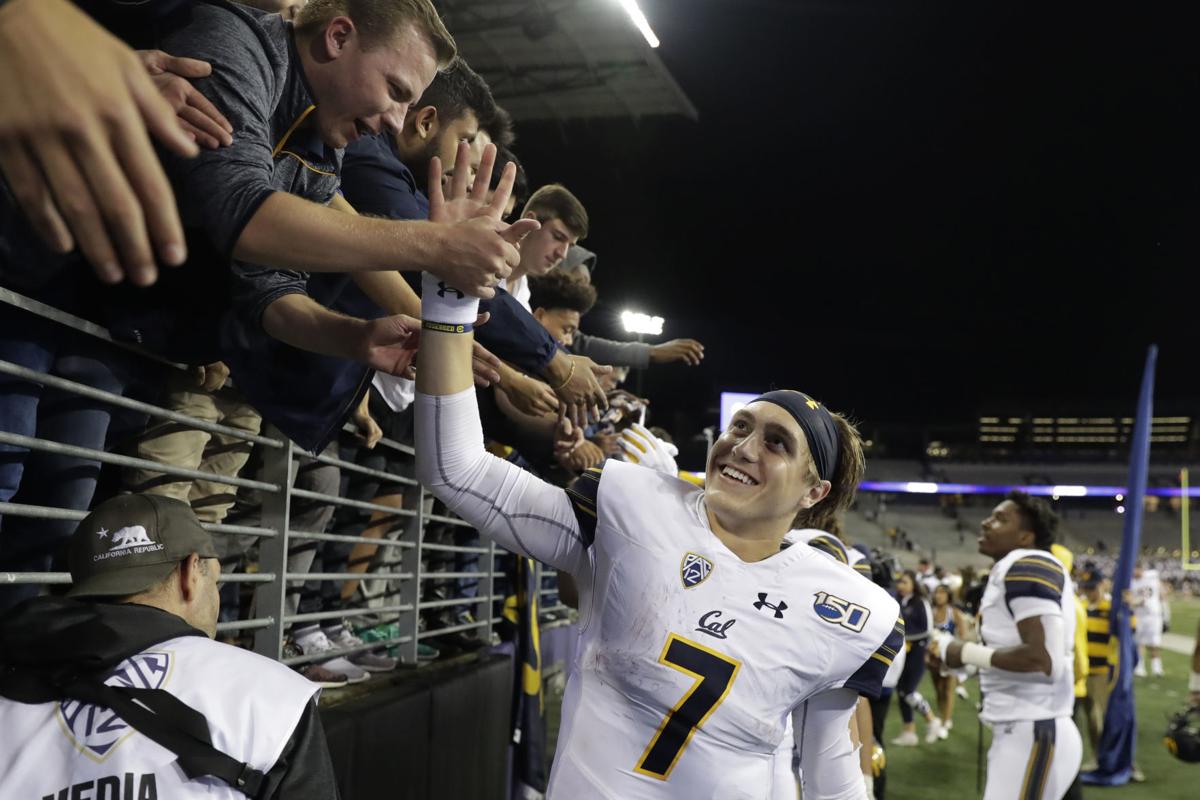 It may have only been the second weekend of the season, but four Pac-12 teams opened conference play on Saturday and the results could prove to be big in the hunt for the division titles.
Both games — California at Washington and Stanford at USC — ended in an upset.
The Golden Bears (2-0, 1-0) kicked a late — in more ways than one (more on that in a minute) — field goal to stun the then-No. 14 Huskies 20-19 in Seattle.
A couple hours earlier, the Trojans rallied from 17-3 down to blow out then-No. 22 Stanford 45-20. If you are scoring at home that's a 42-3 closing run.
Those two losses mean that in the first two weeks of the season, three Pac-12 teams that were ranked have already lost — Oregon fell to Auburn last week. All three are from the North division.
Washington dropped to No. 23 in The Associated Press poll while the Cardinal, playing without starting QB K.J. Costello, dropped out. 
Cal's defense was solid and forced the Huskies into four field goals. Washington managed just 348 total yards of offense.
USC pulled the upset with offense. Backup quarterback Kedon Slovis, in for the injured J.T. Daniels who is out for the season, was 28-of-33 passing for 377 yards and three touchdowns.
Even with the losses, both Washington and Stanford still control their own destiny in the North division but it's likely neither can afford a second conference loss.
Still, those losses, as well as Oregon's, mean three of the conference's best-known programs already have a "1" in the loss column. That's definitely not going to help change the perception that the conference isn't on the same level as the other four Power Five leagues.
Pac-12 after dark
The conference likes to use the branding of #Pac12AfterDark because of how wild and crazy the later Pac-12 games always seem to turn out. But this past Saturday you could change that to #Pac12InTheEarlyMorning after both the Cal-UW and Oregon State-Hawaii games ended after midnight.
It wasn't surprising the Beavers and Rainbow Warriors played until Sunday on the West Coast with a 9 p.m. start (6 p.m. in Hawaii).
But a lightning storm in Seattle delayed the Bears and Huskies game that was early in the first quarter for several hours. It resumed at 10:30 p.m. and ended at 1:22 a.m.
Ducks dominate
Oregon led just 7-6 at one point against Nevada on Saturday and it appeared there was still a bit of a hangover from the stunning season-opening loss to Auburn.
The Ducks then scored the next 10, yes 10, touchdowns in and impressive 77-6 dismantling of the Wolf Pack. The same thing might happen next Saturday against Montana.
Oh, all 11 total touchdowns were scored by a different player.
How hot is that seat?
You have free articles remaining.
The Chip Kelly era at UCLA did not get off to a great start last season with a 3-9 record, and 2019 looks to be more of the same through two games.
The Bruins dropped a 23-14 decision at home to San Diego State on Saturday to fall to 0-2; they lost 24-14 at Cincinnati on Aug. 29.
Yeah, an 0-3 start for the second straight season would seem to be a given.
The Bruins had just 261 total yards of offense on Saturday, still better than the 218 they had against the Bearcats.
Remember when Kelly's offense was cutting edge? Neither does Kelly.
Colorado comeback
Mel Tucker has certainly had an eventful first two games as Colorado's head coach. The season began with a 52-31 thumping of in-state rival Colorado State and then came Saturday's thrilling comeback win in overtime to knock off old Big 12 rival Nebraska.
The Buffaloes trailed 17-0 but a 24-point fourth-quarter, capped by a tying touchdown in the closing minutes, forced overtime.
It was the first win for the Buffaloes after trailing by 17 at the half since 1997.
Colorado hosts Air Force this Saturday before opening conference play against the Arizona schools.
Matchups of the week
• USC will hit the road to take on a BYU team that somehow rallied to knock off Tennessee in overtime. How will Slovis respond in his first road start?
• Arizona State is coming off a less than stellar 19-7 win over Sacramento State. The Sun Devils shocked the Spartans at home last year. An ASU win would be good for the Pac-12.
• Washington State has put up a ton of points against some not-so-good teams. Will that continue on the road against Houston?
• Hawaii has already knocked off Arizona and Oregon State at home and now heads to Seattle to take on a Washington coming off a loss. Can they go 3-0?
Poll update
Utah is up to No. 11 in The Associated Press top 25 poll with Oregon up a spot at No. 15. Washington State comes in at No. 20 with Washington at 23 and USC in at No. 24. Cal received votes that would put the Golden Bears at 27th. 
Power rankings
With Washington and Stanford falling this week, both drop in the power rankings. Utah and Oregon are my top two and it's a tossup as to who is No. 1 but the Utes get the slight edge.
Cal makes a big jump to No. 3 with USC at No. 4, Washington State at No. 5 and Colorado at No. 6. Washington drops to No. 7 followed by Stanford, Arizona State and Arizona. Despite losing at Hawaii, Oregon State moves up to No. 11 and UCLA falls to No. 12.