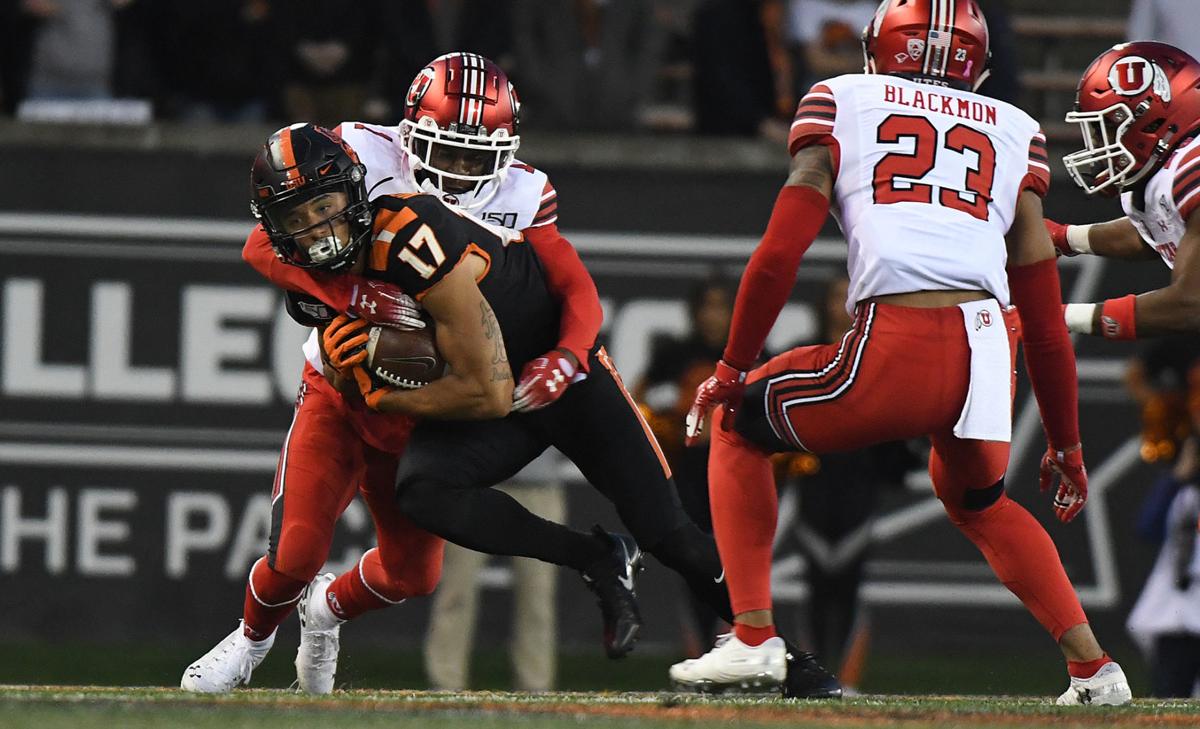 Oregon and Utah made impressive statements against teams they were expected to handle easily this past weekend.
The Ducks cruised past Colorado 45-3 on Friday night while the Utes came 56 seconds away from pitching a shutout in a 52-7 win over Oregon State on Saturday.
The two teams picked before the season to meet in the Pac-12 title game gave a perfect example of why.
However, only the Ducks (5-1, 3-0) control their own destiny.
Oregon has a two-game edge in the loss column over Stanford (3-3, 2-2), Washington (5-2, 2-2), California (4-2, 1-2) and Oregon State (2-4, 1-2), and three over Washington State (3-3, 0-3).
The Ducks head to Seattle this Saturday and a win would give them the tiebreaker based on head-to-head outcomes over Stanford, Washington and Cal.
Utah (5-1, 2-1), however, does not control its destiny thanks to their one loss to USC (3-3, 2-1).
That may or may not matter as the South has four teams with one loss so the division is still anybody's to win — except, it appears, for UCLA (1-5, 1-2) and Colorado (3-3, 1-2).
Arizona State, fresh off a 38-34 home win over Washington State, is 5-1 overall and 2-1 in conference play (home loss to Colorado) while Arizona dropped to 4-2 overall and 2-1 after a 51-27 home loss to Washington on Saturday.
The top four teams square off against each other this week so the four-way tie for first will be a two-way tie after Saturday night.
Utah will welcome Arizona State to Rice Eccles Stadium while USC plays host to Arizona.
Regardless of what happens, the South may not be decided for some time.
Cougars struggling
Washington State started 3-0 and was up 32 on UCLA before the Cougars' season took a turn no one saw coming.
The Bruins rallied for a 67-63 victory and WSU has not recovered. The Cougars fell 38-13 at Utah then watched as ASU rallied in the closing minute for a 38-34 win this past season.
That kept WSU as the only team without a conference victory. Next up is a home game with Colorado this Saturday.
USC comes close
The Trojans may be just 3-3 overall but they have had to battle through numerous quarterback injuries.
Kedon Slovis returned under center against Notre Dame and USC nearly pulled off the upset in 30-27 contest. He threw for 255 yards and two touchdowns and could be the stabilizing factor if he can state healthy.
This week's matchups
UCLA at Stanford: A Thursday night game after a bye for both teams. Bruins gave up 48 at home to Oregon State last week. Cardinal have won two straight and should make it three in a row.
Oregon at Washington: The Ducks can all but clinch the North title with a win on the road. Huskies' offense looked better in a 51-27 win at Arizona after a dismal performance a week earlier in a 23-13 loss to Stanford.
Oregon State at California: Can the Beavers get back on track against a solid Golden Bears defense coming off a bye?
Arizona State at Utah: The winner will remain atop the South Division race. The Sun Devils have bounced back nicely after loss to Colorado while the Utes have held last two opponents to 20 total points.
Arizona at USC: The Wildcats were outscored 38-10 in the second half by the Huskies and their conference wins have come over the South cellar dwellers Colorado and UCLA.
Colorado at Washington State: Both teams are struggling with the Buffaloes having lost two straight and WSU three in a row.
In the poll
Oregon moved up one spot to No. 12 in The Associated Press with Utah right behind up two spots to No. 13. Arizona State is up one spot to No. 17 after the comeback win at home against Washington State.
Washington returned to the poll at No. 25 after falling out a week ago following the loss to Stanford. Cal is the only other conference team to receive votes.
Power rankings
One thing is certain: Oregon and Utah are in the top two positions.
The next four teams could really be in any of the four positions in these power rankings.
ASU is No. 3 this week with Stanford staying at No. 4 after a bye. Washington jumps up to No. 5 and Arizona falls to No. 6.
Cal is No. 7 and USC drops a spot to No. 8 after the close loss to Notre Dame. The bottom four remain the same with Colorado at No. 9, Washington State No. 10, Oregon State No. 11 and UCLA in the cellar.