The evening session of the Pac-12 gymnastics championships on Saturday will include No. 4 UCLA, No. 5 Utah, No. 7 California and No. 11 Oregon State. These four teams shared the regular season championship but only one will emerge as the conference's best when they face off in Salt Lake City.
"It's going to be an amazing Pac-12 Conference championship," Oregon State coach Tanya Chaplin said. "Every school has been doing great in our conference, which makes it a tough road, but that's wonderful going into postseason. This is a really good challenge prior to regionals and NCAA nationals. So you want that kind of competition, which is good."
Oregon State tied both UCLA and California and defeated Utah in their dual meets. The Beavers' only Pac-12 loss this season came at Arizona State. The 14th-ranked Sun Devils are the top team in the afternoon session, along with No. 19 Stanford, No. 27 Washington and No. 28 Arizona.
Oregon State will start out on the balance beam Saturday night, followed by the floor exercise, the vault and the uneven parallel bars. Beam has been the team's most consistent event this season OSU is ranked third in the nation in that event.
Chaplin acknowledged that going first on beam is not ideal from a judging standpoint.
"You never want to start off on your strength, because you would like to finish on that. But it is what it is and I think being the second session, the judges have already judged a whole session so it's not like you're the first team up on that event. So that makes a big difference, too," Chaplin said.
Jade Carey is ranked second in the nation on the beam. Junior Sydney Gonzales has climbed up to No. 16 in the rankings and senior Madi Dagen is No. 33.
Oregon State is ranked sixth on the floor routine, led by Carey, who is the No. 1 gymnast in the country in that event. Dagen is ranked 39th.
The Beavers will close out the meet with what have been their two weaker events, the vault (ranked 15th) and the bars (18th). Both events have been on the upswing. Oregon State matched its season-best on the vault in the win over Utah on Saturday with a score of 49.300 and put up one of the best uneven bars performances in program history, scoring 49.550.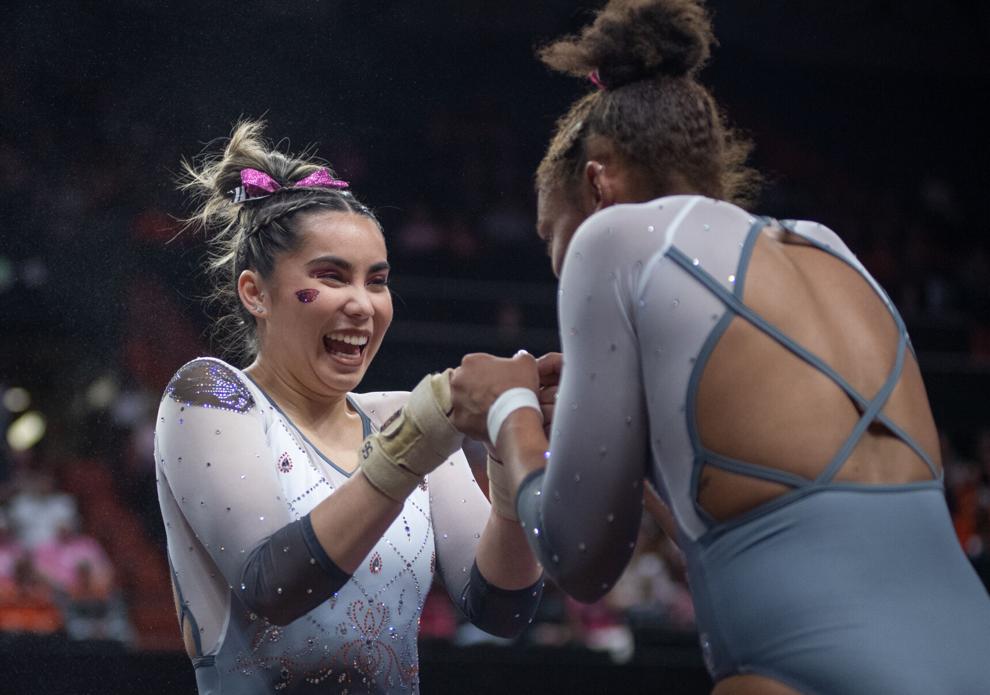 "They needed to get that confidence there. They've worked really, really hard and it's a lot different than club. There's four freshmen sandwiched between two sophomores, so it's a young class. To see them gain some of the confidence the other events have is wonderful," Chaplin said.
The top 36 teams in the country will advance to the NCAA regionals, which begin March 29. Every team in the Pac-12 Conference is expected to advance and this weekend's meet is the final opportunity to improve one's seeding. Because these rankings are cumulative and include the entire season, only slight moves are possible and Chaplin said Oregon State at best could move up a couple of spots.
The meet is an opportunity to compete under a similar format to the NCAA regionals and that is especially helpful for the younger members of the team.
"I want them to enjoy the process but be ready to fight," Chaplain said. "We talk about going in with an expectation. You expect to hit your routines, and you feel that confidence when you step out on that floor. So that's what we'll continue to do all the way through."
In addition to the team competition, there is an intriguing battle for the individual all-around title. Carey has been ranked No. 1 in the country for the past few weeks and her Olympic teammate, Jordan Chiles of UCLA, is ranked No. 2. UCLA freshman Selena Harris enters the meet ranked fifth.
Carey won that matchup in their first meeting this season at UCLA.