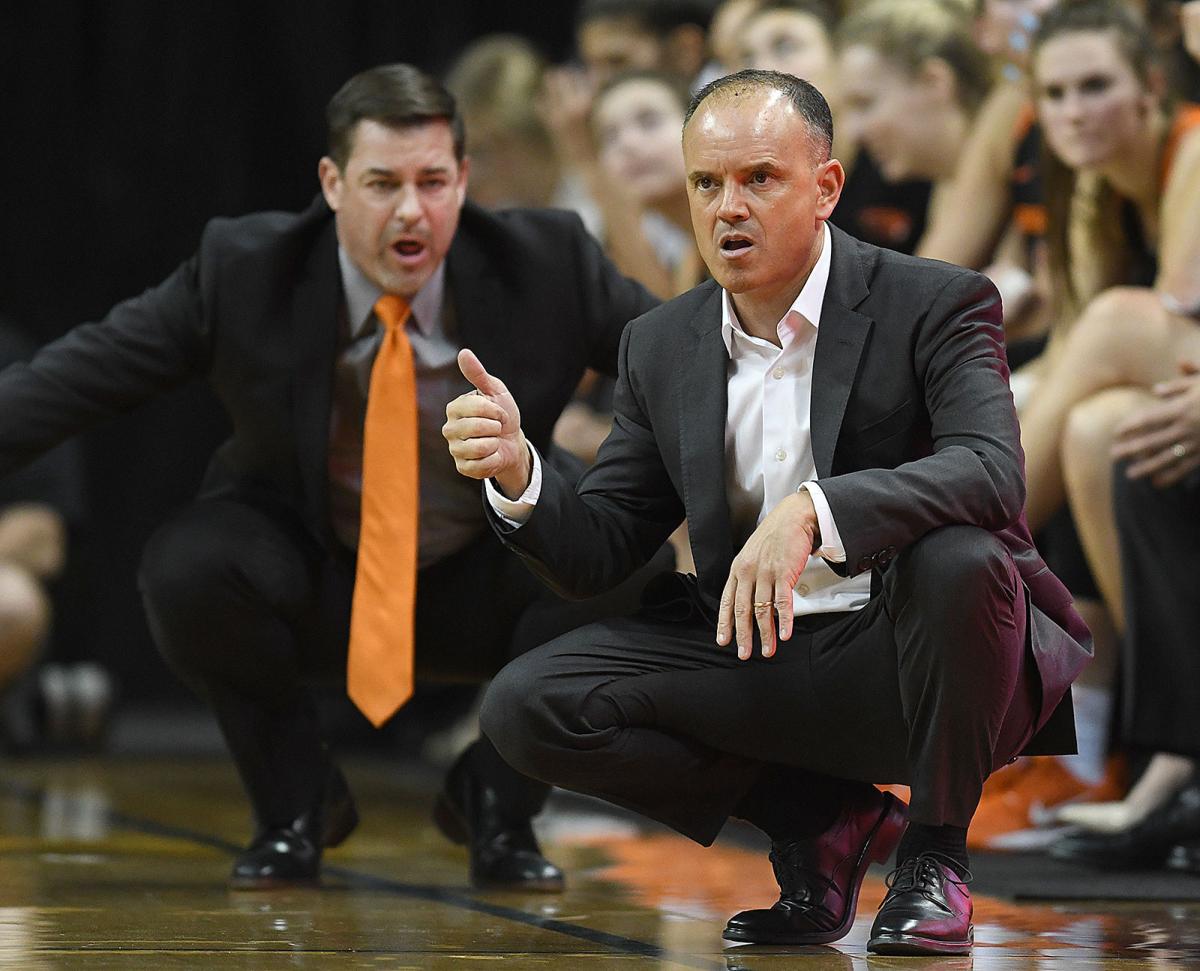 Oregon State on Wednesday was named the host of four future NCAA postseason events, including men's and women's basketball games at Portland's Moda Center.
The university will run a women's basketball regional in 2024 and men's basketball first- and second-round games, a men's golf regional and a women's gymnastics regional in 2026.
The golf regional will be held at Trysting Tree Golf Club, just east of Corvallis, and Gill Coliseum will be the site of the gymnastics regional.
"We are excited for the opportunity to bring NCAA events in all four of these sports to the state of Oregon," said OSU athletic director Scott Barnes. "Our department has hosted a number of top-level NCAA Championship competitions over the last several years, and we look forward to working with our terrific partners at Sport Oregon, the Rose Quarter, and Travel Portland to continue putting on first-class events. We are eager to embrace another great chance to showcase our state and our university."
Oregon State was previously awarded men's basketball first- and second-round games in 2022.
OSU has hosted numerous recent NCAA events, including a 2019 women's basketball regional in Portland, a 2019 gymnastics regional, first- and second-round women's basketball games in 2015, 2016, 2017 and 2019 and eight baseball regionals since 2005.
Oregon State was also slated to host a 2020 women's basketball regional in Portland before the NCAA tournament was cancelled due to the pandemic.
Moda Center was the site of NCAA men's basketball games in 2009, 2012 and 2015. The 1965 Final Four was held next door at Memorial Coliseum.
"We are extremely excited to host these premier NCAA basketball events again in our city," said Sport Oregon CEO Jim Etzel. "We're a top-tier basketball town, and we're thrilled to showcase Portland again to the NCAA."
Oregon State was passed up to host future women's Final Four events in Portland. Those were awarded to Tampa, Florida, for 2025 and Phoenix Arizona, in 2026.
The 2026 gymnastics regional will be the 17th such event at Gill Coliseum. Oregon State has hosted five conference championships five times and the NCAA championships on three occasions, most recently in 2006.
OSU previously hosted a men's golf regional at Trysting Tree in 2001.
The NCAA on Wednesday announced its entire postseason schedule through 2026.
The University of Oregon was awarded the Division I outdoor track and field championships from 2024 through 2027.
The national meet has been held in Eugene 16 times, most recently in 2018. Hayward Field will also be the site of the meet in 2021 and 2022.
Be the first to know
Get local news delivered to your inbox!