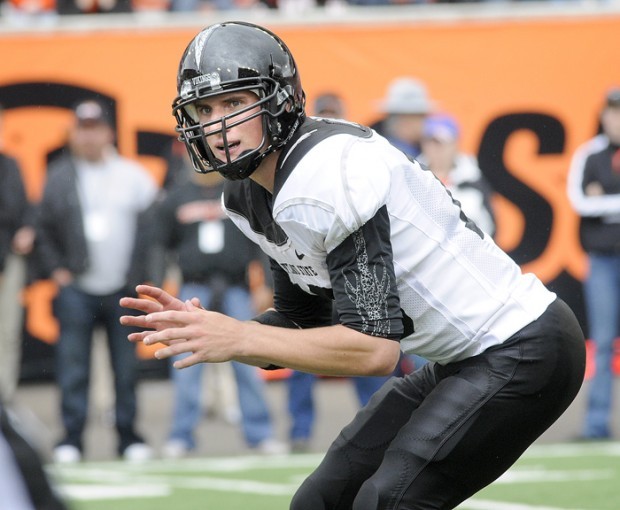 There were no smiles, no cheery waves to fans in the Reser Stadium stands from Drew Hubel.
Hubel, Portland State's starting quarterback, wasn't looking for friends or family after the Vikings' 34-7 loss to Oregon State at Reser Stadium on Saturday. He wasn't in the mood, at least until he got out of his gear.
Hubel was back in his hometown, where he led the Corvallis High football team to a state championship in 2006.
Saturday's result left Hubel frustrated.
Oh, he gave the Beavers defensive backs fits all game with his quick and accurate throws. Hubel completed 20 of 37 passes for 252 yards.
A solid game but there was one category that stayed at zero for Hubel. He did not throw a touchdown pass.
He missed on a couple chances and that was unacceptable as far as he was concerned.
"Some of those misses were my fault, I shoulder that blame and I've got to change that. That's not acceptable at all," Hubel said. "(Two) that I missed on that should have been touchdowns. Those are scores and those are just missed throws. The guys were open, they worked hard to get there, the o-line blocked, all that stuff. I've just got to throw the ball to the receiver."
In his third year with the Vikings, Hubel expects nothing less than success. He is a perfectionist who has developed into a good quarterback and a perfect fit for PSU's run-and-shoot offense.
"He's going to have an unbelievable year and one reason is I think the o-line is going to help him more than they ever have. He'll be an outstanding player for us," PSU coach Jerry Glanville said. "What we do, he can do well. I look for him to be something special in the Big Sky."
You have free articles remaining.
Hubel was quick to credit his teammates for the Vikings' success on offense. The offensive line did not give up a sack and gave Hubel the time to make his reads.
It's a result that bodes well for the Vikings in upcoming games.
"We've moved the ball against an awesome team and I think the offensive line did an awesome job," Hubel said. "I was really proud of those guys up front. That's a great rush team and I think we only got sacked twice or something and that's a team that had 50-something sacks last year. Anytime we do that, I'm really happy with those guys up front."
The line gave Hubel the ability to find several receivers, but his go-to guy was Ray Fry. Fry had 10 catches for 146 yards and a long of 40.
Hubel put in a lot of work with Fry during the off-season.
"He's a great receiver and he was a great receiver last year. That hasn't changed and it helped to have a year of connection with him," Hubel said. "He's a good guy and he got open. That's the beauty of having four on the field every time is we can spread it around to different receivers and Ray had a good day, he was getting open, but that doesn't mean the other guys were slacking. They're working hard to get him open. It's four working for one."
Hubel's former CHS teammate, Wade Penner got in for a field goal attempt but missed and was not called on again. Former CHS player Cameron Hein did not play.
OSU transfer Carl Sommer had two tackles for the Vikings.
"We would have had points if we would have had more confidence in our kicking game," Glanville said. "But when the first kick went so far, I saw no need to try another one."
Hubel said he's going right back to work to correct his mistakes.
"We need to score more points," he said. "We want to put big numbers up on the board with lots of moving up and down the field and I felt like we moved, we just didn't finish drives. Anytime we do that, it doesn't matter how many yards you drive, if we're not finishing them it doesn't really matter."