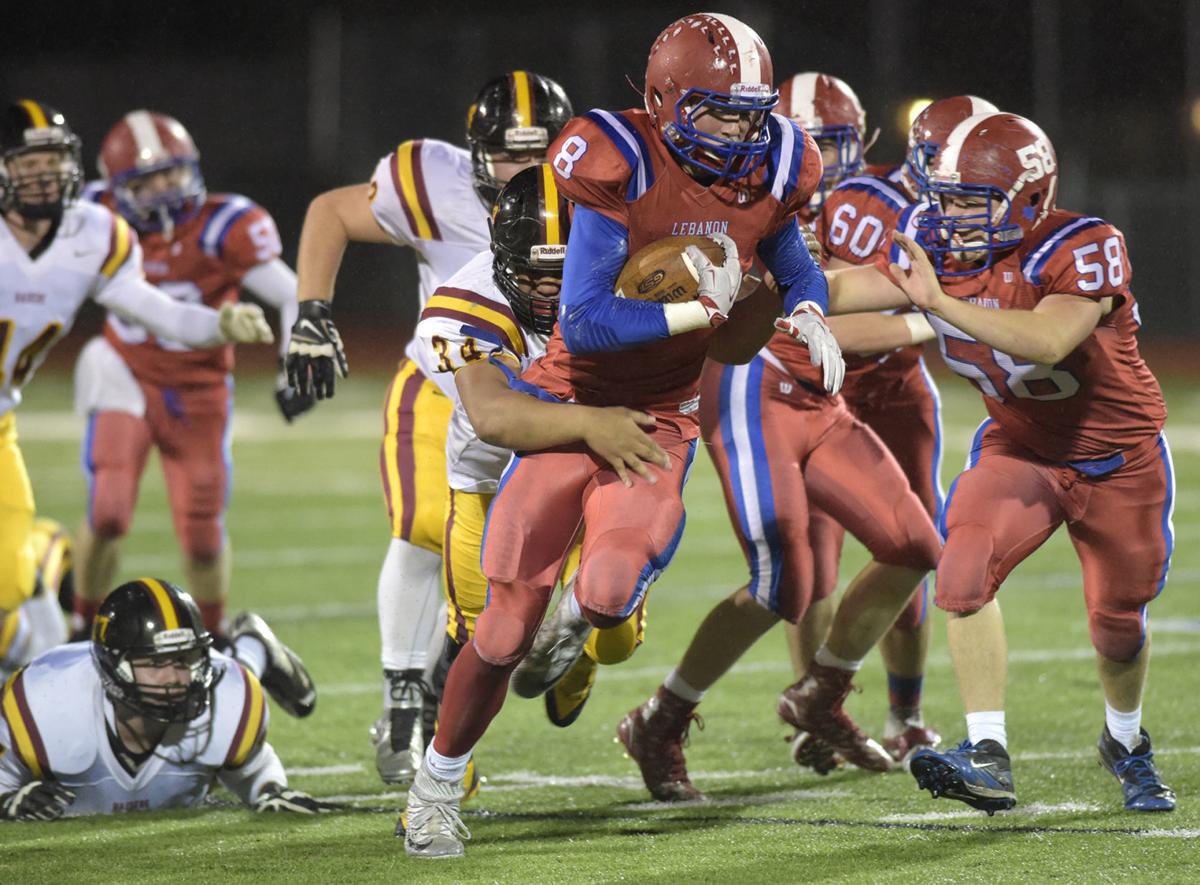 Football
Ryan Galovich (Crescent Valley) averaged 43.8 yards on six punts, with a long of 64, Saturday in Wyoming's 37-31 home win against Missouri in Laramie.
John Bates (Lebanon) had three catches for 51 yards, with a long of 27 yards, and a solo tackle Saturday in Boise State's 36-31 win at Florida State.
Talanoa Hufanga (Crescent Valley) had eight tackles Saturday in USC's 31-23 home win against Fresno State.
Omar Speights (Crescent Valley) had four tackles, including two solos and one for loss, Friday in Oregon State's 52-36 home loss to Oklahoma State.
Teammate Keegan Firth (Crescent Valley) had one tackle.
Women's soccer
Portland State freshman midfielder Sienna Higinbotham (West Albany) scored her team's first goal Friday in a 4-2 loss at Oregon.
She also had two shots on goal Aug. 15 in a scoreless exhibition with British Columbia in Hillsboro.
Higinbotham has started all four of the Vikings' games so far.
Chanel Garcia (South Albany) had an assist and took one shot Sunday in Corban's 4-2 home win against Ottawa (Arizona) in Salem.
Friday, she took two shots, one on goal, in a 5-1 loss at Willamette in Salem.
Mylene Gorzynski (Corvallis) took one shot Sunday in Oregon State' 3-0 home win against St. Mary's. 
Taylor Marshall (South Albany) took one shot on goal Saturday in Rogue's 4-0 loss at Walla Walla (Washington).
Volleyball
Makenna Northern (Central Linn) had 45 assists, eight digs and four kills Tuesday in Northwest Christian's four-set win at Willamette in Salem.
She had a combined 69 assists, 25 digs, nine kills, four block assists and two aces Saturday in a five-set win against Montana Western and a three-set sweep of Columbia Bible at a tournament in Lewiston, Idaho.
Friday, Northern had 60 assists, 20 digs, five kills, five aces and two block assists in a three-set win against Montana Western and a three-set loss to Lewis-Clark State in Lewiston, Idaho.
Hannah Bogatin (Corvallis) had a combined 32 assists, four digs, three aces and two kills Saturday in Southern Oregon's four-set win against UC Merced and three-set sweep of Simpson in Rocklin, California.
Teammate Emma Ryan (Lebanon) added 22 digs, two assists and one ace and Kya Knuth (Lebanon) 18 digs, four assists and one ace.
Friday, Bogatin recorded 35 assists, nine digs, one kill and one ace in four-set wins against Menlo and William Jessup in Rocklin.
Ryan had 21 digs and two aces and one assist. Knuth had two digs against Menlo.
Jacquelyn Clark (West Albany) had seven kills, six block assists and one dig Saturday in Corban's four-set exhibition home win against Concordia in Salem.
Haylie Bennett (Philomath) had a combined four kills and one dig Friday in Oregon State's three-set sweeps against UC Irvine and Boston College in Eugene.
Maddie Trippett (South Albany) had four digs and one assist Tuesday in Southwestern Oregon's four-set win at Pacific JV in Forest Grove.
She had had two kills, two digs, one assist and one ace Sunday in a three-set home sweep of Pacific JV in Coos Bay.
Trippett had three digs Aug. 29 in a three-set loss at American River in Sacramento, California.
Men's soccer
Jack Cuevas (Corvallis) made three saves in goal in 57-plus minutes Sunday in Pacific's 3-0 loss at Chapman in Orange, California.
Be the first to know
Get local news delivered to your inbox!