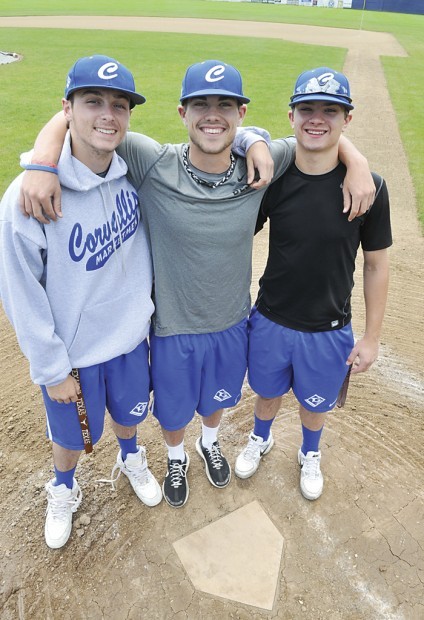 Taylor Burner, Garrett Miller and Grant Mattes look like three typical teammates and friends.
Their friendship developed out of rivalry.
They've been playing baseball against each other for most of their careers.
First it was youth baseball and then through their high school years. Burner played at West Albany, Miller at Corvallis and Mattes at Crescent Valley.
"It's funny to be friends with the kids on the other team but still have to compete against them," Miller said. "In pregame or after the game you're joking and having fun with each other but when it gets in the game you get serious and it's almost like you're mad at each other. You've got to play and you've got to beat the other guy."
Burner, Miller and Mattes are now teammates on T. Gerding Construction for the American Legion season.
This weekend, they'll be playing for the South in the Reser's Oregon All-Star Series at Oregon State's Goss Stadium.
The series consists of 5A and 6A players from throughout the state.
"It's going to be really competitive," Burner said. "It's going to be really fun to play in and it'll be good to play with these guys. Good thing I have a couple guys who can go give me support and play with me."
Burner made the team as an outfielder after hitting .558 with eight home runs and 42 RBIs for the Bulldogs.
Mattes is an infielder for the series. He hit .432 with seven homers and 36 RBIs for the Raiders.
Miller is a pitcher. He finished the high school season at 7-3 with a 2.47 earned run average and 73 strikeouts.
Mattes said he's looking forward to facing some of the top pitchers in the state.
"It'll be fun," he said. "The crowd will probably be pretty big. It'll be exciting just to be with the top elite baseball players in the state and playing with each other and against each other."
Playing alongside Burner and Miller is a big plus for Mattes.
"It means a lot," he said. "These guys are top of the league, some of the best baseball players in the state, obviously, so I'm excited to play with them. We all have grown some pretty strong relationships already so it will be fun to play with Taylor and Garrett this weekend."
The all-star series is another opportunity for the trio to play together since they become teammates.
This American Legion season is the first time all three have really been able to play together.
"They're really competitive and they want to win just like I do," Burner said. "It's fun to actually be with each other now and it just makes that fire of competitiveness even more. We're competitive with each other on the same team, let alone competitive with other teams now."
Miller enjoys watching Mattes and Burner bat much more now that his vantage point isn't on the mound.
"As an opposing pitcher you hate to face them," Miller said. "And then when they're on your team, it's a really cool deal. When you hate to pitch to them and then when they're on your team, you have a ton of confidence in them when they're up to bat, so it's really cool."
Miller is looking forward to meeting players from other schools this weekend, but he's glad Mattes and Burner will be there.
"It's an honor to be selected to the all-star team, but to get to go with these guys and have a chance to have fun, play baseball and compete with these guys, it's pretty special," he said.