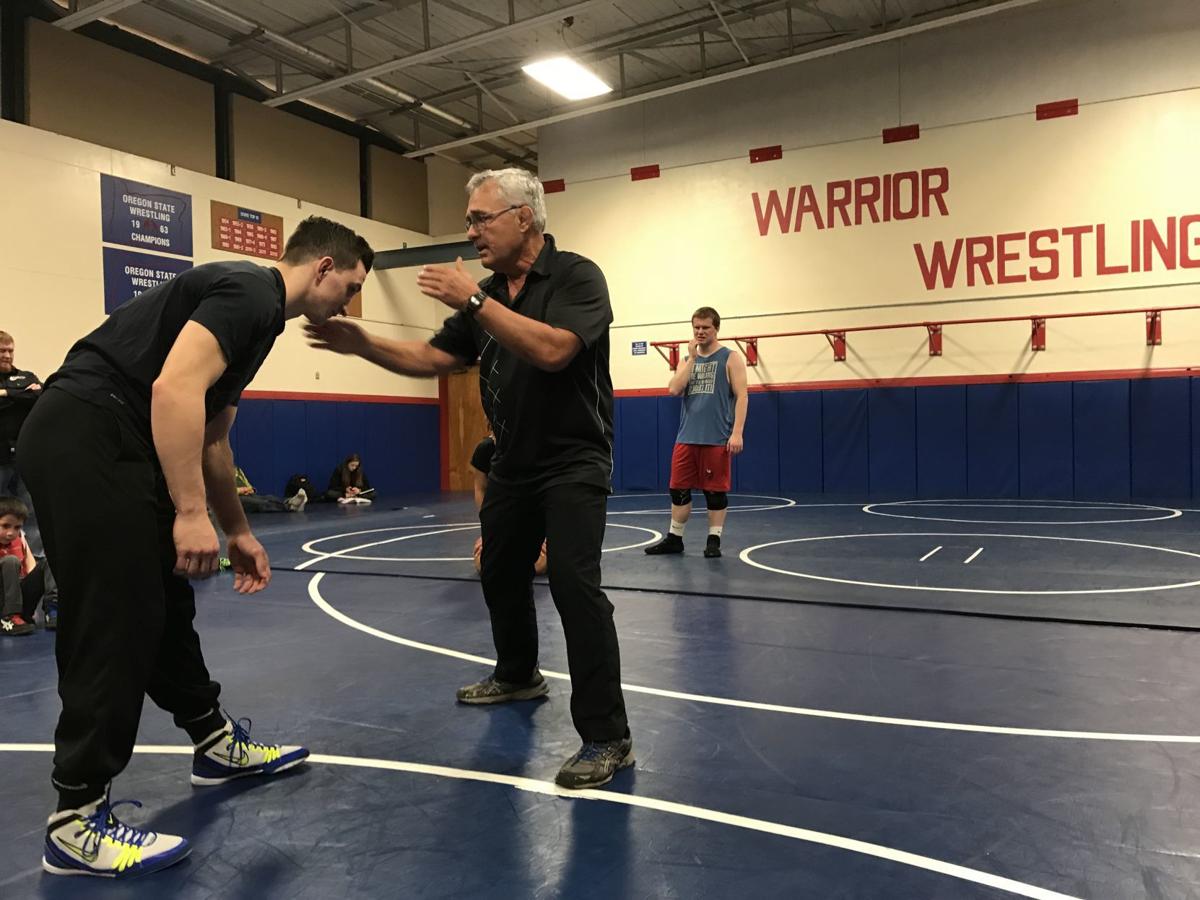 LEBANON — Mike Jones' name features prominently in the Lebanon High wrestling room, as he's on the lists displayed for district winners, state placers and college All-Americans.
On Thursday night, the Warriors' most decorated grappler ever was back in his hometown and hosting a clinic for about 25 wrestlers.
Jones stressed basic moves and proper positioning, not high-amplitude throws, as the way to win quality matches.
"You better be good at the basics, because those will kill you in the end," he said.
During the clinic, Jones showed a takedown technique to freshman Keith Brown. "You'll kill them. The heavyweights can't defend this," Jones said.
Brown took second in state at 195 pounds as a freshman for Lebanon this winter, but he was eager to learn from a local legend.
"I'm definitely going to use that move," Brown said. "The wisdom guys like this have…"
For decades, Lebanon wrestling has focused on the essentials of the sport, not "fancy stuff," said head coach Michael Cox.
Assistant coach Garrett Urrutia, himself a state champ for the Warriors in 2012, said that Jones' visit nevertheless energized the regularly scheduled Lebanon Mat Club practice, which included grapplers from elementary school to high school.
"It's great because he brings a different perspective," Urrutia said.
Jones returns to Lebanon three or four times a year, as he still has family in the area. But this visit was for his induction into the Lebanon High School Hall of Fame this weekend.
Despite a relatively slow start, his achievements in his sport are numerous — Jones is in the USA Wrestling Hall of Fame and the British Columbia Sports Hall of Fame, which labeled him the greatest Canadian wrestling coach ever.
Jones said he was essentially talked into wrestling in middle school and didn't have much success in the sport until his junior year, when he took third in state and the Warriors captured the team crown. He took an individual wrestling championship during his senior season in 1969.
At Oregon State, Jones was a two-time NCAA runner-up in 1971 and 1973. He also was a two-time U.S. Open champion in wrestling, capturing titles in both the Greco-Roman and freestyle disciplines.
But Jones' greatest mark on the sport has been as a coach.
In 1976, at age 25, he went north of the border to coach Simon Fraser University's wrestling team, in Burnaby, British Columbia.
Jones figured the stint would last a few years and he'd return back to the states. Instead, he never left.
"They gave me the freedom to do everything," Jones said, and that included coaching the national team, which he did for two Olympics and numerous world championships.
Jones developed 18 Olympians at Simon Fraser, including three gold medalists, and the first Canadian to ever win an Olympic grappling title.
In the 1990s, Jones helped create Simon Fraser's pioneering program for women, and two of his Olympic champions are females.
The last 12 years of Jones' career were spent primarily leading the women's team at Simon Fraser, though he officially was in charge of the men's squad, as well.
Jones said that women's wrestling has made great strides, and the best women are now as technically proficient as any man.
"This is here to stay. I don't see it stopping," Jones said, noting that the OSAA will have its first girls wrestling tournament next school year.
Jones retired in the spring of 2017, after 41 years with Simon Fraser, but he still advises the program.
And he still gets a kick out of spotting diamonds in the rough, whether those wrestlers are from his hometown or from a small town in B.C. that makes Lebanon look like a teeming metropolis.
"There are good kids everywhere. You just need a program that allows them to get from A to Z," Jones said.
An informal celebration for Mike Jones' induction into the Lebanon High Hall of Fame will be from 2 to 4 p.m. Saturday at the Schmizza Public House, 2602 S. Santiam Highway in Lebanon. The cost to attend is $20, which includes pizza, salad and a beverage. The Weisbrodt Wrestling Scholarship gets $10 for each paid attendee.
Editor's note: Kyle Odegard wrestled for Lebanon Union High School from 1989 to 1992. He can be reached at kyle.odegard@lee.net, 541-812-6077 or via Twitter @KyleOdegard.