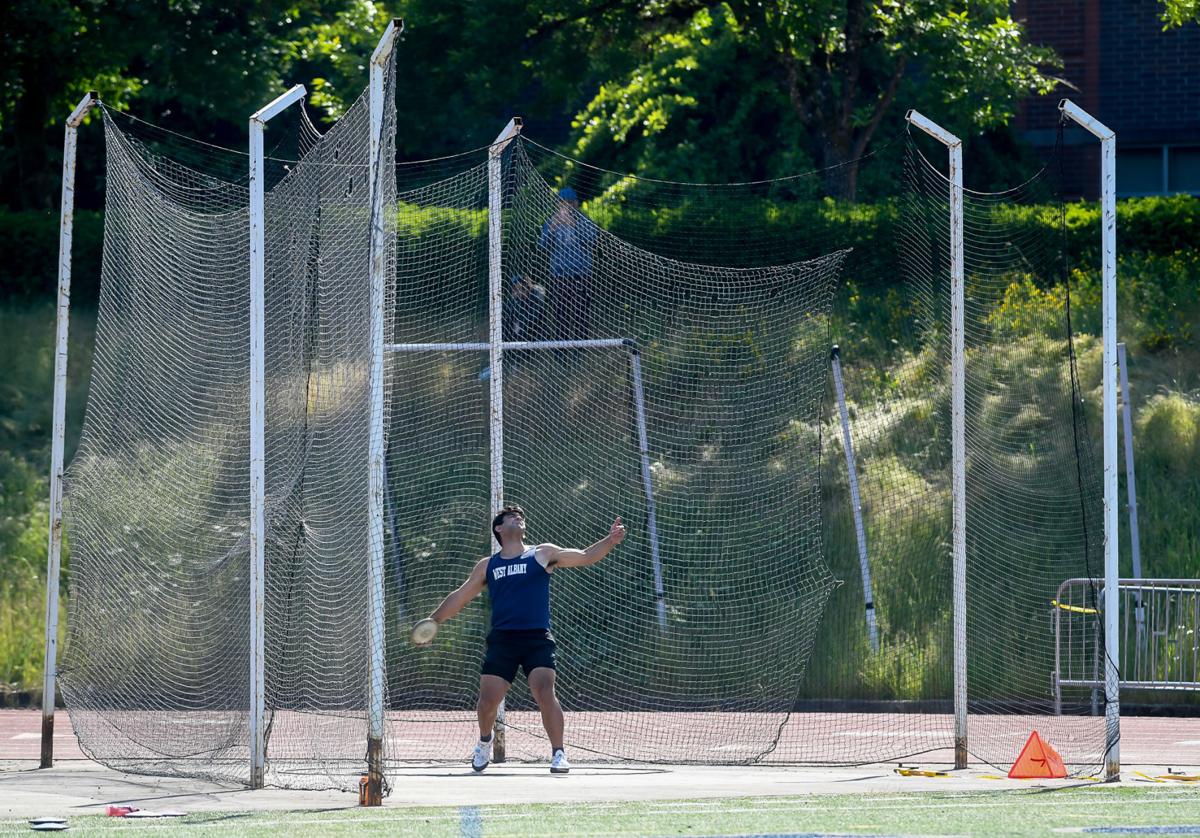 A long stretch of training ended Wednesday with recent West Albany High grad Aiden Paul taking on some of the nation's top prep track and field throwers at The Outdoor Nationals meet at Eugene's Hayward Field.
His marks — 193 feet, 5 inches in the hammer throw and 170-9 in the discus for 11th and 17th places, respectively — weren't as strong as he had hoped, but he's glad to now have some time off before he heads to Stanford University in mid-September to begin his collegiate academic and athletic careers.
"Hammer didn't go as well as it should have," Paul said. "I still threw 193, which wasn't my worst mark of the season but wasn't anywhere close to my best or what I could have done. I'm just glad to be done with track for now."
His personal bests are 198-4 in the hammer, set back in April, and 181-10½ in the discus, set in June 2020.
It was Paul's first time being at and competing in the new Hayward, which was finished in 2020 but not used competitively until this calendar year due to the pandemic. The stadium hosted the NCAA Division I outdoor championships and the U.S. Olympic Trials the previous three weeks.
"The experience was amazing. I got to meet so many people I've texted for years in the throwing community and never got to meet them because of COVID," said Paul, who saw his future coach and a few future teammates. "It was a good environment. Hayward, it was just an amazing facility. It was the craziest place I've ever competed in my life."
Despite smaller crowds than what he had experienced at previous prestigious events, Paul said the nationals had that big-meet feel.
"It still gave me some preparation, I feel like," he said. "There was a lot of pressure, and that's probably why I didn't throw so great. I think I just cracked under pressure because it's been so long."
Paul finished the high school season on May 22, winning his second 5A state title in the discus and taking second in the shot. Then it was a quick transition into preparing for the national meet.
Support local news coverage and the people who report it by subscribing to the Albany Democrat-Herald.
He focused on the hammer, which will be one of his primary events in college and the discus, while putting down the shot until he gets to Stanford.
He concentrated on the hammer three to four days a week and the discus twice a week
Now, without a meet to prepare for, he's looking forward to backing off his training schedule a bit and creating time to relax and enjoy the summer with friends and family.
"When you have track on the table you have to be cautious with what you're doing … you can't go and have fun all the time," Paul said. "You have to watch your sleep schedule. You've got to be lifting every day, throwing every day. It's a big time commitment."
He plans to do some hiking and swimming with friends and maybe plan some road trips to explore some of the state's nature spots. He'll also take trips to Nebraska and New York with family.
Then he begins the next part of the journey, as an economics major who hopes to eventually land a job on Wall Street while continuing to pursue big throws.
"I know once I go to Stanford, for the next four years it's going to be nonstop work, work, work," Paul said. "So I've just got to enjoy the last few months of, I'd guess you'd say, my childhood."