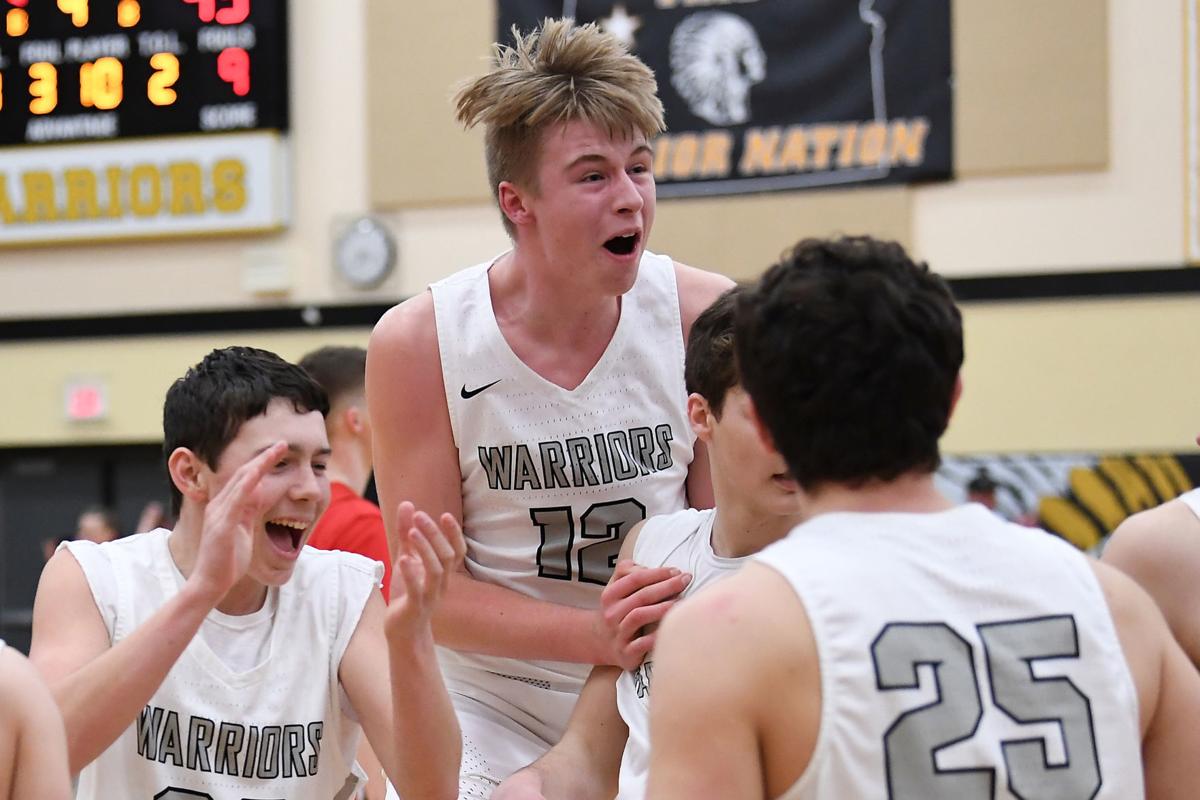 PHILOMATH — The Warriors had practiced for this very situation.
Trailing 45-42 with under 3 minutes remaining in the game, Philomath High's boys basketball team needed to dig deep to avoid a major upset against No. 15-seeded Phoenix. Veteran coach Blake Ecker has often found answers to these situations through defensive strategy. And it proved to be the difference again in what ended up as a 48-45 victory Saturday night for the Warriors.
"We've been doing some drills this last week where we have to get four stops in a row," Ecker said. "That fourth stop is really hard and so we talked about that a little bit here. You've got to get those four stops, you have no choice but to get a stop. And they did it, they got the stop and they got some key rebounds when we needed them."
No. 2-seeded Philomath (20-4) advances to the 4A tournament and will play at 6:30 p.m. Thursday against No. 7-seeded Klamath Union. The tournament continues Friday and Saturday with all games at Forest Grove High School.
Against the Pirates, Philomath didn't allow any points over the game's final 3:27.
"It was pretty intense but I think we came back with our defense and just locked them down," senior Dylan Edwards said. "Even though our offense wasn't doing much in the fourth quarter, we just stopped them on defense. They just couldn't score."
The Warriors pulled to within 45-44 with 2:01 left on a fast-break basket. Edwards pulled down a rebound and quickly got the ball to junior Michael Lundy for a basket on the other end. Philomath took the lead coming out of a timeout with 1:15 left on an inside basket by freshman Ty May. And with 43 seconds left, Edwards hit for a 48-45 lead.
The Warriors continued to stop Phoenix on the defensive end with both May and senior Toby Stueve grabbing key rebounds. The Pirates immediately fouled but on both 1-and-1 opportunities, Philomath failed to convert and it remained a one-possession game.
Phoenix had a final opportunity to try to tie the score but the Philomath defense allowed no openings. Senior Ethan Hutsell put up a prayer beyond the 3-point line with 4 seconds left but it wouldn't fall for him and senior Dylan Bennett got the board to clinch the win.
"The whole game, we just tried to run them off the 3-point line and just stay in front of them, especially in the fourth quarter," Edwards said. "We stayed in front of them and they didn't hit as many threes."
May scored a game-high 16 points on seven field goals and 2 of 3 free throws. Lundy finished with 11 points.
"Ty did a great job tonight being physical and sticking with it," Ecker said. "The kid that was guarding him is a good player and was physical with him and Ty didn't back down, so I'm really proud of him for that."