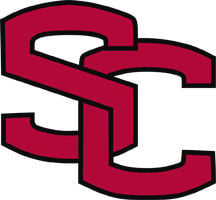 No team has come particularly close to beating Santiam Christian this season, but that hasn't stopped coach Matt Bain from still finding areas for his team to improve.
The Eagles (11-0, 5-0) have cruised to victory week in and week out; their smallest margin of victory so far has been 21 points in an October win over Harrisburg. But Bain knows that the stakes are much higher this time of year and he has been challenging his team to continue improving on the 'little things' that can make or break a season.
"We always think of it as our biggest opponent is ourselves," Bain said. "Obviously as you go further in the playoffs, the teams get tougher and tougher. But we try to focus on ourselves and things we need to do, and not get so caught up in the details of where we're at and how far we've gone."
The Eagles will face their biggest challenge thus far Saturday when they travel to Hermiston High School for a neutral site game with No. 3-seeded Burns (11-0, 4-0) at 11 a.m. SC has scored the second-most points in 3A (539) while yielding the second-fewest (113) and it took four games for opponents to tally a single point against them.
You have free articles remaining.
But Burns has surrendered just 66 points on the season, the fewest in the state of Oregon among teams playing 11-player football.
"Obviously anybody playing in the semifinals is a pretty darned good team," Bain said. "Burns is a really good team. You just look at what they've done all year — nobody really scores on them. So you know they play good defense. They run the ball well, they fly around. They're going to make it really tough to put the ball in the end zone."
Even in postseason play, opponents have done little to slow the Eagles. SC scored a 50-7 first-round win over Nyssa and a 58-6 quarterfinal win over Vale last weekend. Even in those blowout wins, Bain still found areas to nitpick.
"That's always a laundry list," Bain said of things he would like to see his team improve upon. "We've been executing pretty well the last couple of weeks, but I know last week we had several mental errors. We jumped offsides, didn't line up right in a couple of situations. Little things like that, you can't be doing that in a playoff situation."
Burns, meanwhile, was able to grind out a 14-13 victory over No. 6 Clatskanie. That was the most points a 3A opponent has scored against the Hilanders this season.
The Eagles reached the state final in 2015 and 2017 and are seeking their first title since 2011.