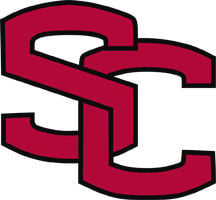 The Santiam Christian football team will have a shot to capture a state title Saturday.
SC, which last won a title in 2011, will face Hidden Valley Saturday at noon at Roseburg High School in the 3A Championship game.
For the No. 2-ranked Eagles (12-0, 5-0), the No. 1 Mustangs will provide far and away their toughest test of the season; SC's slimmest margin of victory thus far came in last weekend's semifinal, which the Eagles won by double digits.
Hidden Valley, though, owns one of the most potent offenses in the state at any level, and their 584 points this season are the most in 3A. SC (566 points) isn't far behind in scoring power and Saturday's game could turn into a high-scoring affair if both teams get into rhythm quickly.
You have free articles remaining.
"They are a pretty dangerous team," SC coach Matt Bain said. "They've got great athletes. They've got a quarterback who can throw the ball 60 yards pretty easily, and it's accurate… They're going to be by far the most athletic team that we've gone up against."
The Eagles last played in a title game in 2015, when they lost to Vale. They have reached the state final five times in school history, but Bain is hoping his players will concern themselves less with past results and treat Saturday like it is any other game.
"Of course the games get bigger as you go along," Bain said. "But at the end of the day, it's just taking care of yourself and worrying about your own practice habits — doing the work and not taking anything for granted. That's what the key is."
SC jumped out to an early 20-0 lead last Saturday against a tenacious Burns defense in the semifinals and held on for a 27-16 victory, thanks in large part to 146 rushing yards from quarterback Ely Kennel.
"We got out to a good lead, but then we made a lot of mistakes and penalties," Bain said. "We didn't take care of the ball a few times, and that's what good teams do to you when that happens."
Hidden Valley, meanwhile, cruised to a 42-22 win over No. 5 Rainier to reach the title game. The Mustangs, who moved down from Class 4A after the 2017 season, have scored at least 40 points in every game they have played this season against 3A opposition.