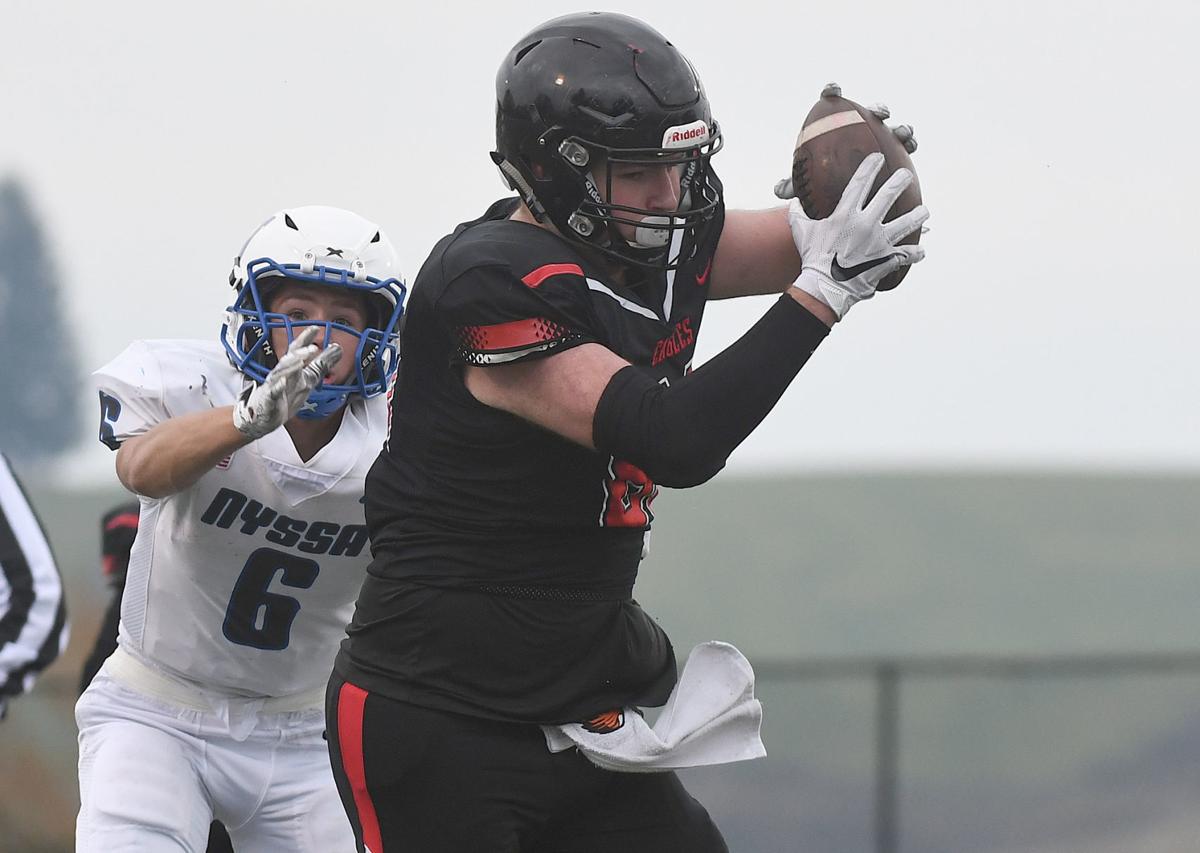 The Oregon high school playoffs roll into the quarterfinals. Here's a look at the three area teams still playing.
Coaches poll rankings are in parentheses
5A
(6) Ashland at (2) West Albany
Records: Ashland 9-1, West Albany 10-0
The Bulldogs' 5A-leading defense in points allowed will be tested by a Grizzlies squad averaging nearly 46 points per game. Ashland has scored fewer than 33 once.
The Grizzlies are led by senior quarterback Rieger Sayre, a third-year starter who threw five touchdown passes and ran for another in last week's 50-19 home win against Dallas last week in the playoff opener.
"He's good with his feet and he throws good balls," West coach Brian Mehl said of the 6-foot-1, 210 pound Sayre. "He has good guys to throw to. They're pretty complete as an offense. There aren't a lot of holes. They definitely have some firepower on offense."
Ashland's skill players include running back DeMario Watson, tight end Logan Sanford and wide receiver Nolan Rinefort. Sanford is a force at defensive end.
"You can tell it's a good ball club and we're going to have to play well to win, for sure," Mehl added. "We haven't been tested with a type of team that's as consistent throwing the ball. The quarterback can put the ball in a lot of spots and their guys catch it."
West rolled past visiting Redmond in last week's 56-13 win. They did so without Mid-Willamette Conference offensive and defensive player of the year Porter Phillips, who was in uniform on the sideline but didn't play. He's expected back against Ashland.
The top seven teams in the final OSAA 5A coaches poll, released before the playoffs, are in the quarterfinals. No. 8 Pendleton lost 23-14 to visiting and unranked Scappoose last week.
The other quarterfinal matchups are (7) Wilsonville at (1) Thurston, a rematch of last year's state championship game won by Thurston; Scappoose at (4) Silverton; and (5) Parkrose at (3) Crater. The West Albany-Ashland winner gets Crater or Parkrose.
3A
(10) Vale at (2) Santiam Christian
You have free articles remaining.
Records: Vale 6-4, Santiam Christian 10-0
Tenth-seeded Vale is the next team to step in front of the second-seeded Eagles' steamroller of a season. Only Harrisburg (43-22) has finished a game closer than 35 points of Santiam Christian.
In last week's opening round of the playoffs, Santiam Christian won 50-7 at home against Nyssa and Vale got a 27-23 win at Yamhill-Carlton. Vale defeated visiting Nyssa 27-21 on Oct. 11 in a league game.
The Vikings started their season with five nonconference games, losing three of four against Idaho schools and defeating winless 4A Ontario 41-30.
Santiam Christian had Special District 2 North's offensive and defensive players of the year in junior running back Marcus Fullbright and senior linebacker Luke Mehlschau, respectively. Mehlschau was also on the first team at kicker and punter and Fullbright at returner.
The Eagles also had first-team selections in quarterback Ely Kennel, receiver Trevor Oxenrider, tight end Joe MaQatish, offensive lineman Deegan Black, defensive lineman Miles Henderson and defensive backs Hudson Carter and Devin Premsingh.
The Santiam Christian/Vale winner plays sixth-seeded Clatskanie or third-seeded Burns. The other matchups are 8 seed Cascade Christian at top seed Hidden Valley and 5 seed Rainier at 4 seed Amity.
2A
(5) Toledo at (4) Monroe
Records: Toledo 8-2, Monroe 9-1
The fourth-seeded Dragons get their rematch after falling 52-49 at Toledo on Sept. 20 while playing without quarterback Brody Ballard. A fourth-down pass inside Toledo's 10-yard line in the closing minutes fell incomplete.
"It gives you a feel for where you're at," Dragons coach Bill Crowson said afterward. "You look at Toledo on the field and they're very talented. They're legitimately a top-five kind of club. It helps our kids understand we belong in that group."
Dragons standout Zach Young rushed for 277 yards, had 54 yards receiving and had four total touchdowns.
Monroe has won seven straight while scoring 45 points or more and winning all by 33 points or more. The Dragons ran past visiting Colton 57-22 in the playoff opener last week.
The fifth-seeded Boomers have tripped up twice since facing Monroe, losing at home to Bandon (20-17) and at second-seeded Coquille (32-20). Toledo won 62-32 at home against Lost River last week.
The Monroe/Toledo winner will take on 9 seed Oakland or 1 seed Kennedy in next week's semifinal. The other quarterfinals are 11 seed Warrenton at 3 seed Heppner and 7 seed Knappa at 2 seed Coquille.