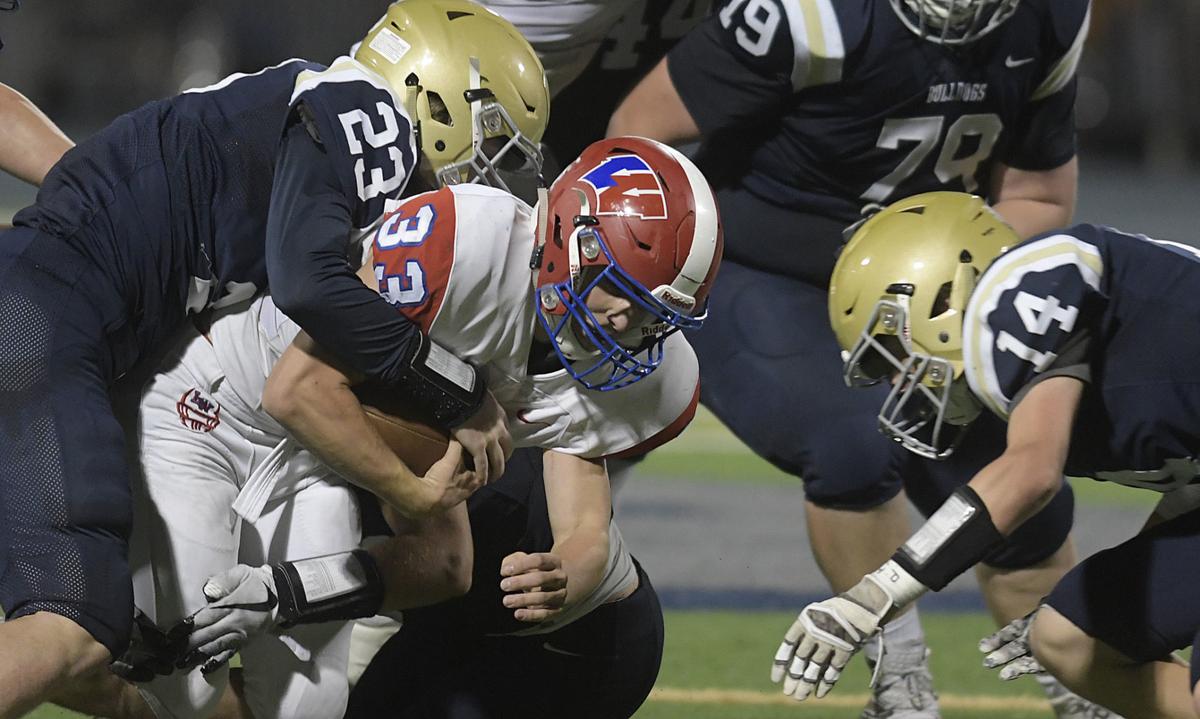 All games start at 7 p.m. unless noted
McKay at West Albany
2018 records: McKay 1-8, 1-8 5A Special District 3; West Albany 10-2, 8-1 SD 3
The Bulldogs open their chase for a state title at home. West started last season with a 24-0 win against McKay, a 6A school playing 5A football.
The Bulldogs, with experience across the board, hope to build off a state semifinal appearance last fall.
Corvallis at Lebanon
2018 records: Corvallis 4-5, 4-5 5A Special District 3; Lebanon 7-3, 7-2 SD 3
Corvallis is charged with trying to slow down Lebanon's three-headed running attack of Brock Barrett, Keith Brown and Landon Kisling.
The Warriors won last year's opener between the two teams, 49-25. The Spartans won their final two games while scoring a combined 97 points but narrowly missed the playoffs.
Lebanon will lean on experience at the skill positions with confidence in first-year quarterback Cole Weber.
Crescent Valley at North Salem
2018 records: Crescent Valley 6-4, 6-3 5A Special District 3; North Salem 2-7, 2-7 SD 3
The Raiders start the season on the road, where they will be all fall as their home field is renovated. Their three "home" games will be played at Corvallis High School.
CV senior Walker Riney has moved from wide receiver to start at quarterback.
The Raiders shut out the Vikings 34-0 in last year's opener.
South Albany at Dallas
2018 records: South Albany 2-7, 2-7 5A Special District 3; Dallas 2-7, 2-7 SD 3
If the RedHawks hope to make the playoffs in a loaded Mid-Willamette, this might be one they have to get.
South fields a first-year quarterback in senior Hans Laufer, a transfer from 6A McNary.
The RedHawks won last year's opener against the Dragons, 27-26, before a rash of injuries decimated the team.
Marist Catholic at Sweet Home
2018 records: Marist Catholic 5-5, 3-1 4A Special District 4; Sweet Home 6-3, 5-0 4A Special District 3
These teams are plenty familiar with each other after meeting twice last season, with Marist winning the season opener (28-12) and a first-round playoff game (33-15).
Sweet Home is led by first-year starting quarterback Aiden Tyler, a junior who got some playing time last year.
Philomath at Junction City
2018 records: Philomath 2-6, 0-5 4A Special District 3; Junction City 0-7, 0-4 4A Special District 4
Philomath will be tested with just one home game in the first month, with that contest coming next week against Siuslaw.
Philomath beat Junction City 48-19 on the field in the 2018 opener and was then awarded a forfeit victory after the Tigers used an ineligible player. The Warriors also won 19-12 in 2017.
Santiam Christian at Dayton
You have free articles remaining.
2018 records: Santiam Christian 7-3, 4-1 3A Special District 2 North; Dayton 3-6, 1-4 3A Special District 1 West
The Eagles have high hopes after returning the majority of a team that reached the state playoffs.
These teams have split six games the last six seasons, including four West Valley League games (2014-17), with the loser averaging about nine points per contest. SC won last year's game 20-13.
Last fall, Dayton missed the playoffs for just the third time in 37 seasons.
Harrisburg at Taft
2018 records: Harrisburg 7-3, 4-1 3A Special District 2 North; Taft 1-8, 0-5 3A Special District 1 West
Ed Ethell returns to the Eagles' staff as head coach and has one of 3A's best running backs in Gabe Knox.
After some lean years, Harrisburg has made the playoffs in six straight years, a run that includes a state title and a runner-up finish. The Eagles beat Taft in last season's opener, 60-29.
Molalla at Scio
2018 records: Molalla 2-7, 1-4 4A Special District 1; Scio 8-3, 5-0 3A Special District 1 East
The Loggers are small on size but have some talented skill players in running backs — and cousins — Kade Mask and Jacob Mask and freshman quarterback Jace Aguilar.
Scio meets the 4A Indians for a second straight season after losing 21-20 on the road in last year's first game.
Weston-McEwen at Central Linn
2018 records: Weston-McEwen 3-5, 2-2 2A Special District 6; Central Linn 5-4, 2-3 2A Special District 3
The Cobras host one team from the eastern part of the state before traveling to another next week in Stanfield.
Central Linn lost two league games by seven points or fewer and missed the playoffs last fall.
Jefferson at Corbett
2018 records: Jefferson 8-2, 4-1 2A Special District 3; Corbett 1-8, 1-4 3A Special District 1 East
The Lions are on a big climb, having gone winless in 2017 before finding a comfortable landing spot in 2A last fall. Jefferson has a first-year head coach in Kaleb Gilgan, a volunteer assistant in 2018.
The Lions won a 24-8 home game between the two teams last year. Corbett is a 4A school playing 3A football.
Sheridan at Monroe
2018 records: Sheridan 8-2, 6-0 2A Special District 2; Monroe 10-2, 5-0 2A Special District 3
On paper, this looks to be one of the best small-school games of the week. Monroe reached the 2018 semifinals, while Sheridan was in the quarters.
Quarterback Brody Ballard and running back Zach Young give Monroe a strong 1-2 punch.
The Dragons beat host Sheridan 26-21 last year. Both teams went undefeated in league play.
Eddyville at Alsea
2018 records: Eddyville 3-4, 2-3 1A Special District 4 (6-man); Alsea did not field a varsity team
Alsea is no stranger to 6-man football. The Wolverines won the B-6 state championship in 1958, their third straight title game in that classification. Six-man was played in Oregon until 1959 and then returned last fall.
Alsea didn't play last year and contested just one game in 2017 before forfeiting the remainder of its schedule due to a lack of available players.