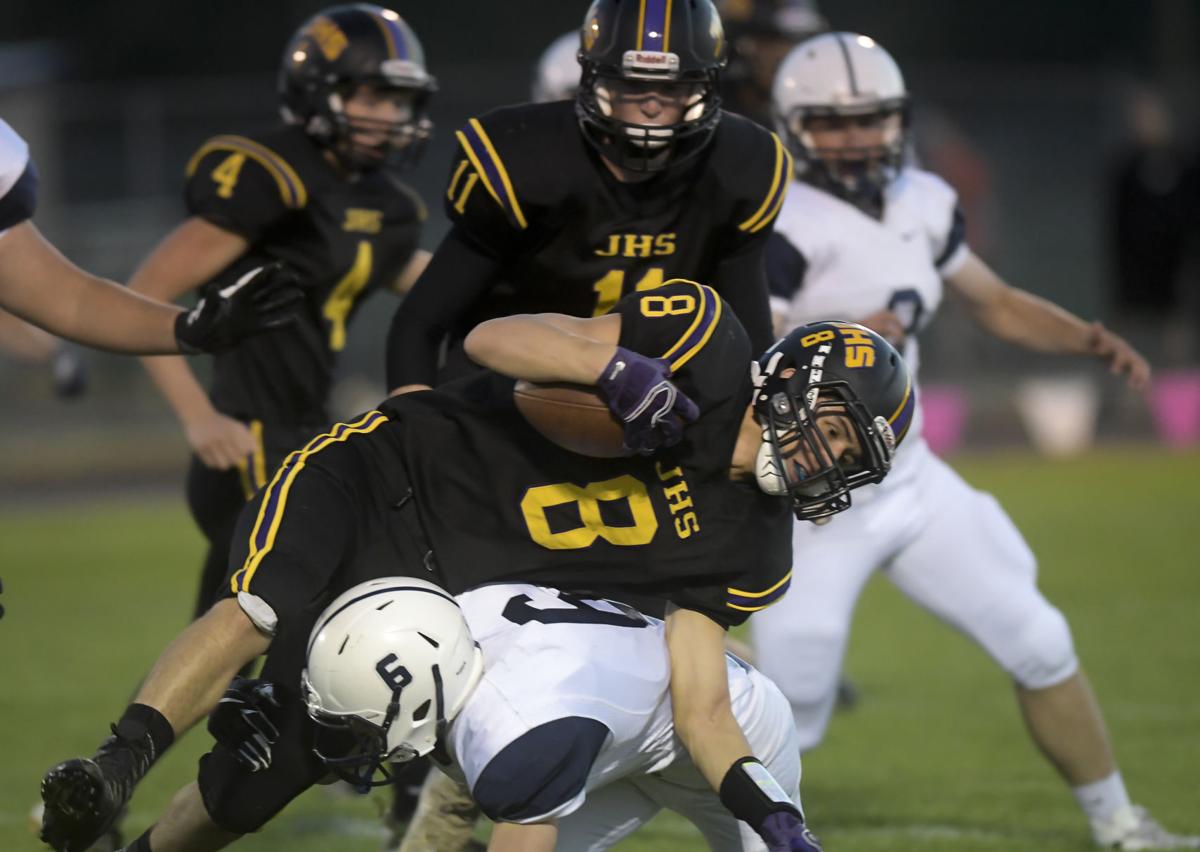 JEFFERSON — Losing a large senior class off a successful team can be a challenge, particularly at a small school.
Jefferson is without nine players after graduation from a squad that produced a big turnaround in 2018, going winless the year before in the 3A classification to an 8-2 record in 2A and the program's first playoff appearance since 2009 last fall.
The Lions are at work trying to fill those holes.
"But I think we've got amazing talent coming up," said first-year head coach Kaleb Gilgan, a volunteer assistant last year after moving to the area. "Building off last year would be a huge thing and I think we've got the kids to do it."
Jefferson has a new coach and a new quarterback in senior Isaac Deleon. He was in a battle for the starting QB spot a year ago before an injury at running back led to his move to that position.
With the success Deleon had carrying the ball last season, the coaching staff for a while second-guessed whether making him the quarterback was the right decision.
But the transition has been a smooth one so far.
"I'm going to keep my cool. I'm going to have to do my thing," Deleon said. "I think I'll be able to hold this team together."
Gilgan says Deleon throws the ball hard and with good form and accuracy.
Deleon isn't new to quarterback, having played it at a younger age. That has given his teammates confidence in his abilities.
"I know he can do it," said fellow senior Diego Rodriguez, a running back expected to play multiple positions on defense. "We always used to play together and he was our quarterback. I've seen him do it before. I trust him."
The Lions have a jamboree at Willamina this Friday then open the regular season at Corbett on Sept. 6. They begin 2A Special District 3 play Oct. 4 hosting Oakland.
Gilgan, a Sherwood High graduate, was previously on the football staff at Gervais High. He returned to football after a few years away with the arrival of two newborns.
You have free articles remaining.
Gilgan replaces Calvin Griggs, who spent three years at Jefferson and is now the head coach at North Marion in Aurora. Gilgan saw the Lions believing in what Griggs was trying to teach them.
"That's rolling over to this year," Gilgan said. "Those kids have bought in and they see we have this chance to go into playoffs and possibly win league and move forward to bigger, better things."
Gilgan said his time spent around the team last fall gave him a leg up and allowed him to get to know the abilities of his new players a little bit.
Hired in April, Gilgan came into the summer determined to be a run-heavy team. But seeing more and more of his players have led him to open up to possibilities.
The Lions will line up in five or more formations on offense, spreading the field while also being a power running team. The team has flexibility, with wide receivers with the ability and acceptance to play tight end, and vice versa.
Rodriguez said he wants his team not to worry about what last year's team lost and instead focus on what they can accomplish.
"I think I can be a big leader and encourage our team to do well as a team and not as individuals," he said.
Rodriguez and his cousin, muscular sophomore Caleb Rodriguez, are a "dynamic duo," Gilgan says.
Caleb is a tight end with a big body and speed. The coach says Diego is "just an athlete."
"He can catch, he can run. He's smart on the defensive side of the ball, from what I saw last year," Gilgan said.
On the line, sophomore center Cody Jurgens got thrown into the mix last year and gained knowledge. The Lions expect freshman running back and wide receiver Zachary Wusstig, whom Gilgan says is speedy and talented, to make an impact.
The Lions fitted 30 players for helmets but only 18 showed up for the start of fall practice. A few were absent due to other obligations, and Gilgan is hopeful that a few more will eventually join the team.
Still, the coach has confidence that success is ahead.
"I'm very optimistic," Gilgan said. "Even with 18 guys and we don't have any more come out, I think we've got the personnel that are willing to do what it takes to win."
Gallery: Monroe at Jefferson football September 2018