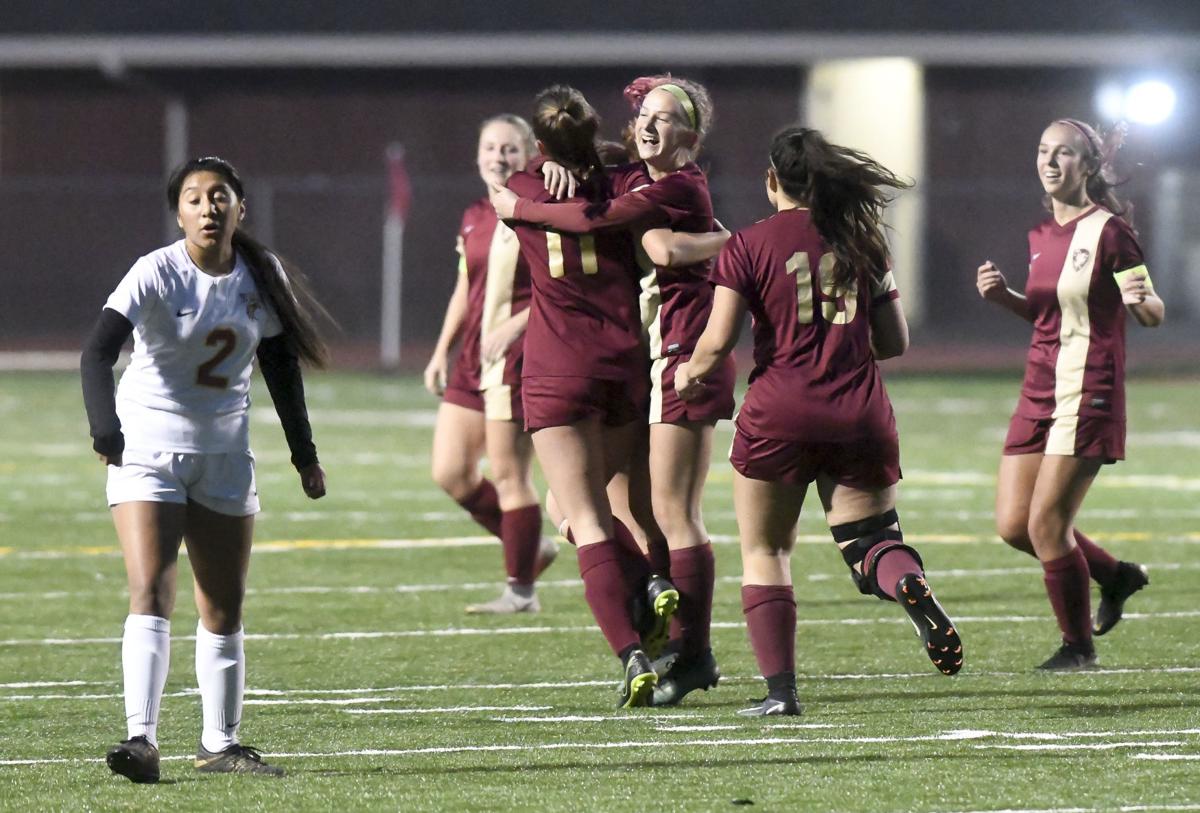 Here's a look at area soccer teams competing in playoff games on Saturday.
(5) Santiam Christian at (4) Yamhill-Carlton
RECORDS: Santiam Christian 13-0-2, 7-0-1 Mountain Valley Conference; Yamhill-Carlton 13-1-1, 11-0-1 PacWest Conference
NOTES: After going 4-3-5 last season, the Eagles have not lost a match this year and are coming off a first-round victory over Douglas … Yamhill-Carlton topped Westside Christian in its playoff opener.
(6) Philomath at (3) Marist Catholic
RECORDS: Philomath 10-2-3, 9-0-3 Oregon West Conference; Marist Catholic 13-1-2, 8-0 Sky Em League
NOTES: The Warriors have not lost since a Sept. 7 matchup at No. 1-ranked Gladstone. Philomath ousted Henley in the first round of the playoffs to reach the quarterfinals. … Marist Catholic won the Sky Em League and topped Ontario 8-0 to open its playoff campaign
(6) West Albany at (3) Wilsonville
RECORDS: West Albany 9-3-1, 5-1-1 Mid-Willamette Conference; Wilsonville 11-4-1, 7-0 Northwest Oregon Conference
NOTES: West Albany finished third in a loaded Mid-Willamette Conference and topped No. 1 Crescent Valley earlier this season. The Bulldogs fell behind 1-0 early in their first-round playoff matchup with Ashland, but scored four unanswered goals to cruise to victory … Wilsonville leads 5A with 78 goals and has surrendered just 25.
(7) Churchill at (2) Corvallis
RECORDS: Corvallis 12-1-2, 6-0-1 Mid-Willamette Conference; Churchill 9-5-1, 7-1 Midwestern League
NOTES: Only 6A South Salem has defeated Corvallis this season. The Spartans reached the state semifinals last season and have much of the same group back from that deep playoff run. … Churchill was the team that ousted the Spartans at state last season. The Lancers went on to narrowly lose the state final match to Crescent Valley.
(9) Willamette (1) Crescent Valley
RECORDS: Willamette 6-2-7, 4-0-4 Midwestern League; Crescent Valley 12-2-1, 5-1-1 Mid-Willamette Conference
NOTES: The Raiders are the defending state champions and return a large nucleus of players from their title-winning squad. CV topped Willamette on the road 2-0 earlier this season, and the Raiders have not lost since a home defeat against West Albany on Sept. 30. … Willamette endured one of the toughest schedules of any team in the state this fall and finished second in the loaded Midwestern League
Boys
(8) Santiam Christian at (1) Catlin Gabel
RECORDS: Santiam Christian 9-2-1, 12-2-1 Mountain Valley Conference; Catlin Gabel 16-0, 9-0 Special District 1
NOTES: Santiam Christian reached the state quarterfinals a year ago, and to kick off this year's playoffs, they topped Umpqua Valley Christian 4-1. … Catlin Gabel is the defending state champion and has reached the state final each of the last three years. The Eagles have outscored opponents 95-5 this season.
(8) Corvallis at (1) La Salle Prep
RECORDS: Corvallis 9-6, 7-1 Mid-Willamette Conference; La Salle Prep 14-0-1, 7-0 Northwest Oregon Conference
NOTES: The Spartans' record doesn't necessarily reflect the quality of their season. Corvallis forfeited its first four games due to an OSAA violation, but it still finished fourth in the final coaches poll of the season. Last year Corvallis topped La Salle Prep 1-0 in the state title game. … La Salle Prep has outscored opponents 68-6 this year and has not lost since last year's state final. They secured a huge win earlier this season when they beat Corvallis on the road.
Get in the game with our Prep Sports Newsletter
Sent weekly directly to your inbox!