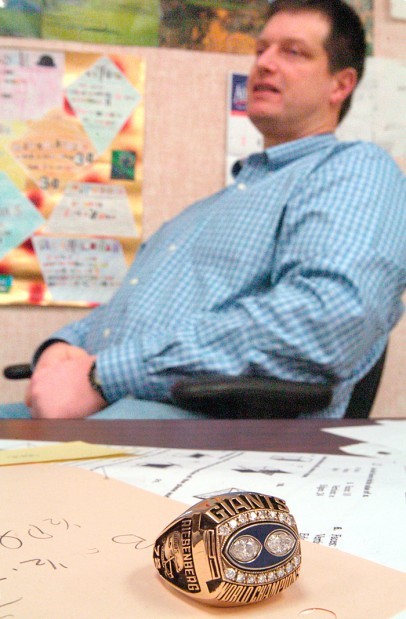 A long-ago Super Bowl victory doesn't come close to defining Doug Riesenberg's life.
No traces of his 10-year National Football League career - he started 132 consecutive games from 1988 through 1996 - are evident in room D71 at Crescent Valley High, where the ex-right offensive tackle teaches algebra 1 and geometry. No photos, trophies or mementos.
That phase of his life ended in 1996, when a right-knee injury predicated his retirement after nine seasons with the New York Giants and one with Tampa Bay. These days, his 12-year-old son, Henry, watches far more pro football than he does.
But when the playoffs start, the 44-year-old Corvallis resident's radar invariably perks up and he recalls the 1990 season and Super Bowl XXV, when Riesenberg and the Giants edged the Buffalo Bills 20-19 at Tampa Stadium on Jan. 27, 1991.
"I follow it now because I enjoy watching Peyton Manning run an offense," Riesenberg said Thursday, speaking in a quiet classroom during his lunch/prep period. "I enjoy watching the game because I like to see certain things" average fans may miss.
Riesenberg is 19-years removed from Super Sunday, when he was a 25-year-old in his fourth NFL season. But he knows exactly what the Colts and Saints are going through as they prepare for Super Bowl XLIV, set for 3:30 p.m. Sunday in Miami.
"Right now it's this really cool thing, they're really riding a high," he said. "I have to believe a lot of the players are thinking, 'Hey, great, we made it. This is it.' I don't think they really understand what it's going to be like."
It's not just another game, no matter how many "one-game-at-a-time" cliches the participants spout this week at media functions.
"You just played the championship game to get there. You know from that moment it is the Super Bowl," the country's most-watched, most-hyped event, Riesenberg said. "It's kind of corny, but for most of the players, since they were kids, reaching the Super Bowl is the pinnacle of your professional career."
Preparation is condensed, intense, focused.
"You have 16 weeks of (opponent's) film, the four preseason games, the two playoff games" to study in a short period, Riesenberg said. "All that tape, as compared to Week 8, when you're probably only going to look at the last two or three games.
"Once it got to eight teams, their staffs have been working on their game plans" for each possible opponent. "They're dialed in."
Riesenberg's father is a professor at Idaho, and he graduated from Moscow High School in 1982. A three-sport star there, he signed with California, lettered from 1983-86 and was the Giants' sixth-round selection in the 1987 NFL draft.
He played in all eight games of his strike-shortened rookie season. He became a regular early in 1988 after an injury, a subsequent diagnosis of cancer, to Karl Nelson, and started the next 122 games before being traded to Tampa Bay in 1996. He also started for the Bucs, but suffered a season-ending knee injury in the 10th game.
His wife, Vicki, was pregnant with Henry at the time and the family was tired of living on both coasts, so he retired after the 1996 season. They returned to California and lived in Ross, a small Marin County town near San Anselmo, for several years before moving to Corvallis in 2002 so Doug could complete his undergraduate degree at Oregon State.
He graduated from OSU in 2005, taught math in Lebanon in 2006-07 and then joined the CV faculty in 2007. He's been the Raiders' offensive line coach the past three seasons and also assisted at Philomath and Corvallis.
Riesenberg said he remembers the runup to the Super Bowl more than the details of the game. The Giants crushed Chicago 31-3 at Giants Stadium in their playoff opener, flew to San Francisco and then unseated the two-time defending champion 49ers 15-13 on a late field goal by Matt Bahr.
"Beating San Francisco was a big deal," he said. "Before that, I remember (coach Bill) Parcells saying, 'Pack two bags,' one for San Francisco and one for Tampa. A lot of us younger guys kinda giggled, 'Oh, that won't happen.' "
It did, and the Giants immediately flew to Tampa Bay, arriving at about 3 a.m. Monday.
"Then Parcells said, 'We have practice at 10 a.m.' We had one of the toughest practices of the season," Riesenberg recalled. "It was a training-camp practice, we ran, hit, the whole bit."
Another surprise awaited them at the hotel. Anticipating victory, the 49ers had forgotten to cancel their reservations.
"I had Harris Barton's room," Riesenberg said, chuckling. "So the next three or four days, it was, 'Hello Mr. Barton, can I help you?'" every time he dialed the front desk or concierge.
Super Bowl XXV was the rematch of a Dec. 15 game at Giants Stadium, a 17-13 Buffalo win in which Giants' starting quarterback Phil Simms suffered a season-ending knee injury that seemed to doom their championship dream.
"The Super Bowl itself was really weird, as we were at war with Iraq and there were rumors of terrorism," Vicki Riesenberg recalled. "We had to go through metal detectors to get into the stadium, and there were helicopters circling" to guard the air space above the facility.
"I left (their oldest daughter) Ruby back in the hotel room with one of my sisters for safety reasons."
It was an entertaining, see-saw contest that hinged on the penultimate play, a 47-yard field goal attempt from the right hash by Buffalo placekicker Scott Norwood. It had plenty of distance, but didn't have his customary right-to-left fade, and flew wide-right by about two feet, giving the Giants a dramatic 20-19 victory.
Riesenberg said he expected Norwood to make the kick because most NFL specialists are accurate from that distance. He'd already rationalized losing.
"We played as hard as we could, did everything we could ... now it comes down to this, and well, we had a great season," he said.
He didn't see the ball slide wide-right.
"I'm not superstitious or anything, but I just didn't want to watch," he said. "Then I heard, looked around, and there it was."
It took some time for everything to seem real.
"Initially it was relief the game was over, win or lose," Riesenberg said. "It was very surreal. We were in this tiny, little, cruddy locker room, the press conferences were somewhere else. The name guys like Parcells and L.T. (Lawrence Taylor) were doing all the interviews.
"Some of us were just like, 'Thanks guys, see you next year.' It was very weird. The families went back to their hotels, some of the guys took off, some of us rode a bus back to our hotel," then left to celebrate with their own families.
"I can still see Doug waving at me from the field at the end of the game," a vignette that's captured on the NFL Films highlight video of the game, Vicki Riesenberg said. "All of the stress of the season just melted away.
"We stayed up until about 3 that morning just trying to let the win sink in. The next day we packed up our bags and went to Disney World with our close friends Mark and Susie Bavaro, and we came home a week later.
"It was really an amazing experience, unreal, one I'll never forget."
It was the event of a lifetime. But it did not change Doug Riesenberg's life.
"I hope not; I don't think so, no," he said. "I just happened to be lucky enough to be on a team that won a Super Bowl. Those couple of minutes, I had resolved myself to being the second-place team.
"It was the single defining team thing that happened to me. But the 5-6-7 years I had with those same offensive line guys (Bart Oates, William Roberts, Eric Moore, Jumbo Elliott, Bob Kratch) was much more significant than that game.
"If we had lost, or had missed the playoffs, it wouldn't have taken away anything from that group."
Over the rest of his career Riesenberg never encountered any member of the 1990 Bills, many of who went on to lose the next three Super Bowls. So while winning didn't alter his life, he does think losing effected the Bills.
"I have to believe things would have changed for them," had Norwood's kick been true, he said. "Especially since they went so many times and didn't quite seal the deal. I have to believe something changed for them."