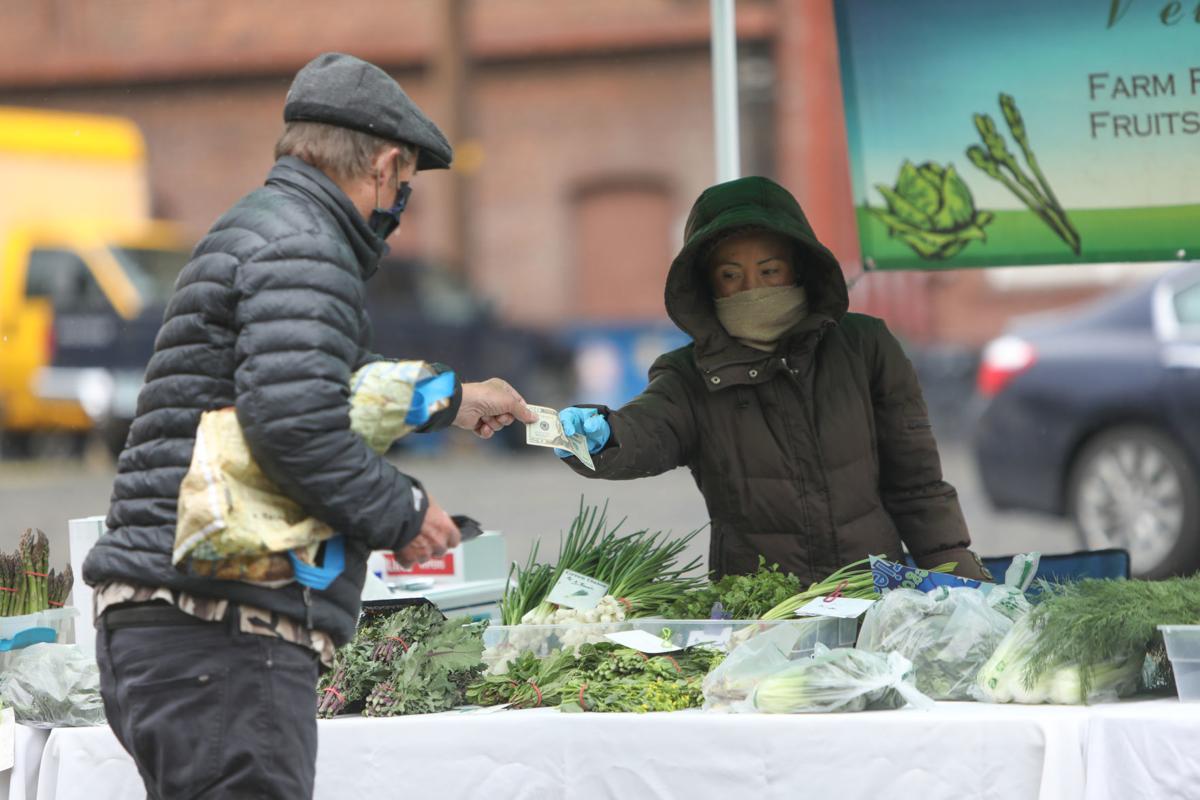 In the planning stages over the past several months, the Philomath Farmers' Market will launch Sunday afternoon for the first of six summer dates. A group of organizations joined forces to move the effort forward from idea to reality and organizers now hope that the community will respond during this pilot experiment.
"I think the big thing is if folks want to see it in the future, this year is the year to show up and shop here and show us that you want this in your community," said Pami Monnette, a steering committee member who works with the Oregon State University Extension Service's Small Farms program.
The market will run Sundays from 2-5 p.m. in the Philomath Community Library's parking lot. After this weekend, it will continue each Sunday in July and wrap up on Aug. 2.
The market is currently operating under Bountiful Backyard, an organization with 501(c)(3) nonprofit status. A steering committee includes representation from the Oregon State University Extension Service Small Farmers program, city of Philomath and Philomath Community Services, and a handful of local farmers are also on board to help guide the effort and the library has also become contributed. Rebecca Landis, director of the Corvallis-Albany Farmers' Market, has served as a key adviser throughout the development of the program.
Attempts at establishing farmers' markets in Philomath have come and gone through the years. Mark McGuire, Bountiful Backyard president, sees the need for a market manager if it is to flourish in the coming years. During this preliminary effort, volunteers are running the show.
"I think for it to be successful long term, we need a paid market manager," McGuire said. "It's possible that it could continue on indefinitely at this scale at six markets a summer, but for it to really scale up, that's our biggest constraint right now."
Monnette said the committee is writing grants to help pay for a coordinator.
"If we get a good turnout, I think it will be more of an incentive to start pursuing more of that and keep the partnership going with all of these great organizations and the city that we've brought together," she said.
Monnette's interest in helping launch a farmers' market in Philomath was twofold.
"I've lived in Philomath for a while and have been through losing the grocery store dilemma and I actually work over in Lincoln County for my job," she said. "But the Small Farms team is interested in regional food systems and we connect a lot with Benton County, so that's how I became involved as a citizen and a member of the small farms team."
As of the end of last week, the market had 10 vendors committed to participating. Although some markets struggle to a certain degree with balancing the number of farmers with craft vendors, McGuire hasn't seen that here.
"Maybe it's the agricultural roots of Philomath, but the vast majority are farmers, folks growing different things," McGuire said.
With mostly farmers, variety is an important factor for both shoppers and vendors.
"I was a little worried about having a bunch of vegetable folks and all you see are cucumbers and zucchini but we have vegetables, we have meat, we have eggs, we have hand crafts made by local residents — it's a great spread," McGuire said.
The pandemic is impacting the farmers' market to a certain degree. Some vendors that had originally committed dropped out.
"Folks who signed up at the beginning of the year, the vendors, their whole market distribution chain has shifted and some of those just don't have product right now and/or are planting different things," Monnette said.
Monnette sees the partnerships in place as a strength.
"We have a pretty solid group of reliable partners that I think will hopefully carry this through," she said. "I think we have a lot of pillars in the community that are supportive and involved from the beginning and we're hoping that will drive the support and the continuation of it."
The restrictions to be in place will be those required by the Oregon Health Authority, plus the market is following guidelines established by the Oregon Farmers Market Association.
"Some things that will be a little unusual this year given the pandemic — market volunteers and market vendors will be required to wear masks," McGuire said. "We will have some signage posted around regarding the coronavirus and to stay home if you're feeling sick, that kind of thing, but beyond that, it's going to be a normal market year."
Larger markets have grappled with concerns over high traffic but organizers do not expect that to be the case in Philomath.
"We'll be outside, we'll keep the attendance low enough that if you want to be 6 feet away from someone, you can be," McGuire said.
Monnette said the market's original vision was to create a community event where people could gather and hang out but with the restrictions, the atmosphere at this time will lean toward shopping only to make sure people move on through.
If attendance or interest in the market doesn't seem to be there, Monnette said the committee would likely sit down to try to determine how much of that could be attributed to the virus and how much could be written off as just no support.
"If it's just not going to happen in Philomath, I think we'll know after this year and we'll just say, 'OK, it's not meant to be here for whatever reason,'" she said. "If folks just show up this year on these six dates — especially community members — I think we'll have the ability to kind of push it forward with a little bit more support next year and expand it is our hope."
"I think the big thing is if folks want to see it in the future, this year is the year to show up and shop here and show us that you want this in your community."

— Pami Monnette, OSU Extension Service